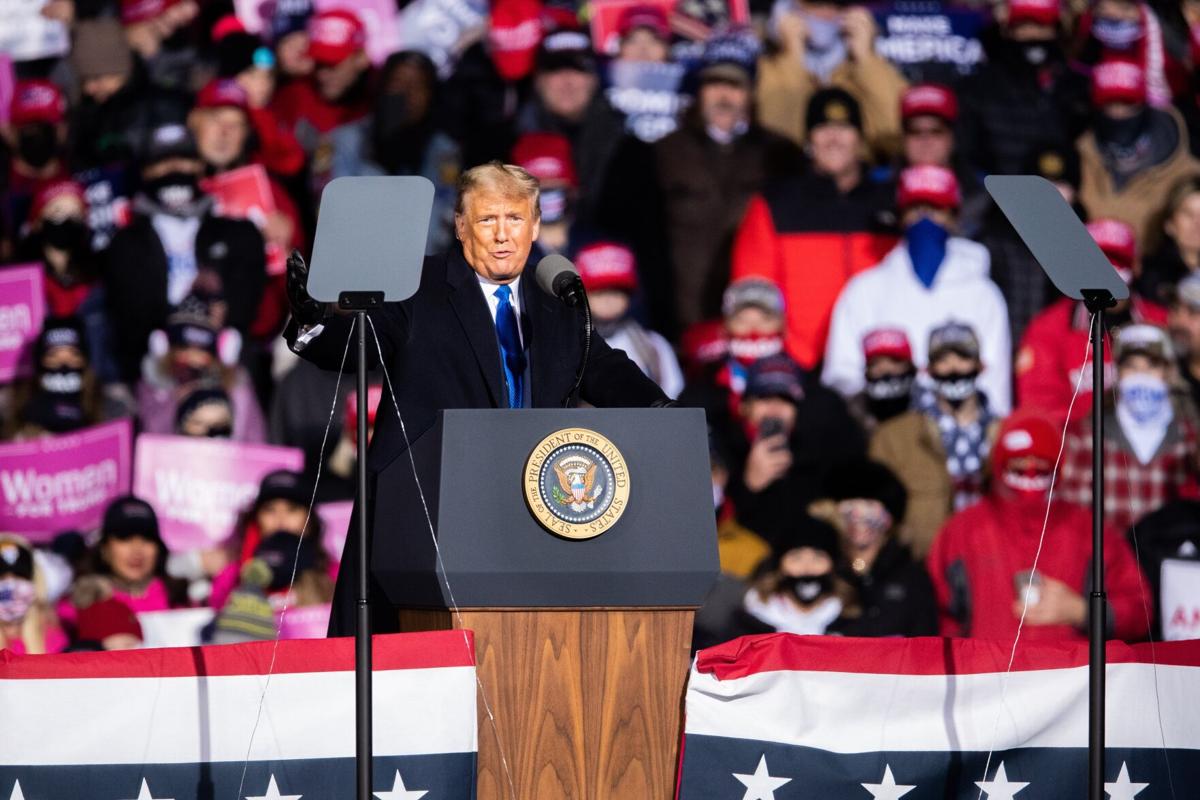 Nebraska's all-Republican House delegation unanimously opposed Wednesday's impeachment of President Donald Trump, which alleges that he incited the mob that stormed the Capitol while Congress was certifying his election loss.
Reps. Don Bacon, Jeff Fortenberry and Adrian Smith, Republicans who represent the Omaha area, eastern Nebraska and rural Nebraska, respectively, voted against impeachment, as each had hinted that they would.
In all, 10 House Republicans voted for impeachment, including the No. 3 House Republican, Rep. Liz Cheney of Wyoming, which made Wednesday's vote the House's most bipartisan impeachment ever.
Bacon, who criticized Trump's role last week in encouraging and riling up a crowd on the day that Congress accepted the Electoral College vote, said he could not support a rushed impeachment without hearings.
Like Fortenberry, Bacon argued in recent days that there wasn't sufficient time to impeach Trump, with the president leaving office and Democrat Joe Biden taking over on Jan. 20. Bacon said he supported censuring Trump instead.
The retired Air Force brigadier general faced new pressure Wednesday to support impeachment from former Rep. Brad Ashford, the Democrat who endorsed Bacon last fall. Ashford said he did so because Bacon is bipartisan.
Bacon's post-vote statement reiterated Wednesday that the president was wrong to not concede and "bears much responsibility for what happened on January 6," when a pro-Trump mob overran Capitol Police, leaving five people dead.
But Bacon said he couldn't support a rushed impeachment without hearings or due process, one that wouldn't have a trial in the Senate until after President-elect Biden takes over the White House.
"As a veteran and congressman, I took an oath to support and defend the Constitution," he said. "My votes against impeachment charges for the president, against using the 25th Amendment to force the president to leave, and acceptance of the Electoral College vote all reflect that."
Both Fortenberry and Bacon, in separate statements Wednesday, discussed the need to lower the nation's political temperature. Fortenberry said it was time to restore peace, confidence, decency and decorum.
"If we use the blunt instrument of impeachment, we will punish the president but deepen the trauma of an America already wracked by political violence," Fortenberry said. "The call for accountability ought now to be found in the hard slog to rebuild."
Smith, the lone member of the Nebraska delegation to vote last week for challenges to Electoral College results from swing states that backed Biden, described last week's violence at the Capitol as "horrific."
He said he supported prosecuting "every participant and planner of the insurrection." His statement did not name Trump, but criticized Democrats for doing a "snap impeachment" without a complete investigation.
"This is not the correct way to address the violence nor will it bring our country together," he said in a statement Wednesday.
Jane Kleeb, chair of the Nebraska Democratic Party, said the votes were typical.
"Bacon, Fortenberry and Smith are weak politicians who cannot even stand up to Trump when he incites a radical mob," she said.
Nebraska Republican Party chairman Dan Welch said he was disappointed that Democrats chose "to further divide the nation by impeaching a president who has one foot out of the White House door." He called impeaching Trump this late in his term a petty stunt when American communities are facing unprecedented challenges.
Western Iowa members of Congress split on the question. Newly elected GOP Rep. Randy Feenstra of northwest Iowa joined the Nebraska delegation in voting against impeachment. Rep. Cindy Axne, a southwest Iowa Democrat, joined the House majority, which voted to impeach Trump 232-197.
Axne said in her statement Wednesday that Trump "incited an insurrection that led to the deaths of five Americans — including one Capitol Police officer," calling the unrest "no accident."
"Regardless of the remaining time in the president's term, his crime is too great for us to ignore," she wrote. "For the safety of our nation and its citizens, President Trump must be removed from office."
She said he spent months spreading lies about the legitimacy and security of the presidential election and then pressed his supporters to "impede the certification of his own election."
Feenstra, in a statement, said the president has committed to a peaceful transition of power, that it's "time for our country to come together and move forward — not to pursue divisive and rushed political exercises."
It made no mention of the Capitol attack.
---
These 10 Republicans voted to impeach President Donald Trump