LINCOLN — University of Nebraska Regent Jim Pillen announced Wednesday that he will be a Republican candidate for governor in 2022.
Pillen, a 65-year-old agri-businessman and former Husker football player, said he would bring "conservative leadership" to the race, and a commitment to protect "the values, freedoms and unparalleled quality of life Nebraskans enjoy."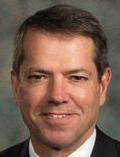 "Our state is at a crossroads, and it's never been more important to have principled, conservative leadership with a vision for Nebraska's future," Pillen said in a press release. "We have to fix our broken property tax system, grow our economy statewide, and defend our principles and our way of life."
In his campaign announcement, Pillen said he would defend the right to bear arms, would support law enforcement, "demand order on the southern border" and protect the unborn.
"We'll stand up to radicals who want to use red tape and fake meat to put Nebraska out of business," he said. "We'll defend President Trump's progress in growing our economy and fighting hard for the forgotten men and women Washington long left behind."
Pillen's announcement was not unexpected. He was among several Republicans considering a run to replace Gov. Pete Ricketts, who is barred from running for reelection because of term limits.
State GOP Chair Dan Welch said that Pillen's candidacy shows there's no shortage of quality Republican candidates seeking the governor's office.
"Regardless of who ultimately prevails in the primary election, it is becoming increasingly clear that the GOP will offer the best choice to Nebraska's voters in the 2022 gubernatorial election," Welch said.
Meanwhile, State Democratic Party Chair Jane Kleeb said that Pillen was a "corporate agriculture" candidate who wants to take the state "in the Trump direction."
"We'll take him on," Kleeb said.
Pillen was first elected to the Board of Regents in 2012 and was reelected in 2018. He was selected to serve for one year as chair of the Board of Regents in 2020.
He is viewed as a candidate who had solid ties with the Omaha business community and state agriculture groups. He has the financial resources to help fund a run. Interestingly, in 2018 he ran unopposed, and returned $155,500 worth of campaign contributions because of that, according to disclosures filed by his campaign committee.
Pillen grew up on a farm in Platte County, and earned an animal science degree from the University of Nebraska-Lincoln and a doctorate in veterinary medicine from Kansas State University.
He was involved in one of the most famous plays in NU football history, recovering a fumble from famed Oklahoma running back Billy Sims inside the 5-yard line to preserve a 17-14 victory over the Sooners in 1978. It was coach Tom Osborne's first victory over Oklahoma after five straight losses.
He founded Pillen Family Farms, a pork producing company that involves 1,000 growers and now includes its own grain merchandising and swine genetics companies.
Pillen and his wife, Suzanne, have four children.
---