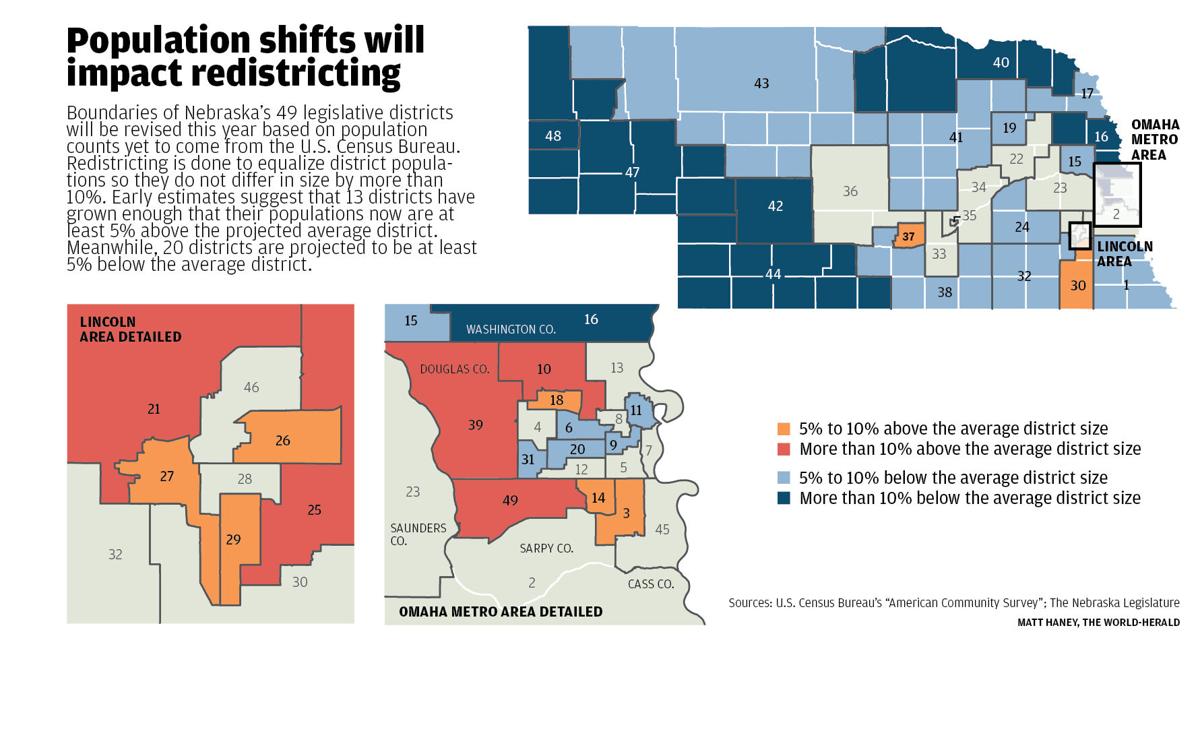 LINCOLN — Population shifts in Nebraska are making it likely that the state's metropolitan areas will gain two more state senators, and the Omaha-based 2nd Congressional District will shrink in size, possibly moving more of suburban Sarpy County into the more rural 1st District.
That's what's ahead for state lawmakers as they begin the politically and sometimes emotionally charged job of redrawing congressional and legislative districts, as well as voting districts for other state offices.
But one of the main questions facing those who will work on redistricting is whether it will happen at all during the Nebraska Legislature's regular 90-day session, which is scheduled to end in early June.
Delays in the completion of the census have made it doubtful that final population figures needed for redistricting will arrive by the traditional time in early April.
If those numbers show up later, lawmakers might have to work overtime in a special session to complete the task. Another option would be taking a pause midway through the 90-day session — as was done last year because of the pandemic — to allow more time to digest the census figures, draw new districts, hold public hearings and get the districts approved before elections in 2022.
A special session is "definitely a possibility, especially if they come out in late May," said David Drozd, a lead researcher at the Center for Public Affairs Research at the University of Nebraska at Omaha.
"This is not the kind of thing that just happens at the drop of your hat," said Drozd, an authority on Nebraska census data.
Preliminary steps in the process began last week when the chairman of the Legislature's Executive Board, Sen. Dan Hughes of Venango, asked senators for nominations to fill the nine-member special committee that handles redistricting.
Hughes said the Executive Board needs to appoint the committee members by the end of the month. By legislative rule, no more than five members of the committee can come from one political party, and three members each must come from the state's three congressional districts. Members of the redistricting committee then select a chair and vice chair.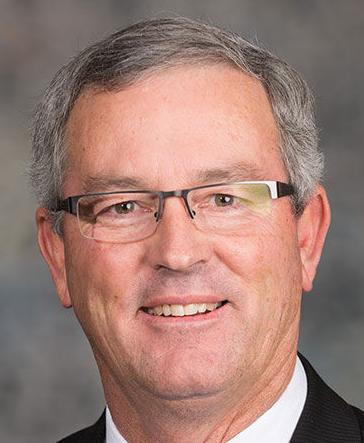 But Hughes said there's little indication of when census numbers will be released to the states, so it's not clear when the committee could begin its work, or whether the job can be completed during the session's current schedule.
"We're just going to have to see when we get the numbers," he said.
Redistricting is one of the clear examples of when partisan fangs come out in the officially nonpartisan Legislature. Representatives of each party seek new district boundaries that benefit like-minded candidates. Personality can also become a factor if redistricting requires transferring a rural legislative district to Omaha or Lincoln, as it has in the past. The choice of the district to move often comes down to whether a sitting senator is liked or disliked, or is retiring or leaving the body because of term limits.
Veteran Lincoln lobbyist Walt Radcliffe compared the process of legislative redistricting to a game of "musical chairs." At the end, there aren't enough chairs for all of the participants, and someone loses.
Republicans, who outnumber Democrats in the Legislature 32-17, drew criticism after the 2010 Census for moving the Bellevue area, which has a substantial number of Democrats, out of the 2nd Congressional District and into the 1st Congressional District, which is dominated by rural Republicans. There was also sniping about the creation of a new legislative district in the Gretna area, a move that allowed a legislative aide who worked on redistricting and lived in the new district, John Murante, to run for and win the newly created post. Murante, a Republican, is now state treasurer.
Concerns have prompted some unsuccessful attempts to make the redistricting process less partisan.
Gov. Pete Ricketts blocked one attempt by vetoing a bill, passed in 2016, that would have shifted the job to an independent commission — devoid of state senators — as is done in Iowa and some other states. Then, last year, a signature drive to put a ballot issue before voters on whether to establish such a commission was called off amid the pandemic.
Former Sen. Danielle Conrad, who now heads the ACLU of Nebraska, which was part of the coalition pushing for the ballot issue, said there's still a chance that a less-partisan redistricting process could be adopted by legislators.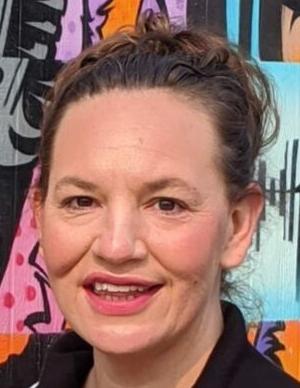 The redistricting committee, she said, will need to propose, and get passed, a resolution that lays out the guidelines for its work. In 2011, that resolution included a clause that said the new boundaries should not be drawn "with the intention of favoring a political party or any other group or person." The resolution also said that party registration of those involved should not be considered, nor should the voting power of minorities be diluted.
Despite arguments by some Democrats in the Legislature that Black voters in Bellevue were being disenfranchised and that the changes in the 2nd Congressional District diluted the voting clout of Democrats, the redistricting plan was passed.
There's also a pending bill, introduced by Sen. John McCollister of Omaha, that seeks to reduce the partisanship in the redistricting process. Legislative Bill 107 would require a two-thirds vote of the redistricting committee, instead of a simple majority, to elect the chair and vice chair, thus conceivably leading to more of a consensus leadership. The measure would also put into law, rather than in a non-binding resolution, many of the goals stated in the 2011 redistricting resolution.
McCollister said LB 107 could be adopted in time to apply to this year's redistricting effort. But a similar bill failed to advance last year.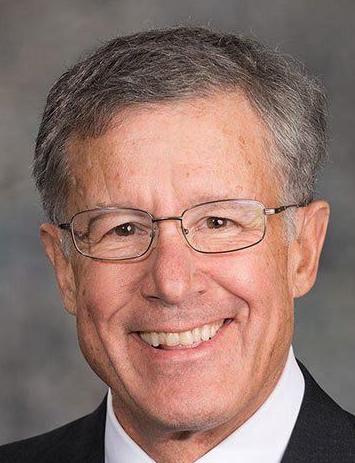 The senator said that if this year's redistricting work isn't considered fair, he expects another initiative petition for an independent redistricting panel to be launched. And such an initiative, he said, could include redrawing districts in four or five years, instead of waiting for the next U.S. Census in 2030.
Conrad said she wasn't ready to discuss future plans. She said state lawmakers still have a chance to "do the right thing," pointing out that a recent survey by the ACLU found that 93% of respondents favored a redistricting effort driven only by census data, not partisan politics.
"People want to put aside petty partisan politics and backroom deals and do what's right, in a transparent and nonpartisan way," she said.
Westin Miller of Civic Nebraska, another group behind last year's initiative, said he's encouraged by last week's debate over making votes for legislative committee chairs public rather than continuing to use secret ballots. Miller said several lawmakers spoke in favor of retaining nonpartisanship, rather than opening up the votes to political pressure.
Hughes, chairman of the Executive Board, said no "party apparatus" is telling him how districts ought to be drawn, though he was elected because he was a Republican and a conservative.
Redistricting, he said, "is not nonpartisan. This is politics to the core."
---
Meet the current Nebraska state senators