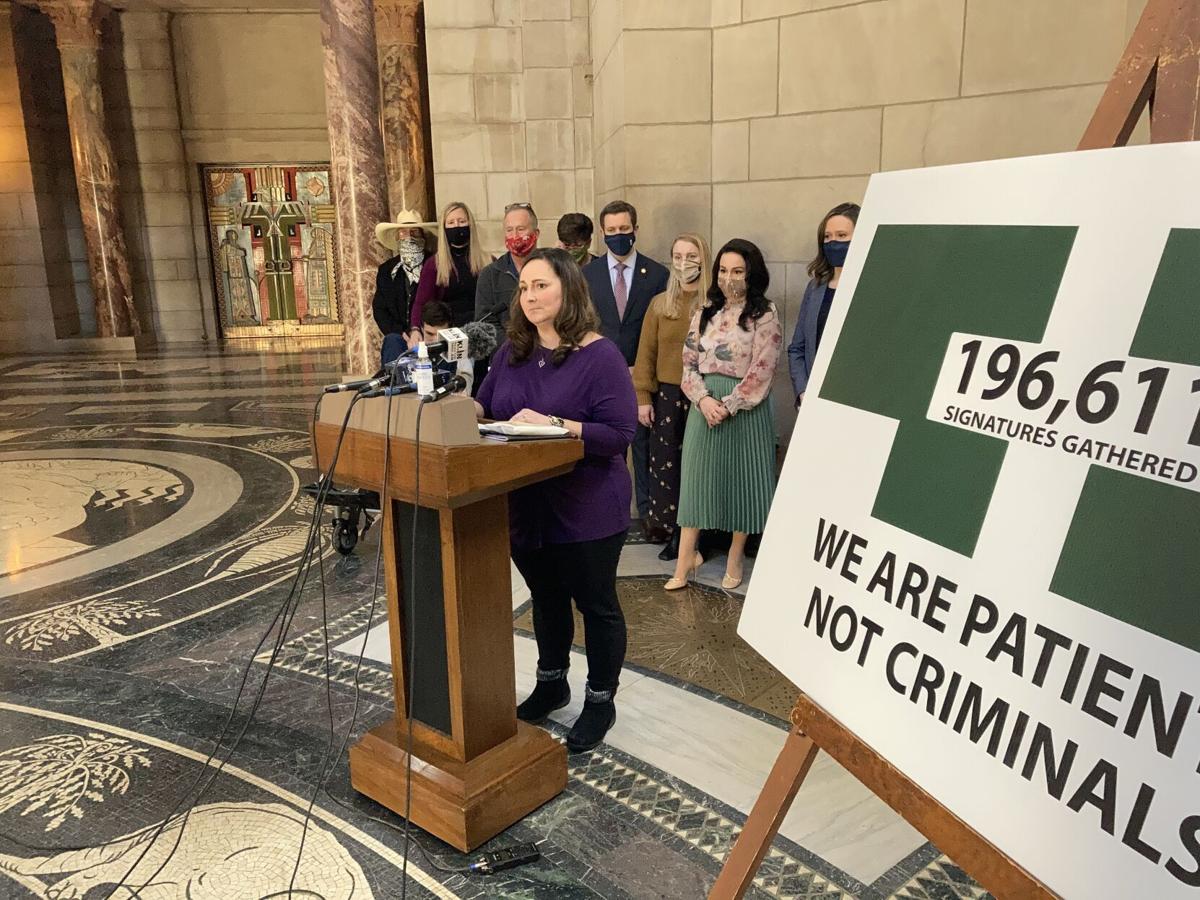 LINCOLN — Crista Eggers said she worries constantly about the lasting damage exacted by the uncontrollable epileptic seizures rocking her 6-year-old son, Colton.
"His small body stiffens and convulses. His eyes roll back and his lips and face turn blue. He shrieks in pain until the seizure is over," Eggers said.
On Tuesday, the Gretna mother joined other proponents in urging Nebraska legislators to legalize medical cannabis and heed the opinions of 196,611 registered voters who signed petitions last year to put the issue on the November ballot.
"Give us the chance to save our children," Eggers said. "We can't continue to wait."
It was the latest setback in at least eight years of advocacy by parents and groups like Nebraska Families for Medical Cannabis.
At a press conference Tuesday sponsored by the Families group, state legislators were urged to not only pass a bill legalizing medical cannabis, but also approve two measures designed to reduce the chances that another ballot initiative is blocked by a technicality despite collecting more than enough signatures to quality for the ballot.
"My motto for this year, after what we experienced last year, is that sometimes the greatest rewards in life are achieved on a path that is rife with challenges," said State Sen. Anna Wishart of Lincoln, one of the leaders of last year's nullified petition drive.
She said her Legislative Bill 474, the Medicinal Cannabis Act, would safely regulate medical use while providing access to those it would help. It would not allow the smoking of marijuana as medicine, only its use in other forms, such as oil, cream or pill form.
Nebraska, Wishart and others at the press conference said, needs to join the 36 other states that have legalized marijuana for medical use instead of waiting for another citizen initiative or for the federal government to do it.
"The reality is 'we the people' are not being heard," said Dominick Gillen of Bellevue.
Gillen and his wife have unsuccessfully tried countless medications — up to 22 a day — special diets, a surgically implanted nerve stimulator and other steps to control the seizures suffered by their son Will. Medical cannabis may not be "the magic bullet," but Gillen and others on Tuesday said parents should be provided the opportunity to try it without breaking the law.
The effort promises to be an uphill climb. Gov. Pete Ricketts has been a staunch opponent of medical marijuana. At least 33 of 49 state senators would be required to override a filibuster of the measure, and 30 of 49 would be required to override an expected veto.
LB 474, which will be the subject of a public hearing March 10, has 10 co-sponsors, but none are Republicans in the GOP-dominated Legislature.