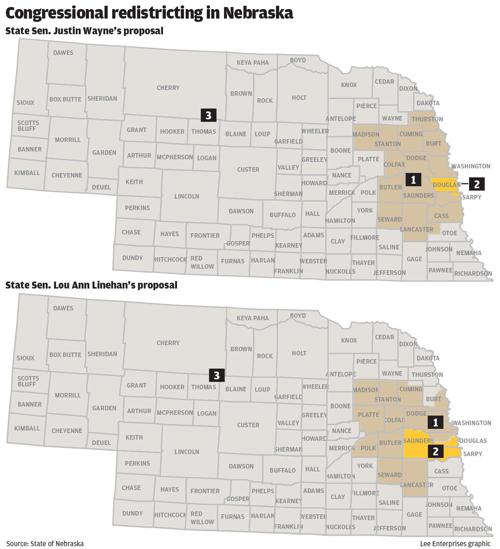 LINCOLN — A Republican redistricting proposal unveiled Wednesday would cleave off northwest Douglas County from a Nebraska congressional district that has been won by presidential and congressional Democrats at various points over the past decade.
State Sen. Lou Ann Linehan of Elkhorn, the GOP chairwoman of the Legislature's Redistricting Committee, distributed the proposed district boundaries at a morning committee meeting.
The map would divide Douglas County, all of which currently sits in the state's 2nd Congressional District. The district became known as Nebraska's "blue dot" following Democrat Joe Biden's electoral victory there in the 2020 presidential election.
The committee is slated to meet again Thursday to discuss her map and an alternative proposed by the committee's vice chairman, Sen. Justin Wayne of Omaha, a Democrat.
Wayne's map would leave Douglas County whole while putting Bellevue back into the 2nd District. The result would be similar to the district's boundaries following the 2001 redistricting.
The Linehan map, by contrast, would split Douglas County along Interstate 680 and West Dodge Road. Everything north and west of those main thoroughfares would move into the 1st Congressional District, which is dominated by Lincoln. The district is represented by U.S. Rep. Jeff Fortenberry.
The revamped 2nd District would include the rest of Douglas County, all of Sarpy County and all of Saunders County. The district now is represented by U.S. Rep. Don Bacon.
All three of Nebraska's representatives are Republicans.
The Democratic map evens out the population among the three districts, while the Republican map has slight deviations. Legislative guidelines call for the districts to be "as nearly equal as practicable" in population.
Linehan previously expressed doubt that a proposal splitting Douglas County would advance far in the Legislature, though she said she would take a look "if somebody would bring me a map that would make sense."
On Wednesday she defended her proposal, saying that it would keep Sarpy County whole and follow natural boundaries. She pointed out other political districts divide Douglas County several ways, including proposed and historical Supreme Court, University of Nebraska Board of Regents and State Board of Education seats.
"I don't know why we can slice Sarpy County but we can't touch Douglas," she said.
Linehan said she worked with fellow Republicans on drafting the proposal, while Wayne worked with Democrats on the redistricting committee.
Linehan said the plan would tilt the district slightly more Republican but leave the Democratic core of Omaha intact.
"It's a positive (for the GOP) but it's small," she said.
At the same time, it would give Sarpy County more of a voice by keeping it intact, Linehan said. County residents now are in districts dominated either by Omaha or Lincoln.
"They're always the stepchild," she said.
Wayne's proposal put the core of old Bellevue into the 2nd District. He said the area has common interests with Omaha and has historically been part of the 2nd Congressional District. The area was moved into the 1st District under a controversial Republican plan 10 years ago.
His map would split Sarpy and Otoe Counties. Linehan's map would split Douglas, Burt and Cuming Counties.
The committee is aiming to settle on a redistricting package by Thursday night, for distribution to fellow lawmakers and the public by Friday. The Nebraska Legislature is slated to convene Monday for a special session focused on the redrawing of state political districts that is required every 10 years following the federal census.
The Legislature has to complete its work by Sept. 30 so that counties, school districts and other local subdivisions have time to redraw their election districts and local election officials can make changes to voting precincts.
State Democrats raised accusations of gerrymandering — drawing boundaries to give one party an unfair advantage in elections — in 2011 after Republican lawmakers pushed through a plan that moved the Democratic-leaning Bellevue out of the 2nd Congressional District, where it had been traditionally, and replaced it with GOP-heavy western Sarpy County.
The change came after the 2nd District gave an electoral vote to Democrat Barack Obama in the 2008 presidential election. Unlike nearly every other state, Nebraska awards three of its five Electoral College votes based on the winner of each congressional district.
The redrawn 2nd District remains competitive, however. It elected Democrat Brad Ashford to Congress in 2014 and gave an electoral vote to Biden last year.
Some Republican elected officials refrained from weighing in on the initial proposals Wednesday. A spokesperson for Gov. Pete Ricketts said he had not reviewed the maps. Similarly, a spokesperson for Omaha Mayor Jean Stothert said the mayor was traveling and had not seen any of the maps.
Democratic party activists and advocates, on the other hand, wasted no time tearing into Linehan's proposed congressional map.
Jane Kleeb, chair of the Nebraska Democratic Party, had only seen screenshots of the proposal Wednesday, but said it would likely lead to litigation if unchanged.
"We're happy to draw a map for the Republicans to a courthouse, because that's where these maps will end up," she said.
"There's absolutely no way that we will stand for Douglas County being cut in half, and no way we are going to stand for rural counties not losing a senator when they absolutely should, based on population."
Preston Love Jr., a get-out-the-vote and voting rights activist, said the Republican proposal would nullify the votes of predominantly Black neighborhoods of North Omaha.
"You can leave a community intact, such as North Omaha, but if you water it down around the edges you in effect nullify it," said Love, a Democrat. "You do that purposely even though you can claim you didn't touch North Omaha. It's tricky. But it's gerrymandering."
Partisan gerrymandering is legal, but racial gerrymandering is illegal, said Crystal Rhoades, former Douglas County Democratic Party chair. She said most African-American voters are east of 72nd Street, so the Republican proposal leaves that area intact while splitting much of Douglas County off in an effort to make District 2 unwinnable by a Democrat.
"It's their way of making sure the blue dot never happens again," said Rhoades, an elected member of the Nebraska Public Service Commission. "They have been very upfront about that."
Precious McKesson, a Democrat from North Omaha who cast Nebraska's 2nd Congressional District Electoral College vote for Biden in December, called the Republican map "gerrymandering at its finest."
In a tweet, she urged people to attend a public hearing in Omaha later this month to demand that Douglas County be kept whole.
"We fought hard for the blue dot, no way we're going to let them split it," McKesson said.
World-Herald staff writers Christopher Burbach and Sara Gentzler contributed to this report.
---