LINCOLN — The Legislature's latest redistricting plan still would have provided Democrat Joe Biden with an Electoral College vote from the 2nd Congressional District if it had been in place last year.
What's more, the new district boundaries would have made the vote margin only a little smaller than it was with the current district lines, according to a World-Herald analysis.
The 2nd District was dubbed the "blue dot" after Biden's presidential victory there in 2020 and Democrat Barack Obama's win in 2008.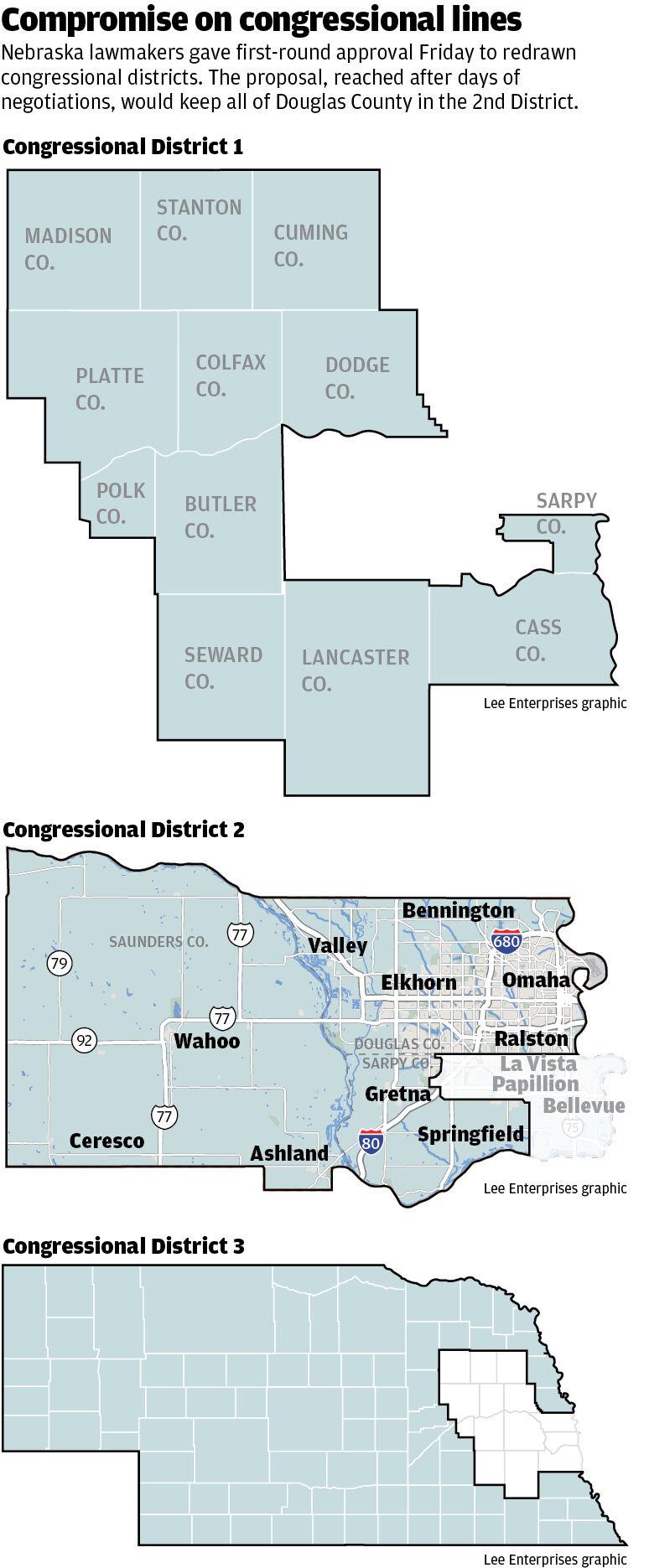 Under a compromise plan advanced to the final stage of consideration Tuesday, all of Douglas County would remain in the 2nd Congressional District, along with western Sarpy County. The more rural Saunders County would be added, moving out of the 1st District.
Legislative Bill 1, introduced by State Sen. Lou Ann Linehan of Elkhorn, the Republican chair of the Redistricting Committee, would keep Gretna, Springfield and Papillion's southern neighborhoods in the Omaha-dominated district, where they are currently. They would continue to be represented by Rep. Don Bacon in Congress.
But La Vista and the bulk of Papillion would be shifted out of the 2nd District and into the 1st District, where they would be represented by Rep. Jeff Fortenberry. Bellevue and Offutt Air Force Base already are in the 1st District, where they would remain. Both Bacon and Fortenberry are Republicans.
The dividing line through Sarpy County would cut southeast from about 164th Avenue and Harrison Street to 156th Street, then south to Wehrspann Lake. It would curve west around the lake, going as far west as 168th Street before heading back east along Highway 370 to 156th Street again. There, it would go south to Schram Road, east to 60th Street and finally south along 60th Street to the Platte River.
The new 2nd District would extend far enough east to include Bacon's current home and his planned new residence — a plan that Nebraska Democratic Party Chair Jane Kleeb promptly dubbed the "slice of Bacon" map.
Bacon currently lives about a mile south of Shadow Lake Towne Center. He recently purchased land in rural Sarpy County — just west of 60th Street and south of Platteview Road — to build a new home.
Some Democrats in the Legislature objected to the new proposal, questioning the inclusion of Saunders County in particular, which has not previously been part of the 2nd District.
Sen. Steve Lathrop, a Democrat from Omaha who is on the Redistricting Committee, called the change a partisan move by his Republican colleagues. Saunders County, whose county seat is Wahoo, has about three times as many registered Republican voters as Democrats.
"The sole purpose is to make it more difficult for the Democratic Party," Lathrop said Tuesday.
A World-Herald comparison of party registration numbers shows a nearly 50-50 split of Republicans and Democrats in the 2nd District, both before and after the proposed boundary line changes.
The proportion of registered voters for the two parties would change less than one-half percentage point between current boundary lines and those proposed, with Democrats making a slight gain. That's the case even though Saunders County voters lean more Republican than the Sarpy County voters who would be moved out of the 2nd District.
The compromise plan, developed after days of intense negotiating by state lawmakers, would slightly increase the proportion of Democrats in the 1st District. But the district still would have about six Republicans for every four Democrats.
The 1st District, which includes Lincoln, still would have given its Electoral College vote to Republican Donald Trump as well. Nebraska is one of two states that splits its Electoral College votes, awarding one to the winner of each congressional district, and two to the statewide winner.
The 1st District, which some have called a "Pac-Man" shape, would get smaller geographically but keep the shape. It would shrink from 16 whole counties and part of Sarpy County to one with 10 whole counties and part of Sarpy and Polk Counties.
Nebraska's other 79 whole counties and part of Polk County would become the new 3rd District, represented by Rep. Adrian Smith, also a Republican.
---