LINCOLN — A legislative redistricting plan crafted by Republicans failed to overcome a filibuster in the Nebraska Legislature on Monday, sending lawmakers back to negotiate further on how to reconfigure the state's legislative districts to account for population shifts.
A motion to end the filibuster failed on a 27-18 vote, six votes short of what was required.
In the officially nonpartisan 49-seat Legislature, 32 seats are held by Republicans and 17 by Democrats.
One Republican, Sen. John McCollister of Omaha, voted with Democrats against ending the filibuster, and four other Republicans sat out the vote: Sens. Robert Hilkemann of Omaha, Mark Kolterman of Seward, Rich Pahls of Omaha, and John Stinner of Gering.
Earlier Monday, Republican lawmakers on the Redistricting Committee voted to advance Legislative Bill 3, which contains the legislative map, on a party-line vote.
Monday's series of events felt familiar — last week, the same committee advanced the Republican congressional redistricting plan along party lines, and that plan also failed to overcome a filibuster on the floor.
Lawmakers negotiated congressional and legislative plans over the weekend, according to Sen. Lou Ann Linehan of Elkhorn, chair of the committee. As of Monday, there was no compromise shared publicly.
After hours of contentious debate among legislators, Linehan and Sen. Justin Wayne of Omaha, the committee vice chair, both still felt that a compromise could be reached.
"There's lots of people with lots of ideas," Linehan said. "We're going to be meeting one-on-one tomorrow."
Census data released in August showed that populations in rural areas of Nebraska declined, while populations in urban areas continued to grow. With that in mind, both plans — from Republicans and Democrats — propose moving a legislative district from a more rural part of the state to the Omaha metro area. 
Linehan's plan, developed with fellow Republicans, would move District 24 — currently composed of Seward, Polk and York Counties — to southwestern Sarpy County. The proposal was met by opposition from Kolterman, who represents that district.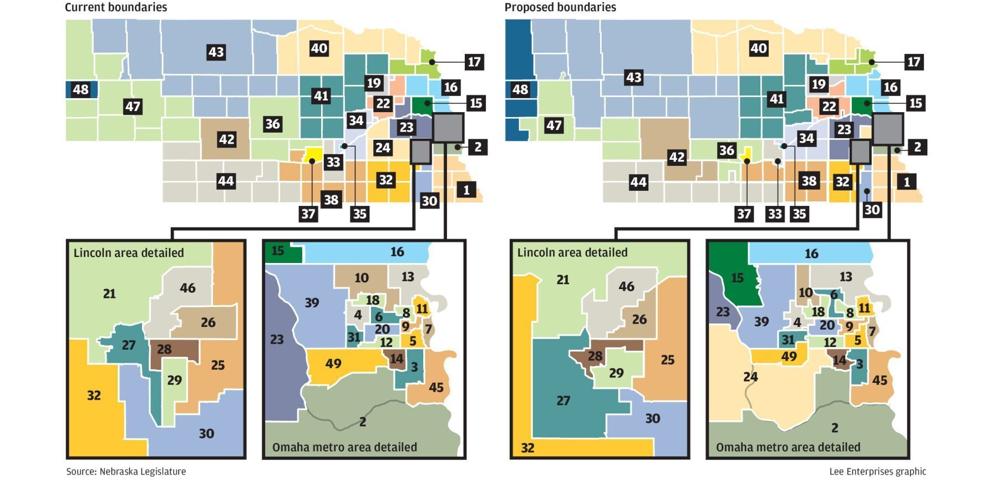 The map proposed by Wayne and fellow Democrats would instead move District 44 from southwest Nebraska into western Douglas and Sarpy Counties. Sen. Dan Hughes of Venango, the senator representing the 10-county district, said his district was chosen for a reason — it covers a large area, lost population and contains several counties.
He called it "low-hanging fruit" but said he doesn't think that means it should disappear.
Hughes was among several senators who represent rural areas who on Monday argued that increasing the size of rural districts can make it unmanageable to represent constituents.
"It's about servicing the citizens of the state of Nebraska," Hughes said. "They deserve representation. They deserve access to their senator."
Hughes and Kolterman are both term-limited Republicans and have only a year left in office.
The debate became heated at times Monday, though much of the action was taking place away from microphones — in side conversations and the map room.
Lawmakers debated alternatives, including Wayne's map and a version of Wayne's map with a reconfigured Lancaster County area. The latter, an amendment sponsored by Kolterman, gained support from area senators in both parties.
Many lawmakers who opposed the Republican proposal spoke about specific changes that would happen to their districts, slicing up communities they see as cohesive or drastically altering the area they represent. Guidelines passed by the Legislature require redrawn boundaries to follow county lines when practical, preserve communities of interest, and allow for the core of current districts to be preserved.
Sen. Michaela Cavanaugh of Omaha, a Democrat, said the map would "tear apart District 6," calling it a "purely partisan" move to make reelection harder for Sen. Wendy DeBoer of Bennington, also a Democrat, in the neighboring 10th District. Sen. Anna Wishart of Lincoln, another Democrat, said all but four of 14 distinct neighborhoods currently in her district, District 27, would be eliminated.
Still many emphasized — some while arguing against changes to their districts — that districts belong to Nebraskans and not individual legislators. Or, that people just aren't that engaged.
"People don't know who their senator is, and they could care less," said Sen. Steve Erdman of Bayard.
A few Democratic senators referred to testimony in Omaha last week from Kristie Pfabe, a math professor who conducted an analysis of both plans. Guidelines adopted by the Legislature allow legislative districts to have up to 5% more or 5% fewer people than the 40,030 target number.
In Pfabe's analysis, Wayne's map showed "more randomness" in how districts varied above and below the ideal population, while Linehan's map showed a clear trend favoring rural districts.
"The math doesn't lie," said Sen. Adam Morfeld of Lincoln.
After Morfeld and others referenced that analysis, Sen. Tom Briese of Albion argued that those deviations are inherent to preserving the core of current districts and minimizing changes to districts' boundaries.
Lawmakers aim to finish redistricting by Sept. 30.
The full Legislature plans to consider less controversial items Tuesday and Wednesday, such as maps for the Public Service Commission and Supreme Court judges' districts.
Speaker Mike Hilgers of Lincoln told lawmakers that he intends to be in his office with Linehan and Wayne "as long as it takes" Tuesday night. He invited lawmakers to come work and voice their concerns.
---