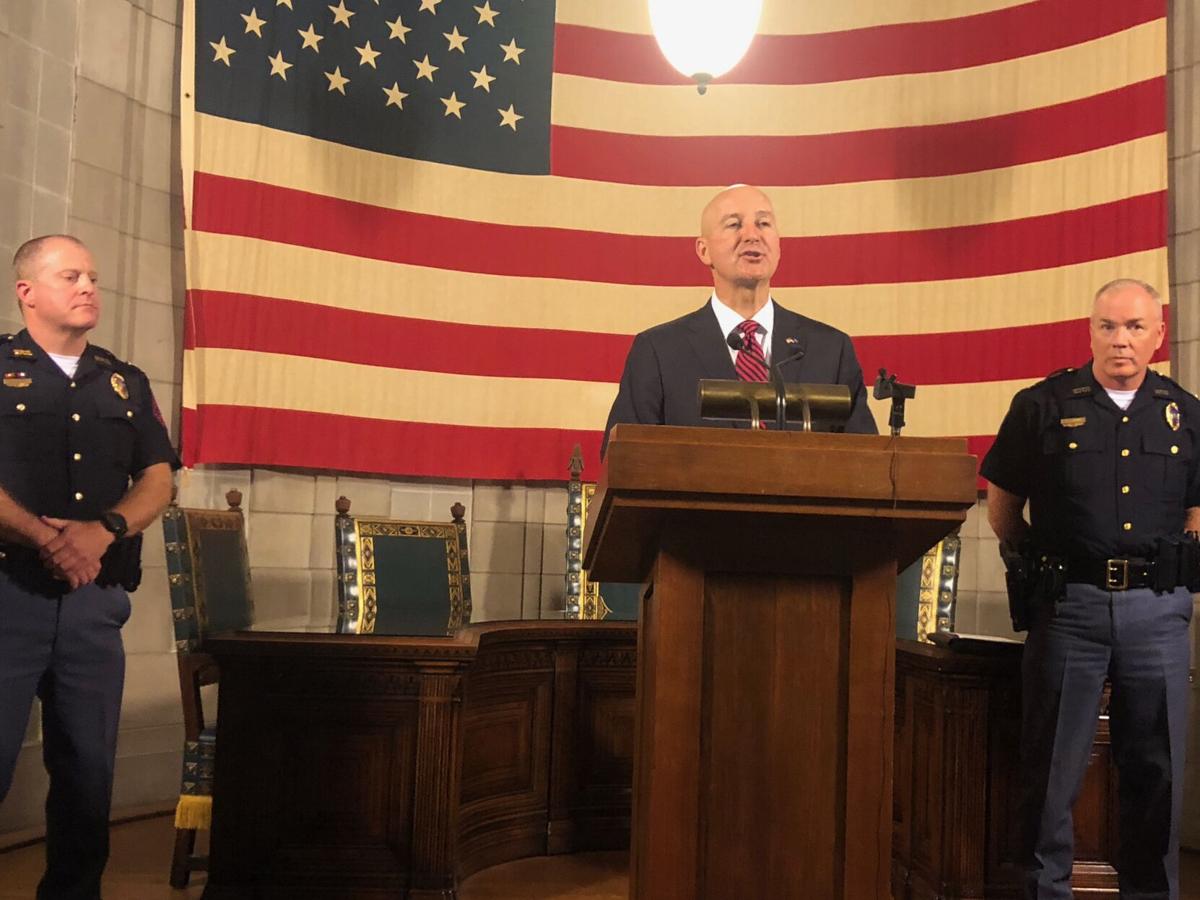 Nebraska state troopers deployed to the Texas-Mexico border are returning home Thursday and Friday, officials said.
Speaking at a press conference Thursday, Gov. Pete Ricketts and State Patrol officials praised the deployed troopers and emphasized why they view the mission, which they now expect to cost the state $500,000, as important.
"I can tell you personally that in the 23 years I've been in law enforcement, I have not seen a humanitarian situation of the nature of which we were up against down in Texas," said Capt. Jason Scott, who led the deployment.
The Nebraska State Patrol deployed 25 troopers to the Del Rio area in late June in response to a joint request by Texas and Arizona — a move some have criticized as a political stunt. The deployment was slated to last up to 16 days. Ricketts announced July 9 that 15 of the troopers would stay two additional weeks.
Ricketts said Thursday that helping out other states is something Nebraska does on a "regular basis," adding that the situation shows that the Biden administration needs to "take action along that border." Later, he suggested that the administration should go back and "examine the Trump policies" previously in place, such as the planned border wall.
State Patrol Superintendent Col. John Bolduc said troopers "actively assisted" Texas Department of Public Safety troopers, Customs and Border Protection agents, and Texas Rangers for 24 days, working day and night shifts.
The deployed troopers assisted other agencies with 500 traffic stops and 25 commercial vehicle inspections, which led to several arrests on suspicion of possession of narcotics and weapons, according to Bolduc.
Bolduc said troopers also assisted in the arrests of more than 15 people for human smuggling, located at least six known gang or cartel members, recovered stolen vehicles, and assisted in arrests for "sex offenses against minors and the crime of child exploitation."
"Our team worked with professionalism throughout the entire deployment and was repeatedly praised by our law enforcement hosts in Texas," Bolduc said.
Nebraska troopers also assisted as Texas troopers referred more than 1,600 migrants to CBP, according to Bolduc.
"The vast majority of those migrants actually approached troopers asking for help," he said.
In all cases, troopers were with Texas law enforcement officers, according to Scott. Nebraska troopers rode with Texas troopers, he said, acting as a "force multiplier" so the trooper had easily accessible backup.
"We would patrol open country, or bush country if you would, on foot, looking for anything of criminal nature — from drug smuggling to human smuggling to trespassing to vandalism," Scott said. "We would conduct routine, criminal patrols in patrol vehicles, and it was just a lot like the public safety we do here in Nebraska."
He described the situation in Texas as overwhelming, with the volume of people crossing the border. The overwhelming majority of contacts, he said, felt positive.
"I wasn't necessarily — nor were our people — checking the immigration status of anybody, but it did feel like, outwardly it looked like, people from every walk of life: skin color, country, creed, age, sex. Everybody," Scott said. "It's a dire situation down there."
He described seeing people desperate for water, food and shelter — with small children and infants.
A spokesperson for the Texas Department of Public Safety, which requested 500 troopers from across the country to support its border operations, told The World-Herald earlier this week that Nebraska troopers were "embedded" with the department and that they had not had special training.
Prior to Thursday, public agencies in Texas and Nebraska had offered few details about the troopers' tasks while deployed.
Critics such as Rose Godinez, legal and policy counsel at the ACLU of Nebraska, have called the deployment political. She also raised concerns, as a civil rights attorney, about Ricketts' suggestion related to federal policy. She called former President Donald Trump's immigration policies "draconian."
"What we heard today is really the governor on defense after single-handedly deciding to spend half a million dollars to send Nebraska State Patrol down to the southern border, hundreds of miles away, instead of their job to serve Nebraskans," Godinez said Thursday.
Documents obtained by The World-Herald last week revealed that Nebraska officials agreed not to seek reimbursement from Texas for the deployment.
The Governor's Office and the State Patrol have said reimbursement is still possible, with Ricketts on Thursday suggesting that the Texas Legislature may take up the issue in a special session. The indication that reimbursement might be possible came from the Texas Governor's Office, according to Ricketts.
"Yes, we stepped up to help a sister state," he said. "I hope that there's reimbursement down the road for us, but I'm very proud of what our state troopers did to be able to assist those people."
Poll: What do you think about Nebraska state troopers' border deployment
Asked if he would consider other sources besides Texas for reimbursement of the half-million-dollar cost, Ricketts said he doesn't know where else they would seek it — and made it clear that it won't be coming from his own pocket.
An editorial published by The World-Herald on Wednesday, noting that a private donor paid for South Dakota's National Guard deployment to Texas, suggested that Ricketts "pay the state for his political ploy."
"I think that the World-Herald editorial staff suggests I write a check for this, which I find shocking," he said. "I think the editorial board of The World-Herald has just lost all credibility by writing that."
Bolduc said that back in Nebraska, there wasn't a drop-off in service while the 25 troopers were gone.
Call volume was a bit down, he said, and "ironically, the 500 traffic stops we made in Texas was about exactly the number fewer traffic stops that we made in Nebraska during that time."
He acknowledged that it may not be a coincidence.
"Obviously, the folks who were making traffic stops in Texas weren't here making traffic stops. So if you were speeding on your way up to Monowi (a village in Boyd County, Nebraska), you probably got a little break."
A State Patrol spokesperson had said no overtime was expected to cover for deployed troopers. But Bolduc said he's sure that there will be some overtime when payroll is reconciled, but not an "exorbitant" amount.
As for covering the costs of the actual deployment, Bolduc said personnel expenses, which he estimated at $300,000, would've been in the budget anyway. State Patrol will find a way to pay for other expenses, he said, such as uniforms and travel.
"If we have to eat $200,000 to $300,000, I think that would be something that we could accomplish during the fiscal year," he said.
Ricketts is among multiple GOP governors who have sent law enforcement in response to requests from fellow Republican governors in Arizona and Texas.