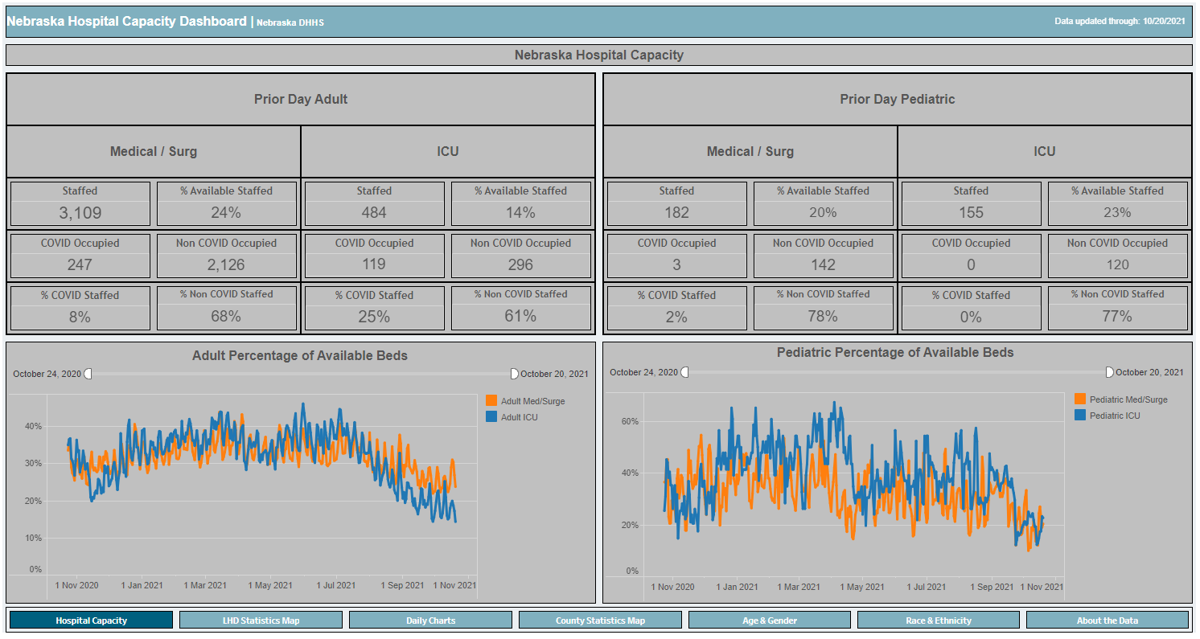 Nebraska will scale back its release of COVID-19 data, updating the information weekly rather than daily and not including county-specific data, Gov. Pete Ricketts announced on Thursday.
A press release from the Governor's Office said the change is being made because hospitalizations due to the coronavirus have dropped below a threshold set in September.
The governor also announced that the state will rescind a directed health measure that delayed some elective surgeries.
Thursday's announcement marks the latest in a series of changes to the state's public-facing COVID-19 data dashboard.
The state retired the dashboard entirely June 30, after Ricketts ended the state's COVID-19 state of emergency. The state then started reporting a limited amount of data each week. The move was heavily criticized. In August, 11 state senators requested that Ricketts reinstate the dashboard, saying the data is crucial for schools and businesses making operational decisions.
When hospitalizations were rising in September, Ricketts reinstated a version of the dashboard focused on hospital capacity, prompting praise from health care officials who said it would make it easier for them to plan and manage outbreaks. As of Thursday, the dashboard included statistics relating to hospital capacity statewide and by local health department region; daily case, testing, and vaccinations; case rates and vaccination by county; and vaccination and the effects of COVID-19 by age group, gender, race and ethnicity.
Ricketts said in September that the dashboard would be dropped if COVID hospitalizations again fell below 10% of the state's total staffed hospital beds. At the time, an average of nearly 400 hospital beds were occupied by COVID patients on any given day.
Last week, an average of 381 Nebraskans were hospitalized with the virus, according to a World-Herald analysis of Centers for Disease Control and Prevention data.
The state will report daily data on Thursday, according to the announcement. After that, the dashboard will be updated weekly on Wednesdays, so long as hospitalizations remain below that 10% threshold. The dashboard will no longer include county-by-county or demographic data.
According to Ricketts spokesman Justin Pinkerman, that will leave the dashboard with tabs that show hospital capacity data, both statewide and by local health department region, along with a tab that features statewide data on cases, tests, hospitalizations, deaths and vaccinations. Each will be updated weekly, Pinkerman wrote in an email.
The soon-to-be-rescinded directed health measure limiting elective surgeries had been in place since late August, when Ricketts declared a hospital staffing emergency. It was extended at the end of September and was expected to be in place through Oct. 31. Instead, the state will rescind it at 11:59 p.m. Thursday.
The measure postponed inpatient surgeries that were able to be delayed four weeks or more without substantially changing a patient's outcome.
Surgeries delayed by the measure could resume Friday, according to the governor's announcement.
Nebraska Medicine, Methodist Health System and Lincoln's Bryan Health had announced before Ricketts imposed the restriction on elective procedures that they would limit certain surgeries requiring overnight stays to ease capacity pressures.
Methodist spokesperson Claudia Bohn said Thursday's announcement is good news, but not much will change at Methodist for now.
"We will still be managing our surgery schedule on a day-to-day and hour-by-hour basis, as the demand for beds remains very high," President and CEO of Methodist Health System Steve Goeser said in an emailed statement. The demand for surgical procedures is also high.
Nebraska Medicine officials said Thursday that they would continue to limit such procedures.
Dr. John Trapp, chief medical officer at Bryan Medical Center, said it's encouraging that the state's metrics allow for the directed health measure to be lifted. Bryan, however, will continue with a "limited and measured approach" to such procedures and reassess frequently.
"A persistently high patient census that is routinely above our physical capacity remains a reality for Bryan Medical Center and many other hospitals," Trapp said in a statement. "As recently as Wednesday, there were 23 transfer requests from greater Nebraska hospitals we were unable to accept due to continued treatment of COVID-19 patients, other acutely ill patients and staffing limitations. The lifting of the directed health measure will allow Bryan and our medical staff greater flexibility as conditions permit."
World-Herald Staff Writer Julie Anderson contributed to this report.
---