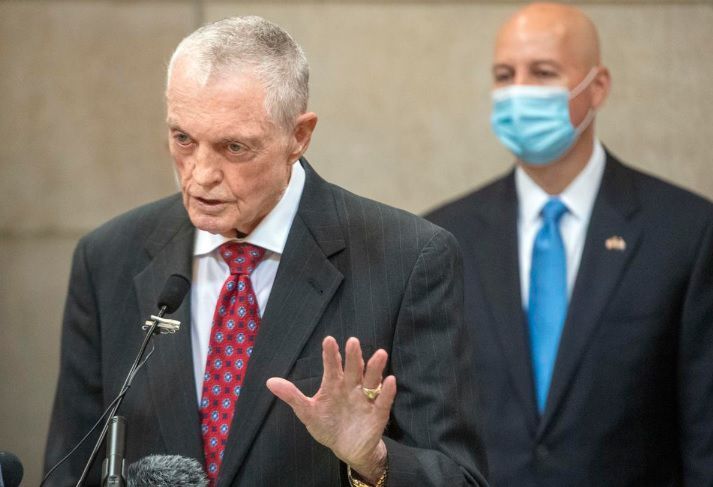 LINCOLN — Dan Hazuka got an up-close-and-personal view of the devastation gambling can cause, first as a child, then as the owner of an Omaha bar.
His father was an alcoholic who gambled away everything, even the family's beds, he said. But that didn't stop Hazuka from going into the bar business when he got out of the military.
He was still a newbie at the Grapevine Lounge at 10th and Dorcas Streets when a major bookmaker came around asking him to take bets on football games there. He agreed, and for the next 35 years, he watched as gambling losses took their toll on the patrons of his bar and on the employees of businesses in the surrounding community.
why Hazuka joined other stalwarts of Gambling with the Good Life in the State Capitol on Monday to speak out against a trio of ballot measures that would allow casinos at licensed horse race tracks in Nebraska.
"I got involved with this (group) in 1995 because of the devastation I caused," he said. "It's a greed-driven business."
A petition drive mounted by Keep the Money in Nebraska got the measures on the ballot. Initiative Measure 429 would amend the Nebraska Constitution to allow for casino gambling at licensed horse race tracks. Initiative 430 would create a Nebraska Gaming Commission to regulate the casinos. Initiative Measure 431 would tax the casinos and direct most of the revenues to property tax credits.
Supporters of the measures say they would raise an estimated $45.5 million a year for property tax relief, keep gamblers from going to other states to play and help revive horse racing in Nebraska.
But former congressman and Husker football coach Tom Osborne, Gov. Pete Ricketts, former Gov. Kay Orr and some state lawmakers are launching an opposition campaign. Most are veterans of past battles against expanded gambling proposals. They played a key role in defeating proposals in 2004 and 2006.
This time, their effort has been endorsed by former Govs. Bob Kerrey and Dave Heineman. Former Omaha Mayor Hal Daub also showed up at the Monday event.
As before, Osborne said, the opponents are outmatched financially. They are turning to networks of religious, business and other groups to get out their message.
"The only thing we can rely on is the intelligence and perspective of individual Nebraskans to educate themselves," Osborne said.
He said the promised property tax relief would amount to a relatively small amount of money, which would be outweighed by increased social costs.
Based on current property tax valuations, casino taxes would boost tax credits for residential and commercial property by $16.91 on every $100,000 worth of valuation. For agricultural land, the taxes would boost credits by $20.29 on every $100,000 of valuation