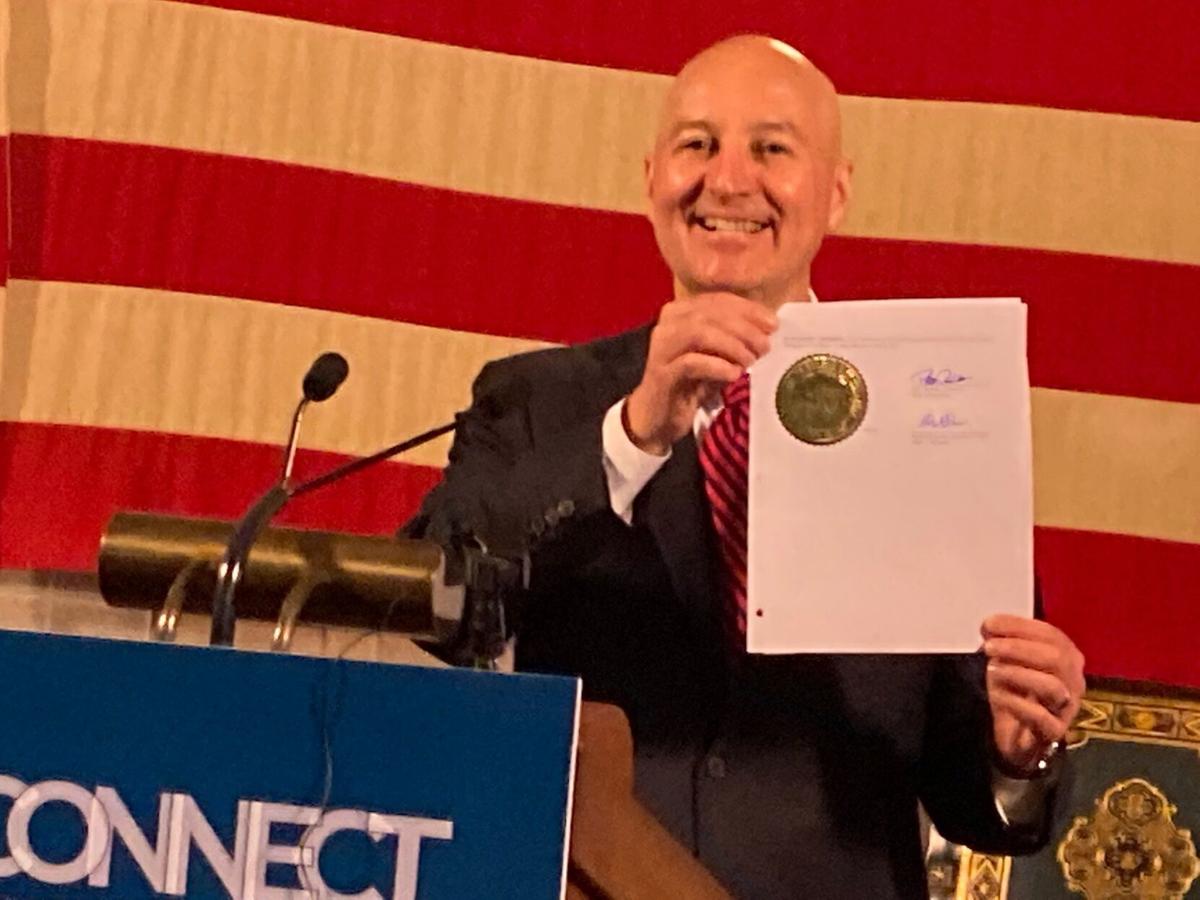 LINCOLN — After 15 months of Nebraskans social distancing, wearing masks and avoiding crowds, Gov. Pete Ricketts on Monday proclaimed an end to the COVID-19 pandemic emergency.
"Today is an exciting day," Ricketts told reporters gathered at the State Capitol. "Now is the time to return to normalcy."
With only 73 people in the state hospitalized with the coronavirus, vaccinations increasing and the number of infections dropping, the Republican governor announced plans to end his executive orders dealing with COVID-19.
He also soon will pull the state out of the federal emergency unemployment program that provided $300 a week in extra benefits, citing a profusion of unfilled jobs across the state.
With a broad smile, Ricketts held up a proclamation to terminate a string of executive orders on June 1, including one that allowed hard-hit restaurants and bars to sell carry-out cocktails. The state's last "directed health measure" — a state requirement that people isolate and quarantine if they become infected with COVID — will expire at 11:59 p.m. Monday.
Ricketts, who urged people to wear masks during the pandemic but never enacted a statewide mask mandate, said the number of Nebraskans hospitalized because of the virus is at its lowest level since the state started keeping track in April 2020.
"By educating Nebraskans about the steps they should take, Nebraskans did what they always do — they took care of their neighbors, they stepped up and did the right thing," he said.
People already are returning to normal activities. Mark Johnson, co-owner of restaurants in west Omaha and Lincoln's Haymarket area, said business during Mother's Day week was the highest in 24 years. One customer in Lincoln even stood up in the middle of the dining room last weekend to proclaim how happy he was that mask mandates were ending.
"People are ready to go out," Johnson said Monday. "With the vaccinations and everything, they just feel safer. And I notice that people are just happier. It's great to see."
Ricketts billed his Monday press conference as his final update on the COVID-19 pandemic.
Just after the state recorded its first case on March 6, 2020, the governor began holding daily media briefings detailing sometimes grim case counts and deaths and the latest, urgent steps to quell the spread of the highly contagious virus.
The state rolled out a free, drive-through testing program called "Test Nebraska" as Nebraskans searched for places to find out if they had the virus. Terms like "quarantine" and "Zoom" became commonplace.
Virus hot spots emerged at nursing homes and meatpacking plants; sporting events were canceled or held without crowds. Drive-through restaurants became clogged with traffic as capacity was restricted at sit-down restaurants.
Daily hospitalizations for the coronavirus peaked at 971 on Nov. 20, leading to concerns that the state might run out of ventilators and intensive care unit beds to treat the respiratory illness. But cases have steadily declined since then.
While the governor declined to say that he was declaring "victory" over COVID-19, he said it was time to return to normal now that 53.7% of the state's eligible residents have been fully vaccinated, and 975,000 have gotten at least one shot.
Ricketts continued to urge those who haven't been vaccinated to get a shot, saying "vaccines work," but overall, he urged Nebraskans to move out of high alert.
"Certainly, if someone wants to wear a mask, that is their personal choice," he said. "But I'm encouraging all organizations to set aside those pandemic rules and move forward together as a state."
At one time, nearly two dozen Nebraska communities had local mask mandates. But the City of Omaha's will run out at 11:59 p.m. Tuesday. Lincoln's indoor mask requirement expired on Friday.
The end of the federal unemployment assistance program will be effective June 19.
That move, which will end an extra $300 in benefits per week for about 15,000 Nebraskans, had been anticipated after several GOP-led states, including neighboring Iowa, moved to end the program early. At least 23 Republican-led states have announced they are opting out.
Ricketts said his rationale was simple: "We're returning to normal."
The governor was joined at Monday's press conference by his wife, first lady Susanne Shore. After he introduced her, he started to retreat from the podium to provide the 6 feet of social distance he'd been urging Nebraskans to keep for more than a year. Then, he corrected himself.
"I don't even have to step away anymore," Ricketts said.
Shore said that Nebraskans can still post stories on a "virtual memorial wall" about loved ones lost to the pandemic via the website NEimpact.org. She said people also can pay tribute to people who "made a difference" during the past year, such as nurses, doctors, teachers or even friends, by posting those stories on NEimpact.org/reflect.
"Your stories will help us chronicle the real-life impact of the pandemic," Shore said.
She also encouraged Nebraskans to "reconnect" with travel and tourism, as well as volunteer. NEvolunteers.com is the access point to donate time or funds, Shore said.
Ricketts' announcement came as the state recorded 549 new cases of COVID-19 for the week ending Saturday, according to data from the federal Centers for Disease Control and Prevention. That is the lowest weekly figure since early April 2020, five weeks after Nebraska recorded its first case.
In the past two weeks, Nebraska's case count has decreased more than 60% — the third-steepest drop by percentage in the nation.
Overall, Nebraska's current per capita case rate is among the lowest in the nation and about half the national rate.
Ricketts said he has no plans to offer free steaks or lottery winnings as incentives for more people to become vaccinated. The state's approach, he said, has been to make the vaccine as available as possible.
World-Herald Staff Writers Henry J. Cordes and Julie Anderson contributed to this report.
---