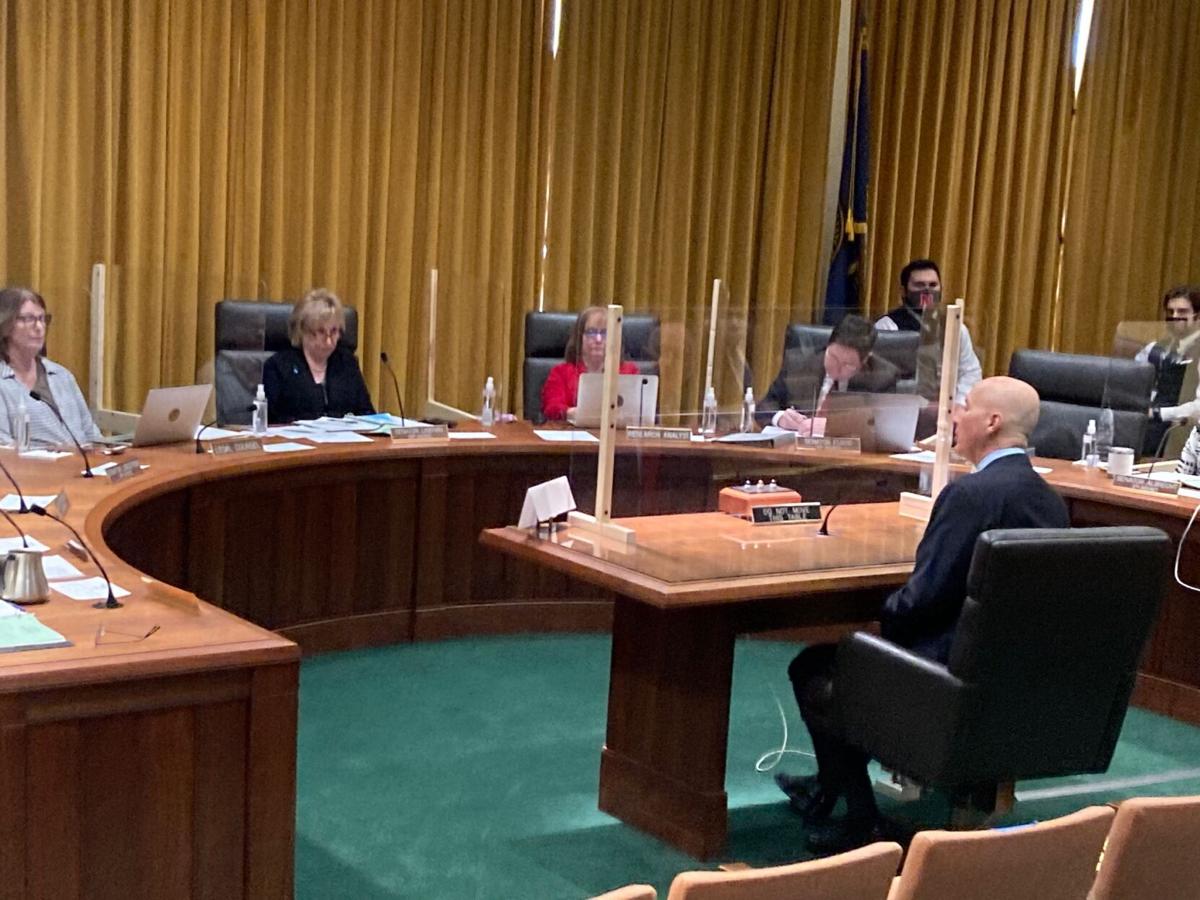 LINCOLN — A year after passing a 50% state tax break on military retirement income, Gov. Pete Ricketts joined veterans and military officials on Friday in calling for expanding that exemption to 100%.
Five of Nebraska's six neighboring states exempt all military retirement pay from state income taxes, and Ricketts said that if this state wants to remain competitive in attracting military retirees and new missions at Offutt Air Force Base, it needs to make its tax break more generous.
Nebraska has a workforce shortage that, he said, could be partially remedied if more highly skilled service members stayed or moved to the state upon retirement.
"This is an important workforce development tool for the State of Nebraska," Ricketts told the Legislature's Revenue Committee. "We need to hold onto these folks."
The governor said data shows that Nebraska is losing the battle. Its rate of growth in such "working veterans" has been only 2.7% in recent years, Ricketts said, compared with growth rates of 12% in South Dakota and 6.5% in Iowa, two states that do not apply state income tax to military retirement benefits.
Nebraska has 14,618 veterans who qualify for military retirement pay, which typically requires 20 years of service. Legislative Bill 387, which was introduced by State Sen. Tom Brewer of Gordon and 10 co-sponsors, is part of Ricketts' stated goal of making Nebraska the "most military-friendly" state.
Brewer amended last year's proposal, LB 153, from a total exemption to a 50% exemption. The move was made at the request of the governor, in deference to higher-priority tax bills, including one that provided a new state income tax credit on property taxes paid. LB 153 passed, but Brewer said a total exemption is needed.
Major Gen. Daryl Bohac, the head of the Nebraska National Guard, said having a generous tax climate for the military and its retirees is one of the factors considered when deciding where to locate facilities.
It was recently announced that Alabama was the preferred choice for the headquarters of the U.S. Space Command, but Ricketts and others believe that the decision will be revisited by the Biden administration and that Offutt still has a chance to host the facility.
The Revenue Committee was told Friday that passing LB 387 would give Nebraska a leg up against another state competing for the Space Command HQ, Colorado, because it is the only neighboring state that doesn't fully exempt military retirement benefits from income taxes.
No one testified in person against the bill, which drew a parade of supporters, including active and retired military members, and representatives of veterans organizations.
But two think tanks that study tax issues did not support LB 387 in written testimony.
The Platte Institute, which was co-founded by Ricketts, was neutral on the bill. Nebraska's high property taxes, it said, are uncompetitive with other states competing to attract veterans, and that would not change under LB 387.
The Open Sky Policy Institute said that the "well intentioned" bill would reduce state tax revenue, harming government services, and that there is no proof that tax cuts affect migration.
Open Sky added that some military retirees earn six-figure incomes as consultants and can well afford to pay state income taxes. The organization suggested targeting low- and middle-income retirees.
The Revenue Committee took no action on LB 387 after the public hearing.
Correction: An earlier version of this story misstated the number of veterans in Nebraska who qualify for military retirement pay.
---
Meet the current Nebraska state senators