If you thought that the threat of nuclear war had been tossed into history's dustbin after the Cold War — well, some of the nation's military and political leaders would like you to think again.
For years now, they say, Russia and China have been updating and expanding their nuclear arsenals. They warn that the U.S. efforts to modernize its "triad" of aging strategic bombers, submarines and ballistic missiles and gravity bombs is lagging.
Those gaps, they say, could tempt one of the rivals to try a dangerous first strike.
Some of the loudest voices are coming from Omaha. U.S. Strategic Command, headquartered at nearby Offutt Air Force Base, is the guardian of the air-land-sea triad of some 1,500 deployed warheads that make up the nuclear arsenal.
StratCom's commander, Adm. Charles Richard, warned of Russia's "explosive capability" last month in testimony before a House subcommittee on the military's strategic forces. And he warned that China could double, triple or even quadruple its relatively small arsenal of about 300 atomic weapons (compared with Russian and U.S. stockpiles of about 4,000 each).
"The U.S. is going to face two peer-capable nuclear competitors," he said. "We have never faced that situation before."
In a recent Fox News commentary, Republican Sen. Deb Fischer of Nebraska said it is critical that Congress stick with plans to rebuild the nation's nuclear infrastructure.
"Under no circumstances can we dismantle our nuclear triad or cancel modernization programs," said Fischer, the ranking Republican on the Senate's strategic forces subcommittee. "Doing so would make our country less safe."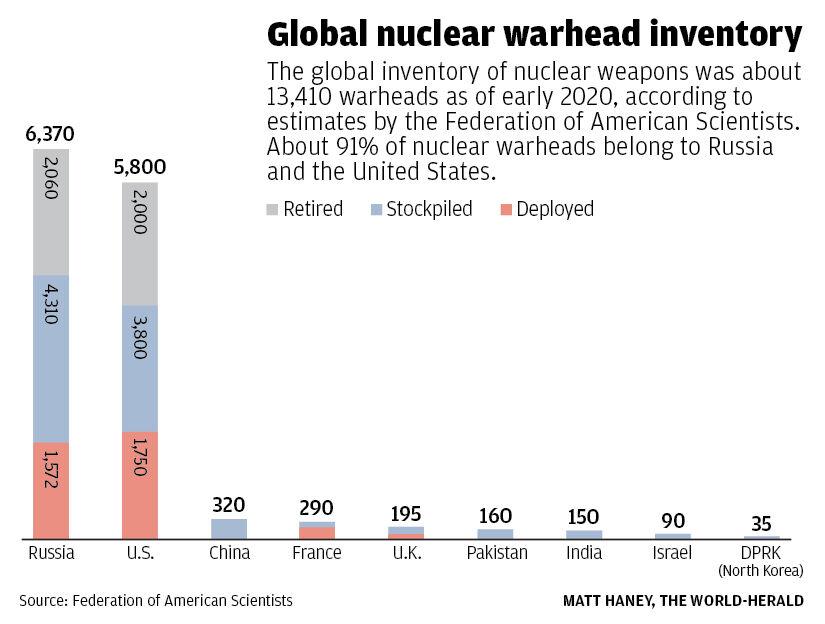 The dissenting voices are fewer in number, but they are getting louder, too. They counter that the massive U.S. arsenal is more than adequate to offset the modernization efforts from Russia and China.
"The spending plans pose a major threat to security priorities more relevant to countering Moscow and Beijing and assuring allies," said Kingston Reif, director of disarmament and threat reduction policy at the Arms Control Association, in an article for Defense News. "A long-foreseen budget reckoning has arrived."
The triad has been a bedrock of nuclear doctrine since the 1960s. Ground-based intercontinental ballistic missiles are valued because they are instantly ready and would be a massive target for an enemy to overcome. The air leg is highly flexible because strategic bombers can fly anywhere but can also be recalled. And the sea leg is both mobile and well-hidden; the submarine-based missiles are as yet impossible for a foe to detect and take out in a first strike.
Witnesses at a House Strategic Forces Subcommittee hearing on Feb. 23 warned against tampering with the triad.
They also said Russia is ahead of the U.S. in updating its nuclear arsenal and has begun building "low-yield" nuclear weapons designed for battlefield use. They aren't covered by the 2010 New START Treaty, which President Joe Biden and his Russian counterpart, Vladimir Putin, recently agreed to extend until 2026.
"Russia has used its once-decrepit and now robust infrastructure to manufacture new warheads and new military capabilities, while the U.S. has gone to great lengths to avoid any new capabilities," said Madelyn Creedon, who heads the Nuclear Security Working Group at George Washington University in Washington, D.C.
Retired Gen. Robert Kehler, who headed StratCom from 2011 to 2013, said the terror attacks of Sept. 11, 2001, led the nation to neglect its nuclear enterprise while it focused on terror threats and Middle East wars.
"I can't recall a time during my professional career when potential threats to our security were more varied or more pronounced than they are today," he said. "We took a holiday from looking at these matters for too long."
Yet even as members of the nuclear establishment sound an alarm over perceived threats from Russia and China, the arms control movement is pushing back.
Through press releases, op-eds and podcasts, they have argued that the nuclear establishment is hyping the threat. Now is the time, they say, to take a breath and reconsider before building new weapons to counter perceived threats that may actually destabilize the balance of terror.
They argue for slowing the upgrades to the U.S. nuclear triad and shrinking or even eliminating the ground-based leg of Minuteman III ICBMs scattered across five upper Midwest and Rocky Mountain states, including Nebraska.
"The U.S. strategic nuclear arsenal is at least one-third larger than necessary to deter a nuclear attack," Daryl Kimball, executive director of the Arms Control Association, said in the group's online newsletter Arms Control Today. "The ICBM force, which is the most vulnerable to attack and the most destabilizing in a crisis, is the place to start cutting the bloated U.S. arsenal."
Matt Korda, a researcher for the Federation of American Scientists' Nuclear Information Project, said ICBMs would only be used in "world-ending situations" that no longer exist.
"If they don't have any purpose in post-Cold War strategy," Korda said, "then what is the cost of keeping them?"
The amping up of a decades-old debate over nuclear spending is happening in part because so much is in flux right now.
Progressives are encouraged because the Democrats control the White House and both houses of Congress for the first time since 2010. While a candidate, Biden said the U.S. should rely less on nuclear weapons. He has appointed arms control advocates to key positions in his administration.
"The stars are aligned," Joe Cirincione, former director of the anti-nuclear Ploughshares Fund, told Politico magazine in January. "Extending New START for five years is just the opening gambit. This is going to be quite a show."
Hans Kristensen, who heads the Nuclear Information Project, said the argument is louder this year because the pie isn't getting any bigger. Last year's defense budget was $741 billion, about 4% of which was to build or sustain the nuclear arsenal.
"At best, the Defense budget is going to be flat in the years ahead, and everybody has such huge wish lists," Kristensen said. "The Air Force, on the nuclear side, has so many big-ticket items."
Dire warnings aside, the U.S. actually has been rebuilding its nuclear arsenal for close to a decade now.
President Barack Obama made a deal with Senate Republicans in 2010 to support $185.5 billion in upgrades to nuclear weapons systems and facilities in return for Republican support of the New START pact.
New START committed the U.S. and Russia to cut in half their number of missile launchers and limited deployable nuclear warheads to 1,550 for each side. It followed Obama's much-touted pledge during an April 2009 speech in Prague to "take concrete steps toward a world without nuclear weapons."
Since then, Congress has funded a $7.6 billion life extension program for the B-61 gravity bomb, slated for completion in 2025, while beginning work on the $55 billion B-21 strategic bomber project (slated to join the fleet starting in 2026) and the $109 billion Columbia-class ballistic missile submarine program (first deployment expected in 2031).
The nonproliferation groups have focused their fire on the Ground Based Strategic Deterrent, a new ICBM to replace the 400 aged Minuteman III missiles. The program, launched last year, is expected to cost more than $100 billion.
In a commentary for Defense News earlier this month, Reif, with the Arms Control Association, proposed freezing spending on the new ICBM until the Biden administration can complete its planned Nuclear Posture Review.
"The Pentagon has not sufficiently examined the availability of less expensive alternatives to buying a new ICBM system," Reif said.
Those alternatives include refurbishing the Minuteman III missiles to last another 25 years, and negotiating with the Russians to reduce the overall number.
Rep. Don Bacon, R-Neb., said protecting nuclear spending has been his top priority in recent years. He's against trying to squeeze more life out of the Minuteman arsenal.
"It's impossible. They're 50 years old," Bacon said. "They're at the end of their life."
In Congress, he said, the progressive wing has about 90 votes — not enough to impose major changes on the military budget, such as the 10% cut some of its members favor.
"We've had over half of the Democrats voting with the Republicans to maintain the triad," Bacon said. "I think we've won that debate."
That doesn't necessarily mean that the argument is over.
"Why would Russia or China deliberately launch a bolt-from-the-blue nuclear first strike against U.S. ICBM fields if ... this would assure their own annihilation?" asked Kimball, of the Arms Control Association, in his recent article.
StratCom's Richard said the command's job is to worry about such remote threats.
"We cannot dismiss or ignore events that currently appear unlikely but, should they occur, would have catastrophic consequences," he said.
---
Photos: Offutt Air Force Base through the years