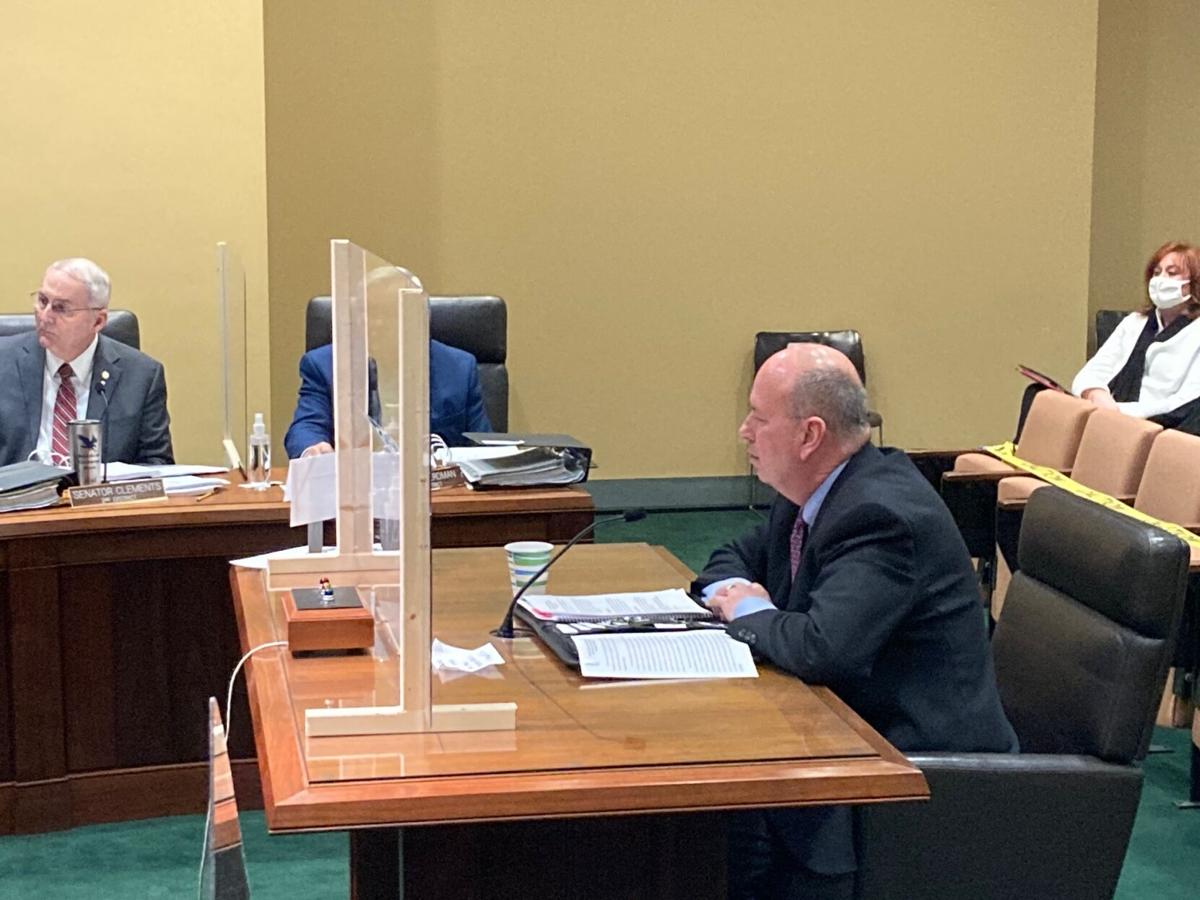 While Director Scott Frakes said chronic overcrowding and aging facilities require the "tough" decision to build a 1,600-bed maximum-medium-security facility, legislators, as well as advocates for sentencing reforms, questioned the need for such a costly construction project when crime rates are falling.
State Sen. John Stinner of Gering, who chairs the Legislature's Appropriations Committee, which weighs budget requests, grabbed his throat and said flatly that he had "a gag problem" with such a request.
"That's a lot of money," he said. "And it's a lot of ongoing money."
The prison might be the most expensive complex ever to be funded by state tax dollars, and would require about $34 million in annual operating expenses.
By comparison, the four-lane South Beltway around Lincoln was projected to cost $352 million, with $50 million coming from the City of Lincoln. The Buffett Cancer Center at the University of Nebraska Medical Center cost $323 million, though more than 70% of the funding came from private donors.
Stinner, as well as a couple other senators on his committee, questioned whether more study, possibly by a task force of experts, was needed to consider alternatives before spending such a large sum.
"I may be convinced by the right information, but I'm not there yet," said Sen. Anna Wishart of Lincoln.
But Frakes said that when the state's prison population rose to record levels in late 2019, holding 2,100 more inmates than the design capacity of its 10 prisons, it was clear new construction had to be proposed.
"We can't afford to wait and see if other options come forward," he said.
Overall, Nebraska has put off building a new prison for more than a decade, Frakes said. In addition, the State Penitentiary, the state's largest and oldest prison, is nearing the end of its useful life, he said, and it would be wiser to repurpose it for fewer, lower-risk prisoners and replace the penitentiary with a modern prison.
Nebraska's incarceration rates are low, about 577 per 100,000 residents, when compared with other states. Frakes said that means that sentencing alternatives won't work as well here as in some states with high incarceration rates that have been able to close prisons.
Today, about 5,300 state inmates are behind bars, a number depressed by the drop in sentencing hearings during the COVID-19 pandemic. But that's still about 1,800 more inmates than the system's design capacity of 3,535. Nebraska remains the second-most overcrowded prison system in the country (behind Alabama), and a recent projection estimated that the inmate population would rise to 6,438 inmates by 2025.
Besides the senators who raised concerns, several people testified against the idea. They told the committee that the state's money could be better spent on alternatives like drug courts or probation, or on things like job and housing programs that would attack poverty and prevent people from committing crimes. Providing better treatment for the mentally ill would also head off trips to prison, they said.
"Tough on crime" measures that include mandatory minimum sentences and enhanced penalties for habitual criminals have contributed to a mass incarceration of Americans that far outpaces other developed countries, said Fran Kaye, a prison volunteer and advocate for additional reentry help for inmates.
Danielle Conrad, a former state senator and now executive director of the ACLU of Nebraska, said the Legislature "stopped short" and didn't fully implement the sentence reforms and alternatives to incarceration called for in a 2015 law, Legislative Bill 605. That legislation was crafted after a study by the Justice Center for the Council of State Governments, which has helped several states reduce corrections costs.
"It was sad and a mistake when Gov. Ricketts sent CSG home and put up the 'mission accomplished' banner," Conrad said.
The committee took no action after the public hearing. It expects to make its budget recommendations by mid- to late-March.
---
Meet the Nebraska state senators