LINCOLN — The Kansas-based agency overseeing Omaha-area child welfare cases nearly ran out of cash in March and expects to lose about $27 million on its Nebraska contract this fiscal year.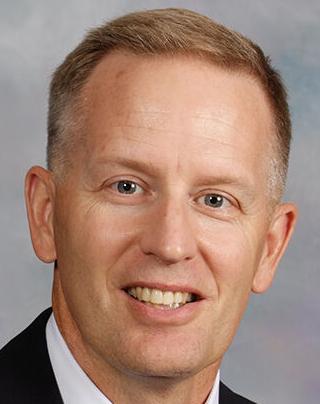 William Clark, the interim CEO of the embattled St. Francis Ministries, told a Kansas reporter that Nebraska officials had "agreed to cover" that projected loss as well as $7.4 million in losses for the previous, partial year of the contract.
But Gov. Pete Ricketts said Monday that the state is still negotiating with St. Francis over money and other issues, including making sure that the agency can meet the terms of its contract, which was signed in July 2019.
"Those are ongoing conversations, but our plan right now is to make sure we're looking out for the children and families first," the governor said.
A state senator from Omaha said Monday that she plans to ask that a special investigative committee look into the St. Francis contract.
Among the issues under discussion are revelations that the Rev. Bobby Smith, St. Francis' former president and CEO, charged more than $469,000 on a pair of company credit cards over almost three years.
The charges include stays at pricey hotels, meals at five-star restaurants, iTunes purchases, airline upgrades, charitable gifts and more than $3,000 at a Chicago men's clothing store touted as "specializing in luxury European designer apparel." Many of the charges appeared to be in violation of an agreement Smith signed with St. Francis when the agency provided him the cards.
Smith's spending added to St. Francis' perilous financial situation. The agency came close to running out of cash in March after a bank refused to increase its $10 million line of credit. It got by only with a $10 million Paycheck Protection Program loan made available through federal coronavirus relief legislation.
The credit card charges, as well as Smith's efforts to hide the agency's growing financial problems from its board of directors, were detailed in a report after an internal investigation launched by the board in late October.
The internal report adds to concerns that a separate whistleblower took to Kansas child welfare officials a year ago.
The earlier whistleblower reported that St. Francis was struggling to pay weekly expenses, making questionable spending decisions and trying to cover up a major data crash at the same time that it was pursuing the Nebraska contract. Those spending decisions included $80,000 worth of Chicago Cubs tickets.
According to the internal investigation, St.Francis employees warned Smith multiple times that the Nebraska contract was a "loser" and advised him not to sign it. One person told the investigator that Smith responded to concerns about losses by saying, "God will provide." Another said Smith omitted information about the projected Nebraska losses from presentations to the board.
The agency offered to do the Nebraska case management job for $197 million over five years, less than 60% of the bid from PromiseShip, an Omaha-based agency that held the previous contract. St. Francis started taking over cases in October 2019. The transition was completed by Jan. 1.
Earlier this year, based on the lower-cost contract, Ricketts asked for a reduction in the amount of money budgeted for child welfare. Lawmakers approved his request, cutting the child welfare budget by $6 million for the fiscal year that ended June 30 and $27 million for the current fiscal year. The budget savings almost exactly match the losses cited in St. Francis' internal investigative report.
Khalilah LeGrand, a spokeswoman for the Department of Health and Human Services, said there is no agreement with St. Francis "at this point" about covering any losses. She said department officials regularly review the agency's expenses for the Omaha-area contract.
"Conversations with the new leadership continue as St. Francis is being required to provide its plan for solvency," she said.
She said the state took "appropriate action" to review St. Francis' finances as part of the contract procurement process. That included obtaining audited financial statements, conducting an onsite interview focused on finances and performing a financial systems audit at St. Francis' corporate offices.
A St. Francis spokeswoman said the nonprofit's leaders "have been and will continue to be completely open" with Nebraska officials about the agency's financial situation and about how they have stabilized the organization.
But Nebraska lawmakers and child advocates raised concerns from early on, questioning how St. Francis could fulfill its contract obligations at the amount it bid. State officials gave reassurances that it could be done and that they had carefully reviewed the proposal.
In a July 2019 letter responding to questions from the leaders of the Health and Human Services and Appropriations Committees, HHS CEO Dannette Smith wrote: "The department is fully committed to holding St. Francis Ministries to their contractual obligations for case management services and the bid they have submitted."
State Sen. Machaela Cavanaugh of Omaha said she plans to push for a special investigative committee to look into the St. Francis contract when the Legislature convenes in two weeks. She said she has a long list of questions about the agency's financial status and the state's selection process. In particular, she wants to know when Nebraska officials became aware of the mismanagement and the whistleblower complaints.
"At a bare minimum, we did not do our due diligence," she said. "This is all starting to unravel very quickly."
Nebraska faced similar concerns a decade ago, when HHS made a disastrous attempt to privatize child welfare case management statewide. Four of the five original contractors ended up dropping or losing their contracts.
PromiseShip, formed by Boys Town and other private Omaha-area child welfare agencies, was the only surviving contractor from that experiment. HHS employees manage cases in all other parts of the state.
Ricketts said HHS officials are looking at contingency plans in case St. Francis can no longer provide services. But he stood by the state's decision to continue contracting out child welfare case management in Douglas and Sarpy Counties and to stick with St. Francis, despite the financial problems that have come to light.
"That's going to be in the best interests of our children to keep a stable relationship there with St. Francis if that is at all going to be possible," he said.
---
Our best Omaha staff photos of 2020