LINCOLN — State Sen. Brett Lindstrom, an Omaha financial adviser, officially declared his candidacy for the Republican nomination for governor on Thursday.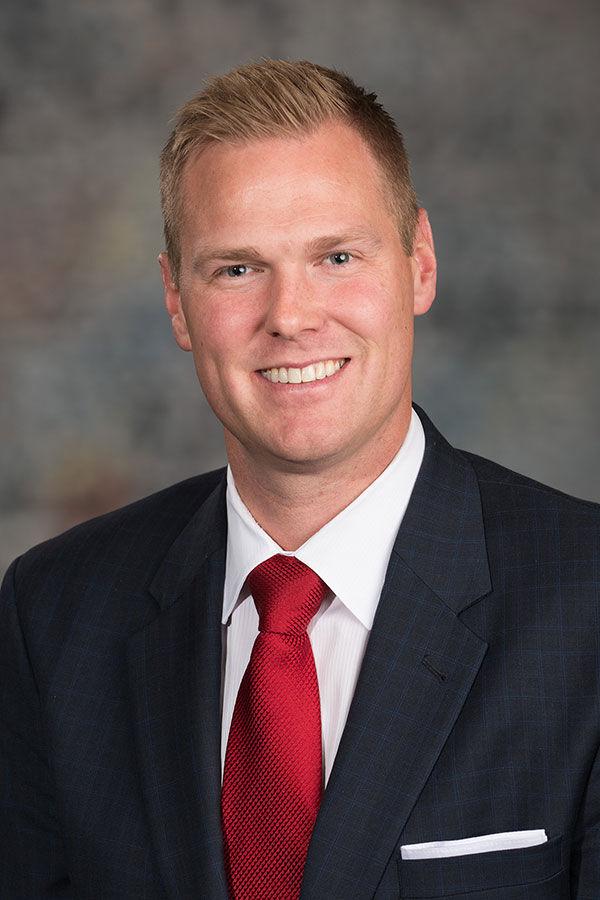 In recent weeks, Lindstrom, a 40-year-old who represents northwest Omaha in the State Legislature, has been marching in parades and attending other events under the banner "Team Lindstrom." But he said he will now be walking behind a "Lindstrom for Governor" sign.
"I want my children to get high-wage jobs and raise their families right here in Nebraska," he said. "I think that's a dream worth fighting for and that's why I am running for governor."
In an interview Wednesday, Lindstrom called himself a "pragmatic conservative," and said he differs from the other two declared GOP candidates because he has more political experience, and more political accomplishments, as a two-term state legislator.
"Next generation leadership is something that's resonating with people I've met," Lindstrom said. "They say, 'We need someone with more energy.' "
Current Gov. Pete Ricketts is term-limited and cannot run for re-election in 2022, leaving a wide-open race for the $105,000-a-year post. No Democrats have yet announced as candidates, and at least two more Republicans, former Gov. Dave Heineman and Bryan Slone, president of the Nebraska Chamber of Commerce and Industry, are considering runs.
Lindstrom, a former walk-on, reserve quarterback for the University of Nebraska, said that if elected, he will work to reform the state's tax system, will fight for voter ID laws and "stop the woke left."
"The fact of the matter is we have a tax code that was structured in 1967 and we've been putting Band-Aids on it since," he said, yet today's economy is much different than in the 1960s.
Lindstrom was best known in the Legislature for pushing bills that reduced state income taxes, including taxes on Social Security checks. This year, he was successful in getting a law passed that could phase out all state income taxes on Social Security after 10 years — an issue that had failed to advance in past years and had been the target of Lindstrom bills for the past seven years.
"We actually accomplished it. That's what we plan to do on the executive side," he said.
He was also known at the Capitol for rarely speaking "on the mike" during floor debate. Lindstrom said he preferred to work on issues, and work out differences, behind the scenes and off the microphone before bills came up for debate. He noted that the Social Security measure, after amendments, passed unanimously.
While Lindstrom listed his conservative credentials — "100% pro-life," a defender of constitutional gun rights and an opponent of defunding of police — he will also have to defend some legislative votes typically opposed by conservatives.
That includes supporting the repeal of the death penalty in 2015 and helping override gubernatorial vetoes of bills increasing the state's gasoline tax and allowing Deferred Action for Childhood Arrivals (DACA) program participants to obtain professional and commercial licenses in Nebraska.
Lindstrom said he opposes capital punishment for religious reasons, supported the hike in gas taxes (which he called a "user fee") as needed to improve the state's roads and bridges, and saw the DACA measure as addressing the state's workforce shortages.
Tyson Shepard, political director for the Nebraska GOP, said that Lindstrom's announcement shows there's no lack of good Republican candidates.
"Gov. Pete Ricketts has done such a phenomenal job. We're excited to continue what he started," Shepard said.
Meanwhile, Jane Kleeb, the chair of the Nebraska Democratic Party, said that Donald Trump's "stranglehold" on the Republican Party means that candidates are going "more and more extreme" to win races.
Democrats, she said, are prepared to win in November by pulling together voters across the spectrum that are frustrated that the GOP is "losing sight of what's best for Nebraska."
Lindstrom and his wife, Leigh, have three children. He graduated from Millard West High School and earned a bachelor's degree in history at the University of Nebraska-Lincoln.
In 2012, he unsuccessfully challenged then-U.S. Rep. Lee Terry for the Republican nomination for Congress, placing second in a five-way primary race. He was elected to the State Legislature in 2014, and re-elected in 2018. Lindstrom is barred from running for re-election due to term limits.
---