LINCOLN — A Bellevue state senator and several medical officials are raising "grave concerns" about a state pitch to fill jobs working with some of Nebraska's most vulnerable residents.
In recent advertisements, the state touts its lack of a COVID-19 vaccination mandate to attract applicants for nursing and nursing assistant positions at a variety of state institutions.
Those institutions include Nebraska's four veterans homes, which care for aging veterans and their spouses. They also include the Beatrice State Developmental Center, which houses people with developmental disabilities, many of whom have additional physical disabilities.
Others include the state's psychiatric hospitals, the state-run facilities for juvenile offenders and the prisons.
State Sen. Carol Blood of Bellevue, who is considering a potential run for governor as a Democrat, said she heard from countless people in her district about the ads, particularly family members of veterans home residents. She sent a letter Monday to Gov. Pete Ricketts and the State Department of Veterans Affairs questioning the tactic.
"This is especially concerning knowing that recently, nearly 60 medical organizations joined together stating that all health care workers should be vaccinated against COVID-19, yet Nebraska is actively encouraging those who are not vaccinated to come and work with our veterans," she said.
Blood acknowledged the state's struggles to fill nursing jobs but said that "putting those who live in these facilities at risk because we need to find bodies to hire is not acceptable."
Holden Armstrong, a spokesman for the Veterans Affairs Department, said that vaccination is an individual's choice and unvaccinated health care workers have served admirably throughout the pandemic.
"The state is advertising these opportunities to recruit nurses to continue to serve in their profession in a way that may not be afforded to them elsewhere," he said.
To protect residents of the veterans homes, he said that all employees are required to wear masks at work. Vaccinated employees are tested weekly, and unvaccinated ones are tested every other day.
In addition, the homes are doing entrance screenings, requiring PPE and have quarantine measures in place based on current guidance and recommendations from the federal Centers for Disease Control and the Infection Control Assessment and Promotion Program.
Taylor Gage, the governor's spokesman, said the advertising does not target potential workers based on their vaccination status. Rather, it offers people an option that may not be available in other jobs.
"Many in the health care field resent the personal health care choice being mandated by their employer," he said. "For nurses finding themselves in that situation, the State welcomes them to apply for a position in State government where we do not have a coronavirus vaccine mandate."
Ricketts has pushed back against mandates — including for masks and vaccines — intended to slow the spread of COVID-19.
The state advertisements raised consternation in medical circles, both because it targets unvaccinated nurses to work with vulnerable populations and because it could undermine efforts by local health systems to require employee vaccination by luring away vaccine objectors.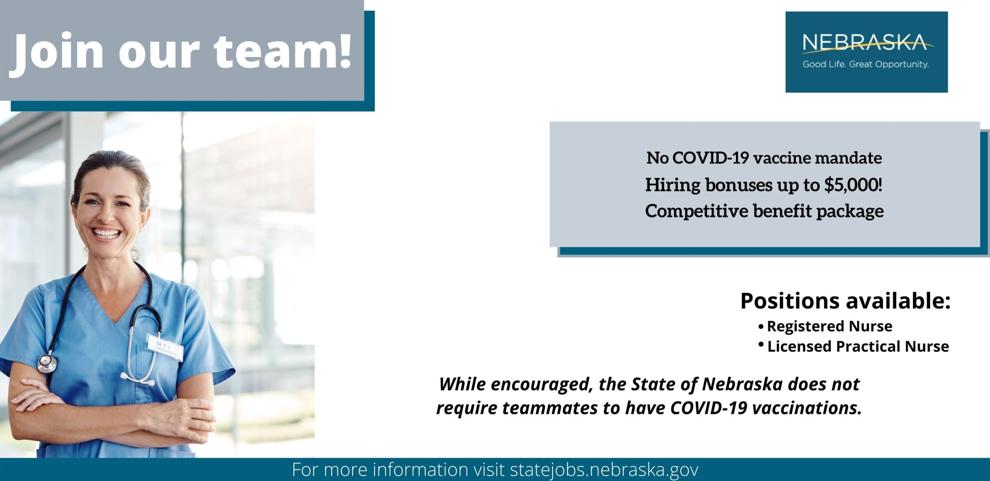 The Nebraska Nurses Association fired off a letter to the governor on Tuesday, expressing dismay that the ads did not support the most effective means for slowing the spread of COVID-19.
"With hospitals across the state at capacity once again, mitigation efforts are critical to prevent the spread of COVID-19. Evidence continues to show the most effective way to do this is through COVID-19 vaccination," said the letter signed by association President Kari Wade.
"The State of Nebraska's recruitment approach … demeans the dedication and diligence the nursing workforce has demonstrated during the pandemic to improve the health of all Nebraskans. This promotion does not serve our state well," she said.
Gage said hiring people attracted by the new ads would improve the quality of care in state institutions, rather than jeopardize residents' safety, because it would mean having more nurses on staff.
"There is a nurse shortage across the state and mandates may make it worse," he said, noting that it is too early to tell how successful the ads have been in attracting job applicants.
Dr. Tom Safranek, Nebraska's former state epidemiologist, said his wife, a nurse, received a card with the ad in the mail.
He said the state is appealing to anyone who doesn't want to get vaccinated to work at a state facility. Nebraska already is seeing breakthrough cases in nursing homes, where some vaccinated residents may not have mounted a good immune response or have seen that response wane over time. Employees can bring the virus into such facilities, often unknowingly.
"The only way to protect them is to cocoon them by surrounding them with a vaccinated workforce," he said.
With the Food and Drug Administration now having given full approval to the Pfizer vaccine, he said, "if anything, we need to heighten our emphasis on vaccination in the workforce."
Eight large Omaha- and Lincoln-based health systems recently announced that they will require all employees to be vaccinated against COVID-19.
Officials said their aim is to ensure the safety of patients and employees and the communities in which they operate.
The announcement came in a joint statement signed by the CEOs of Boys Town National Research Hospital, Bryan Health, CHI Health, Children's Hospital & Medical Center, Madonna Rehabilitation Hospitals, Methodist Health System, Midwest Surgical Hospital and Nebraska Medicine.
Dr. Stephen Doran, chief medical officer with Midwest Surgical Hospital, said the state has a duty to protect its most vulnerable residents, and specifically recruiting nurses who are not vaccinated would put this population at risk.
Dr. Kristine McVea, chief medical officer for OneWorld Community Health Centers, said the eight health systems made their announcement together so it wouldn't create a competitive advantage for one or the other.
Their aim, she said, was to do what was right for public health.
Other health care organizations around the state have been waiting and hoping other employers, not just hospitals but also insurance companies and other firms, would go first in requiring vaccination and set a standard in the community, she said.
It's harder for organizations to act, McVea said, particularly in rural areas where leaders may worry that they won't have the staff they need to care for patients if they impose a mandate.
Health care organizations, not just in Nebraska but nationwide, are short on nurses right now, she said. COVID-19 patients require a lot of care, which stretches staff in hospitals. Hospitals across the country are competing for the same pool of contract traveling nurses.
"It just shows this disregard for the public health stance that private hospitals are trying to make when the State of Nebraska really should be standing up and doing the right thing instead of undermining," she said.
---