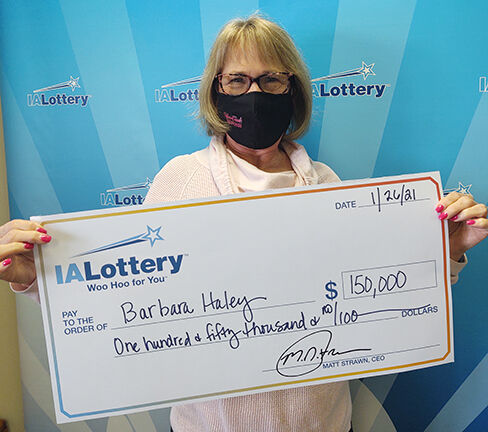 Steve Haley of Sioux City screwed up, big time.
Haley and his wife, Barbara, have been playing the same set of numbers in the Powerball lottery for more than 30 years. The numbers — 1, 5, 9, 27 and 28, represent his family's birthdates. The Powerball number (14) is their daughter's age when they started playing years ago.
But when he was buying a ticket for the Jan. 23 Powerball jackpot, worth $23.2 million, Steve mistakenly marked an "8" instead of a "9."
That mistake won the Haleys $150,000 when the ticket matched four of the white numbers drawn that night (5, 8, 17, 27, 28) plus the Powerball (14).
"We thought we were going to get $300. Because he put an 8 instead, we got $150,000," Barbara Haley told Iowa Lottery officials when she stopped in to claim the prize late last month.
The couple beat odds of 1 in 913,129 of matching four numbers plus the Powerball. The odds of matching all six numbers and winning the jackpot are 1 in 292 million. Because they paid $1 extra for a multiplier, their $50,000 prize was tripled.
"I'm always saying, 'Why don't you just wear your glasses?'" Barbara Haley told lottery officials with a laugh. "I'm going to quit complaining."
The Haleys aren't the only recent lottery winners in Nebraska and western Iowa.
A 58-year-old Plattsmouth man — who requested anonymity — won $148,000 in Monday's Nebraska Pick 5 drawing. He matched all five numbers (4, 7, 14, 30, 33) on a ticket he purchased at a Bakers supermarket on Twin Creek Drive in Bellevue.
Cecilia Reiser of Cozad claimed a $50,000 prize Monday for playing the Cash Crush scratch-off game. She told Nebraska Lottery officials she plans to buy a car with her winnings.
Fernando Millan of Schuyler won $47,777 Feb. 5 playing the Nebraska Lottery's Lucky 7s Crossword Tripler.
Michael Homes of Scribner won a Ford F-150 truck in the 2021 edition of the Nebraska Lottery's $2 Truck$ & Buck$ scratch-off game. The truck was presented Feb. 2.
James Harris of Council Bluffs won $30,000 in the Iowa Lottery's Lucky $ Hunt scratch-off game Feb. 3.
---
Our best Omaha staff photos of February 2021