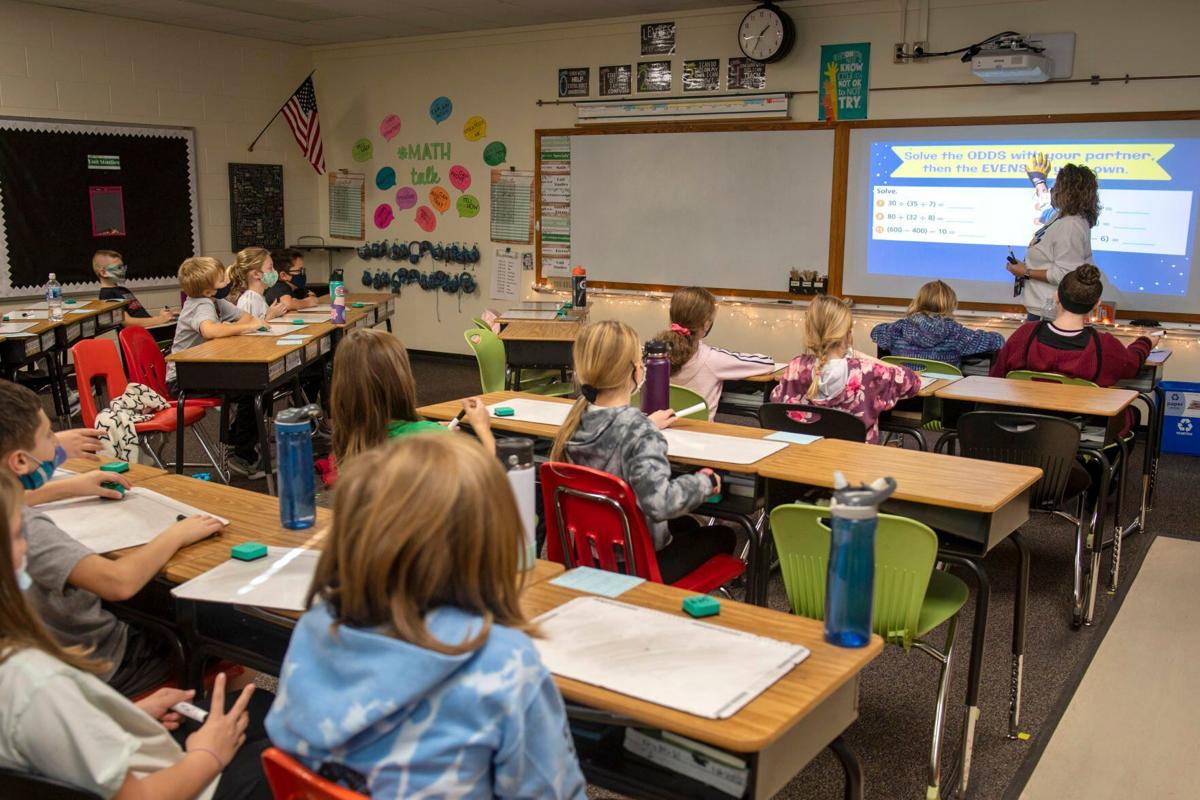 LINCOLN — Lincoln Public Schools students will have no school for the next three Fridays amid a growing staffing crisis as COVID-19 cases soar to unprecedented levels.
Classes will be out Jan. 21, Jan. 28 and Feb. 4, district officials announced Friday.
Teachers will use the COVID Response Fridays to make up for plan time lost due to covering for absent colleagues and to help quarantined students who've missed instruction. Staffers may work from home if their job allows it.
High school activities and sporting events will continue as scheduled, but before- and after-school activities at elementary and middle schools will be canceled, and community learning centers will be closed.
Classes at The Career Academy will be in session on those Fridays because of dual-credit instructional hour requirements and scheduling limitations.
The move comes as COVID-19 cases driven by the highly transmissible omicron variant have surged in the district since students returned from winter break Jan. 5.
As of Friday morning, a record 823 students had tested positive for the coronavirus this week and 2,604 — well over 6% of the student body — were in quarantine. Before this week, the previous weekly record for students in quarantine was 1,926 the week of Dec. 6, 2020.
Last week, 438 students tested positive. Before that, the biggest one-week total was 235 the week after Thanksgiving, and last school year the highest that number reached in one week was 143.
While those numbers are sobering, officials' biggest concern perhaps is schools' ability to staff classrooms, kitchens, buses and more with a record number of staff members gone in the first two weeks of the second semester due to testing positive or contact tracing.
Add in a lack of substitutes to cover those absences, and it equals a staffing crisis never seen since the pandemic started almost two years ago.
Over 100 staff members have tested positive with more than 350 in quarantine this week, as of early Friday. Last week, the number of staff in quarantine was 281, far above the previous high this year of 145 just after Thanksgiving.But there are simply not enough substitutes to fill the void, meaning teachers have been forced to abandon time they would typically use to plan lessons to cover classes — a problem that has essentially plagued LPS since students returned to in-person learning in fall 2020.
This week, the number of certificated staff vacancies that have gone unfilled has hovered between 30 and 40%. Despite pay incentives, LPS struggles especially hard to find subs on Mondays and Fridays, and central office administrators have even covered classes this year.
The crisis has become so severe, LPS is bracing for the possibility that individual classrooms and schools will have to close in the coming weeks because there simply won't be enough staff to operate them.
If classrooms and schools close, students would attend class via Zoom, a policy that's been in place since last school year.
Luckily, the district hasn't had to do that this year, although two special-educations programs were closed this week because of staffing problems.
Eric Weber, associate superintendent for human resources, said Thursday that teachers will go through a remote-learning "practice run" with their students in case that situation arises.
Lincoln Pius X High School announced it would shift to a half-day schedule with four class periods a day until at least Jan. 21 to stay ahead of an expected peak in cases and to prevent students from falling further behind.
School officials have expressed hope that the surge will leave as quickly as it arrived and peak sometime this month. And while omicron is more transmissible, there are indications it is less severe than previous strains.
But the sheer contagiousness of the disease is forcing school leaders to make decisions reminiscent of March 2020, just as the coronavirus pandemic began.