LINCOLN — A recent social media video depicting swarms of giddy, maskless young adults is the stuff of despair for college administrators trying to manage the struggle with the coronavirus.
People shown in the Saturday video, which was shared on Twitter, appeared to be thickly clustered in party mode before the Huskers' game against Penn State. They had gathered in at least two areas — a backyard teeming with people and the Railyard district of Lincoln.
The University of Nebraska-Lincoln issued a statement Monday calling the actions in the video "reckless, irresponsible and a danger to public health." The statement said that if UNL students are identified in the video, "they will face disciplinary measures" and should "not attend class in person this week" so they don't risk spreading the virus.
UNL also sent a message to the videographer. It said: "These actions risk our on-campus learning environment and it is unacceptable. Please report by emailing: covid19@unl.edu."
As of Tuesday, the Twitter link to the video said "this account limits who can view their Tweets." But the video already had prompted a contentious and sometimes profane debate on social media over the dangers of COVID-19, how people should behave during the pandemic and whether anyone should regulate that behavior.
Colleges throughout the nation and region have taken vastly different approaches this fall to the discipline of students ignoring coronavirus rules.
After students returned to college campuses this semester, some universities invoked punishment to send a message that they were serious about their COVID-19 rules. Others took a gentler approach by "coaching" and "educating" students who didn't heed demands initially.
Colleges must walk a tightrope between busting some students and coaxing others to follow regulations. It's not just a matter of rule-following. Ignoring coronavirus regulations, such as distancing and mask-wearing, can result in students becoming sick or carrying the virus home to parents and grandparents.
Schools also vary in how they disclose discipline statistics, with some providing detailed information and others giving minimal detail.
With his mask in place and a backpack slung over his shoulders, freshman Ethan Dunn walked through the Nebraska Union on Saturday and prepared to study.
Signs dotted the student union on City Campus — "Face Covering Required," "PLEASE WEAR A MASK IN THIS AREA," "Stop the spread of germs."
"The people I'm friends with are OK with all the precautions," said Dunn, a political science major from Omaha. So frequently do people remind students to keep their masks on that some think there are monitors assigned to that role in the union. And there are.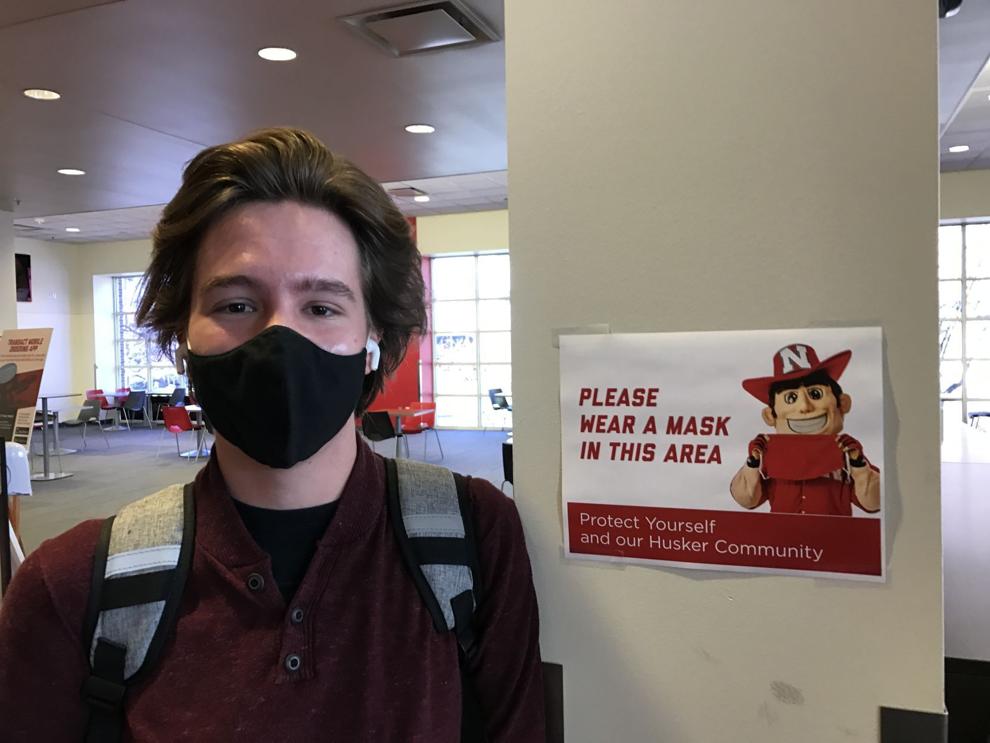 UNL does a decent job of conveying coronavirus expectations and rules, Dunn said, but he was unaware that students could face discipline such as suspension for disobeying those regulations.
Laurie Bellows, vice chancellor for student affairs at UNL, said last week that she prefers the "nudge, nudge and nag approach" with students over bringing down the hammer on violators. Bellows said UNL students had generally done a good job of complying with regulations.
"We have not seen or experienced any pushback. We might get a few eye rolls," Bellows said. "Our students have done really well." One student sitting at a Nebraska Union table Saturday thought a reporter was a monitor and instantly apologized, putting on his mask.
Ryan Lahne, director of UNL's Nebraska Unions (East Campus has one, too), said staffers have been asked to monitor mask-wearing and distancing. They also occasionally reward excellent mask compliance with $5 Starbucks gift cards, Lahne said through a spokeswoman.
Bellows said in a written statement Tuesday that many students display responsible behavior. "But there are some students who threaten our community by violating our clearly stated expectations, and I find this very disappointing." Such students will be held accountable, she said.
A UNL spokeswoman said Tuesday that "a full investigation" into the events videoed Saturday is being conducted. If UNL students are identified, she said, they will face discipline.
UNL, Iowa State and the University of Iowa evidently have divergent approaches, or at least differ in how they tally violations.
In a detailed report early this month, the University of Iowa said this fall that there had been 499 cases in which students were put on probation or given written warnings for violating coronavirus regulations on physical distancing, mask-wearing, guest violations and failure to follow quarantine-isolation rules. None, however, were suspended or expelled, a U of I spokeswoman said.
The university provides updates on the coronavirus three times a week, she said, "as a way to share important information and be transparent." U of I has "clearly communicated to students a number of times that they're expected to adhere to campus health and distancing guidelines both on and off campus."
At UNL, as of early this month, 26 students faced charges of violating campus COVID-19 regulations and none were suspended or expelled. Seven Greek chapters at UNL also faced temporary suspensions for coronavirus violations at the start of the semester. Six chapters received undisclosed sanctions and all were reinstated within a month, UNL said.
Bellows said UNL wants to use education, encouragement and enforcement, in that order, to gain compliance. She said she goes through the City Campus Nebraska Union two or three times a week. Most students wear masks, she said, and those who don't respond well to a gesture or reminder to comply.
Iowa State introduced a different category of discipline, saying that 18 students faced "interim suspensions." Iowa State's student conduct rules say such suspensions can exclude students from classes, residence halls or activities until they receive a hearing. The 18 interim suspensions, then, indicate harsher discipline than that at UNL or Iowa.
Other incidents "are resolved through various intervention strategies and have not required formal discipline," an Iowa State spokeswoman said.
Statewide, both Nebraska and Iowa are struggling with the virus. The Centers for Disease Control and Prevention reported Friday that in the previous seven days, the two had among the highest cases in the nation per 100,000 people — Iowa with 135.2 and Nebraska 107.7. Both showed upward trends.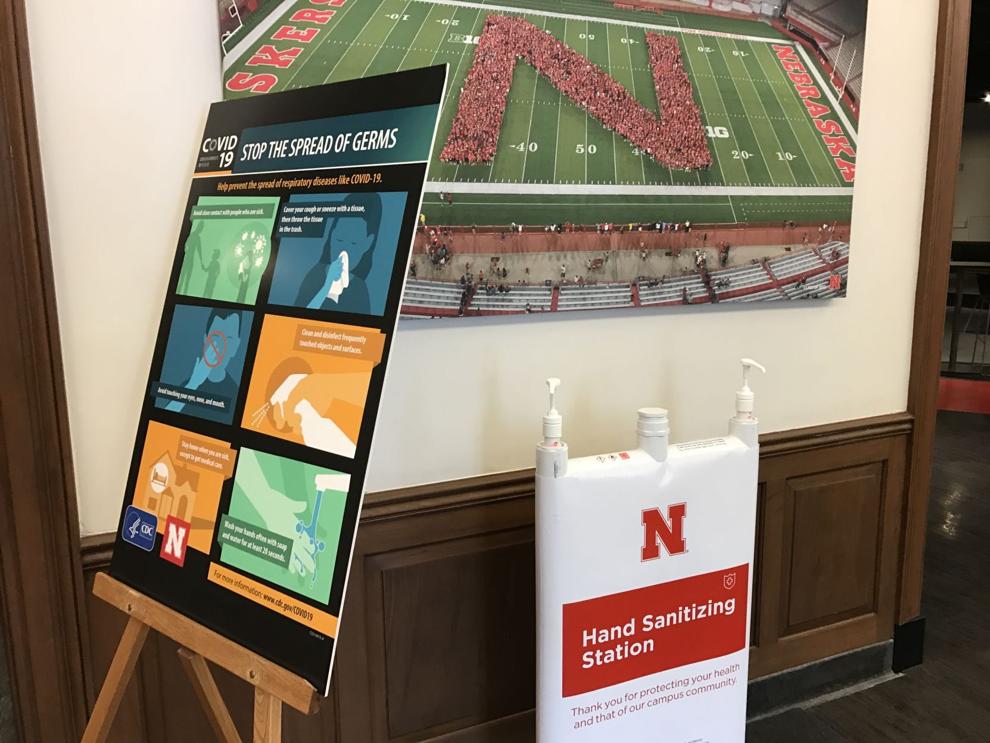 Iowa State had a positivity rate of 15.1% on its campus in the week ending Nov. 8. UNL had a positivity rate of 10.6% in the week ending Nov. 11. Experts say 10% is worrisome.
Some colleges treat coronavirus violations as minor, said Gerri Taylor, co-chairwoman of the American College Health Association's COVID-19 task force. "Some are going further," she said.
"I don't know what works at this point," said Taylor, of the Boston area. "All of this is a hard decision."
Taylor said her organization intends to survey colleges nationwide next month to discover what worked this semester in gaining compliance from students, what testing routines were effective and other things.
Will Creeley, legal director of the Foundation for Individual Rights in Education, said it's crucial that colleges convey clear expectations to students. He said his organization has heard from an unusually high number of students who thought they were unfairly disciplined for not physically distancing adequately and for criticizing the school's handling of the pandemic.
Creeley said he sympathized with students, professors and administrators because this is such an unusual period. But he said that if campuses can't realistically open safely, "maybe you shouldn't do it at all."
He cited a case at New York University in which students faced suspension for failing to keep their distance or wear masks at a party that took place before the semester started. Three of the students won a suit, arguing that they hadn't received clear directions from the university, the New York Post said.
Other places that received attention include Ohio State, which gave at least temporary, or interim, suspensions to 228 students in August. The University of Alabama had sanctioned 639 students by early September, including 33 who received temporary suspensions, the Associated Press reported.
Regionally, students evidently heeded rules or received multiple chances to correct behavior. Wayne, Peru and Chadron State Colleges "did not need to discipline any students" because those students "have taken the appropriate steps," a spokeswoman for the state college system said.
Nebraska Wesleyan University in Lincoln said its number of violations has been "so low that the privacy/confidentiality of the individuals involved would easily be breached if we shared any information."
The University of Nebraska at Omaha said there had been "coaching opportunities and conversations with students as needed, but nothing to the level of sanctions or discipline."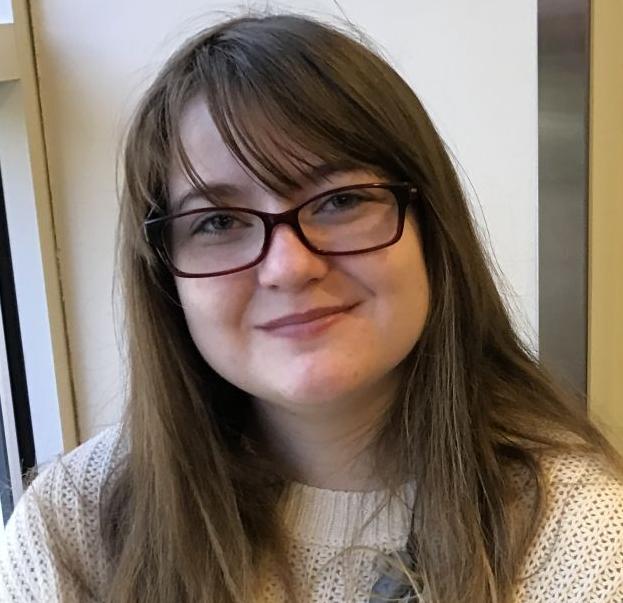 At the University of Nebraska at Kearney, a spokesman said there had been "basic conversations with a few who resisted, but all eventually came around and agreed to abide by our mask policy."
A UNL freshman Saturday said that on her way to the Nebraska Union that morning, she encountered "a mosh pit" of students, some maskless, evidently gathered to follow the Husker game.
"It's reckless," said the student, Alexis Reese of Omaha. The university has "some good regulations" with which to combat the coronavirus, Reese said. "They're just not necessarily enforced."
---
Our best staff images from November 2020