A day after the vehicle of a missing Weeping Water woman was found in Otoe County, a family member wrote on Facebook that "… the worst has happened and Amber has passed."
On Friday, the black 2019 Jaguar F-Pace SUV last seen driven by 48-year-old Amber Tjaden, who went missing Jan. 27, was found in rural Otoe County between Elmwood and Unadilla. A deceased person was found in the area, according to a press release from the Otoe County Sheriff's Office. An autopsy has been ordered.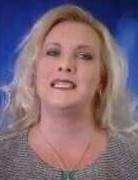 Officials have not released the person's identity, but on Saturday, Mike Lewis, Tjaden's brother-in-law, wrote on Facebook: "It is with sad news I pass along that the vehicle has been found, and unfortunately, the worst has happened and Amber has passed."
Tjaden is the daughter of former Omaha Mayor Jim Suttle and former State Sen. Deb Suttle. She managed the Gateway to College program at Metropolitan Community College.
Her husband, Matthew Tjaden, was arrested Jan. 29 on suspicion of flight to avoid arrest and child neglect after a Cass County sheriff's deputy went to the couple's home to investigate a missing person's report filed by Amber Tjaden's adult daughter.
He was released Monday night after posting bail. He has a pretrial hearing scheduled for March 4 in Cass County.
In a Facebook post Thursday, the Cass County Sheriff's Office said he and his extended family have cooperated with law enforcement.
According to court records, Amber Tjaden filed protection orders against her husband in February and July 2015. In the petitions, she wrote about how her husband would "rant and rave." She also mentioned that her husband accused her of falsifying their marriage certificate, acted paranoid about cars driving by their home and worried about her talking to other people. She said he was violent, had punched walls and broken photo frames, and had threatened to kill her and her father.
A judge granted both protection orders, but they were later dismissed.
Authorities have released no details about where the SUV and body were found and have not indicated whether they think foul play was involved. The Otoe County Sheriff's Office said that more information would be released Monday and that it was cooperating with the Cass County Sheriff's Office.
On Facebook, Lewis thanked friends for sharing a post he had written about Tjaden and said the dissemination of information had helped in the search for her.
He thanked Tjaden's former and current students for their support and encouraged them to be kind to one another and to continue her legacy by bettering themselves through education.
And he thanked the law enforcement agencies involved in the search "for all of their ceaseless efforts in trying any and all means to locate Amber."
Amber Tjaden's daughter Savannah Suttle paid tribute to her mom in a Facebook post.
"I will love you forever," she wrote. "You lived for your kids, you were a fantastic mother. You did everything for us. You were my best friend, I talked to you everyday, I told you everything. It will take a long time for me to not reach for the phone at the end of each day to call you and see how you are and tell you about my day."
Suttle wrote that she could "rely on her mom for everything and anything."
"... I will live for you, and you will live on with me," she wrote. "You were, are, and always will be so, so loved."
Otoe County is immediately south of Cass County, where Weeping Water is located. Weeping Water is about 40 miles southwest of Omaha.