Motorists cruising U.S. Highway 71 near Clarinda, Iowa, soon will be reminded that they are approaching the birthplace of big band leader Glenn Miller.
Larry Bussard, a Clarinda High alum from 1959, hopes that the 16-foot-high, 22-foot-wide mural of Miller by artist John Cerney will put passersby in the mood to visit the Glenn Miller Museum in town. Miller was a best-selling recording artist from 1939 to 1942 with hits such as "In the Mood," "Pennsylvania 6-5000" and "String of Pearls."
Miller volunteered to join the U.S. Air Force to entertain troops during World War II. On Dec. 15, 1944, while flying to Paris, Miller's aircraft disappeared in bad weather over the English Channel. The 40-year-old orchestra leader was posthumously awarded the Bronze Star.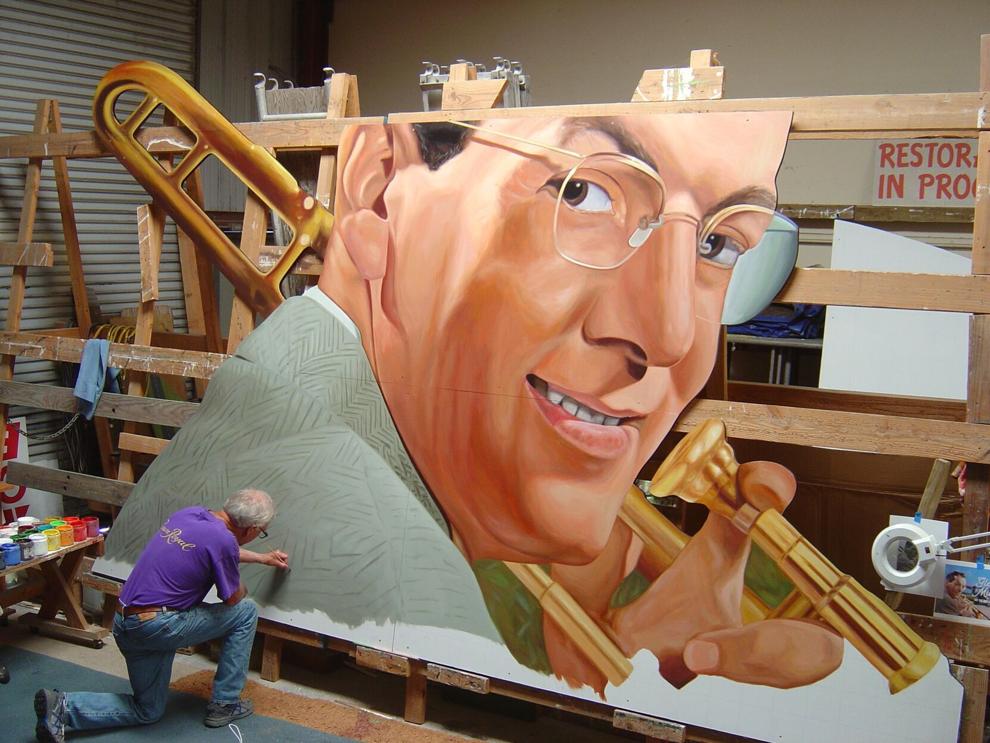 "As a young high school kid, I got in on the tail end of the big band era," Bussard said. "My brother was going to Iowa State, and he'd call me up and tell me to get on the bus to Ames because one of the big bands was playing the student union."
Bussard, 80, is the former redevelopment director for Salinas, California, and a good friend of Cerney, a Salinas-based artist. He came up with the idea of using a Cerney artwork to honor his 85-year-old brother, Ken, and trumpet the Glenn Miller Museum, which holds an annual big band music festival.

"I've known John (Cerney) for close to 30 years," Bussard said. "His art is whimsical but authentic. I think this will be a perfect fit for Clarinda."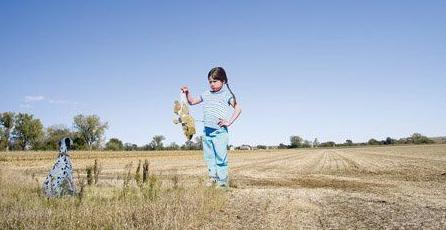 The cost of the artwork, about $10,000, was primarily paid for by the Clarinda High School class of 1959, Brussard said. A farmer donated the land for the mural, which will be placed along Highway 71 two miles south of town.
After earning an art degree from Cal State Long Beach in 1984, Cerney worked in Southern California as a portrait artist. He eventually shifted to creating what he calls "giant highway art."
He has placed 300 large cut-out murals in 23 states, including Iowa and Nebraska. Previous artwork has been placed near Omaha in Fremont, Nebraska, and Dunlap, Iowa.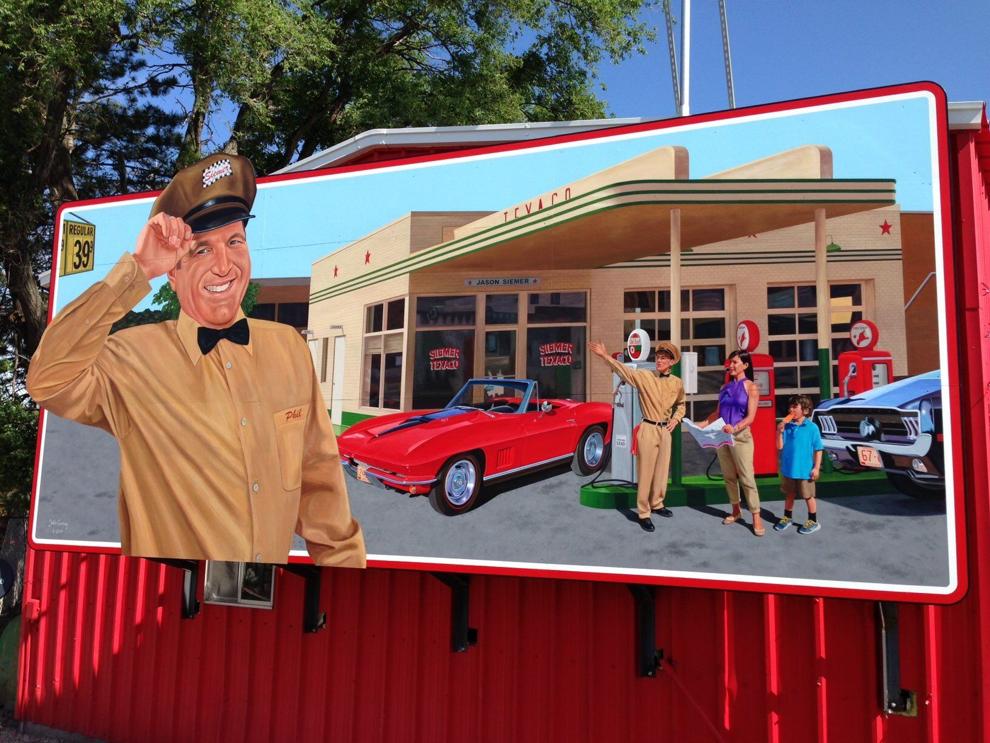 Cerney plans to leave for Iowa on Friday and begin installing the artwork on Monday. He also will erect a 6-foot-by-10-foot sign adorned with dancers hailing Clarinda as Miller's birthplace.
The lifespan of the installations varies, Cerney said, depending on the weather and which direction the art is facing. The artwork is constructed of special plywood panels that are designed for highway advertising boards.
"The ones that I enjoy the most are the fun ones that I do but I don't get paid for," he said. "I like creating a mystery where someone driving down the road will begin to wonder and think about what they just saw."
One of Cerney's favorite pieces is a slice of everyday life located about 70 miles north of Roswell, New Mexico, titled "Cowboy Ruckus." Two giant cowboys are positioned on each side of the highway with one of the characters pointing toward the other, who seems to be shrugging his shoulders in reply.
"It's a simple idea of an argument between two friends," Cerney said. "I want that image to linger for several miles down the road. I am satisfied if people going by have been entertained along their journey."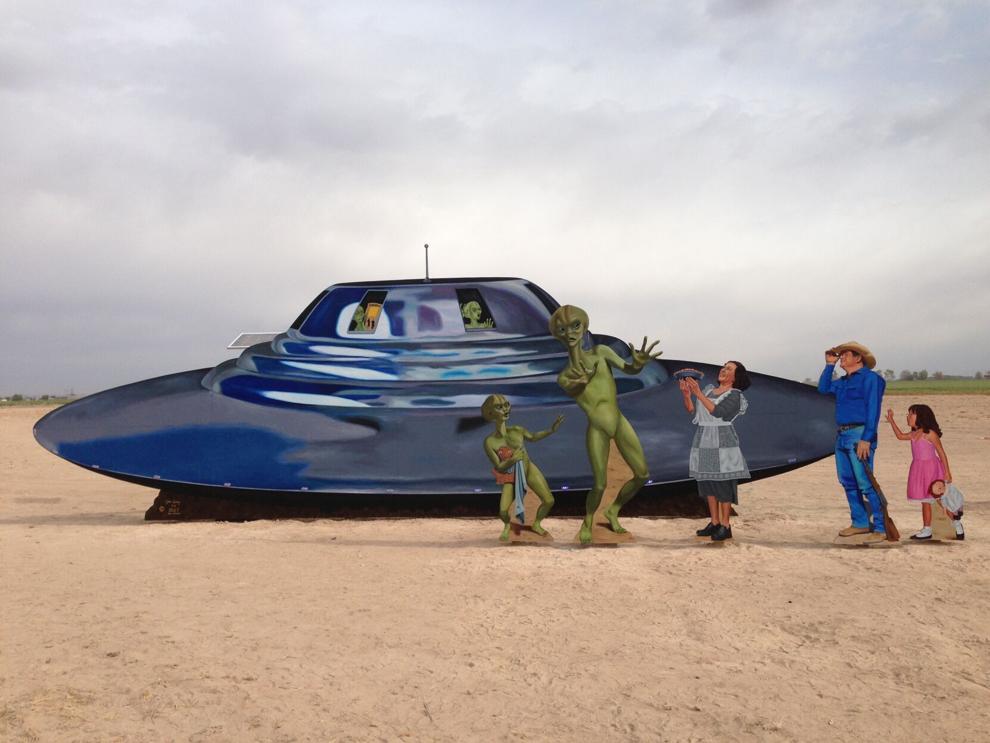 As a nod to Roswell's fame as a UFO crash site, Cerney created "Welcome to Roswell," cut-outs that depict the first meeting between a family of aliens and a family of Roswell ranchers. An apron-wearing mom presents a pie to an alien next to his landed saucer, while her son offers jumper cables from his pickup truck.
"I hear about that one a lot," he said. "Aliens are a fun subject."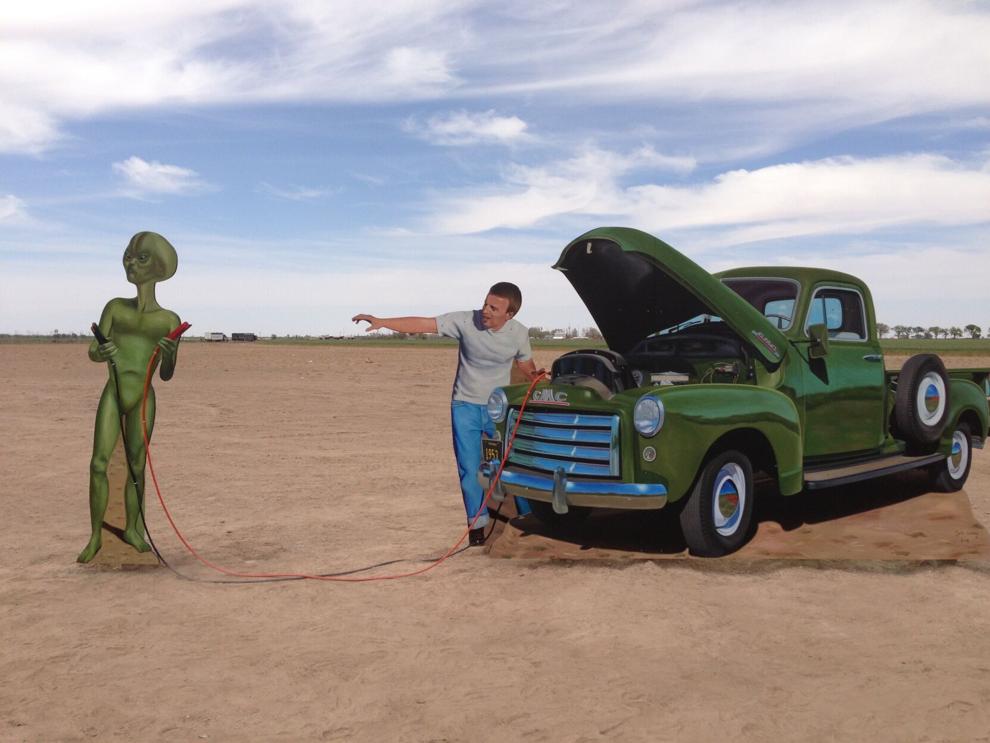 Cerney digs into his subjects. While painting a series of murals in Salinas depicting the characters of John Steinbeck's "Cannery Row," Cereny re-read many of the author's books.
For the Glenn Miller mural, Cerney said he played the musician's music to get himself in the mood. He picked an image of Miller from a photograph.
"I wanted him with a trombone in his hand," Cerney said. "I also liked that he's coyly looking back at you as you drive by. I have to catch your attention as you're driving by at 60 mph."
Cerney completes each mural in his studio, painting 8-foot sections at a time because that's all his easel will hold. He doesn't get to see the completed work until it is installed, usually with the help of two other people.
"Sometimes, the background of where (the art) is placed really adds to the piece," he said. "I rarely am around to see (the reaction), but I hear about it from the locals."
---