For months as the coronavirus pandemic raged coast to coast, Omaha's St. Joseph Villa nursing home remained a cheerful safe haven for its elderly residents.
But beginning in mid-July, COVID-19 gained a foothold within the halls of the care center just south of downtown. And despite the staff's life-and-death struggle to contain it, the virus proceeded to ravage St. Joseph's fragile population.
First, two residents died. The next week, four more succumbed. And week by week, deaths mounted.
As of early September, 16 residents had died — the second-highest coronavirus death toll of any nursing home in Nebraska. And St. Joseph is now among nine Nebraska nursing homes with double-digit COVID-19 fatalities.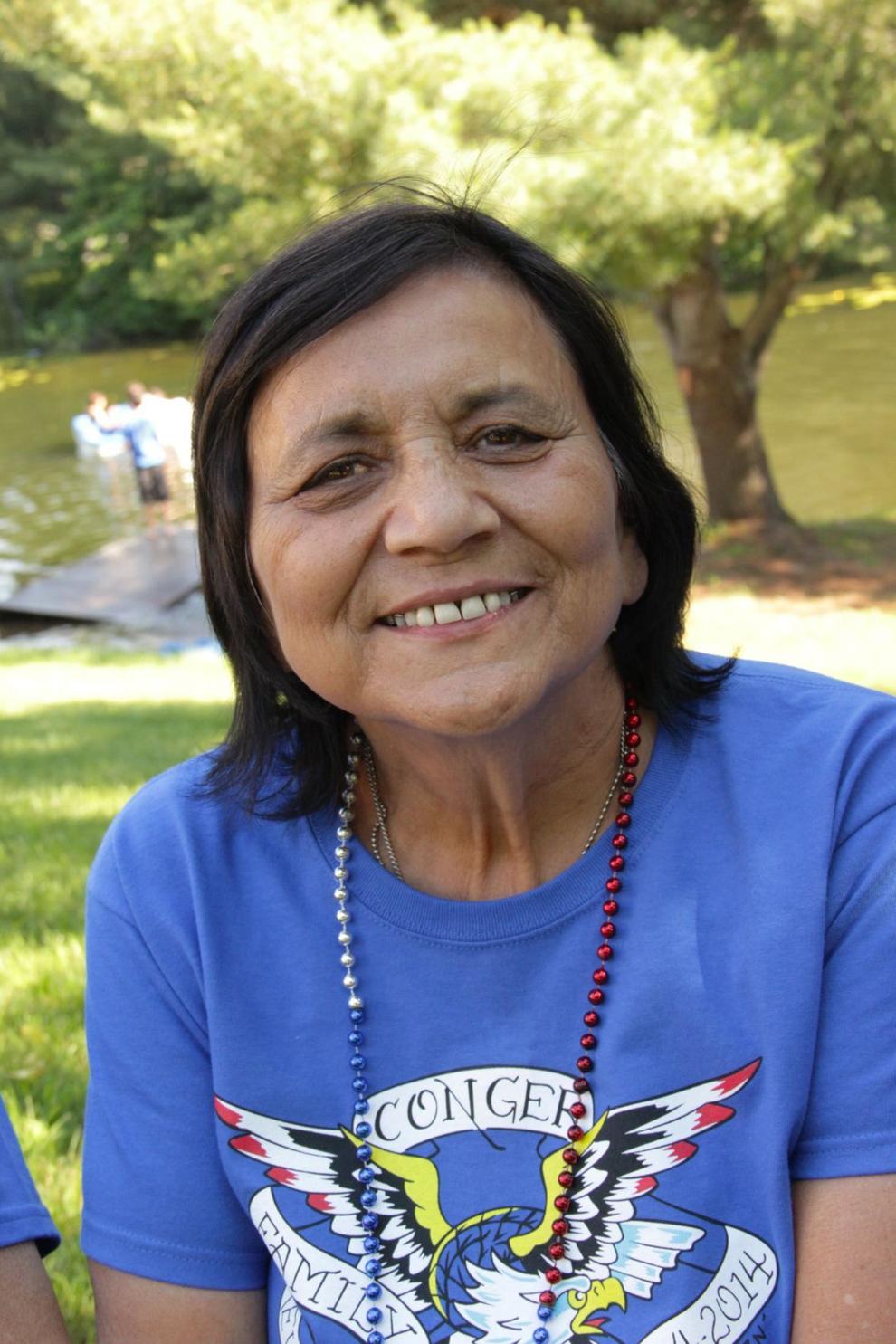 Seventy-five-year-old Lily Rigatuso was among the victims at St. Joseph. Her son, Eli, kept a 10-day vigil outside his mother's window before she passed away July 26.
"I'm confident if COVID hadn't struck, she would still be here," Eli said of his generous and spirited mother.
Gov. Pete Ricketts and state health officials for months have rejected calls to release the names of Nebraska nursing homes with COVID-19 outbreaks, offering only statewide aggregate numbers of cases and deaths in long-term care facilities.
But the World-Herald recently mined a federal database to reveal COVID-19's toll on Nebraska's 200-plus nursing homes and their 11,500 residents.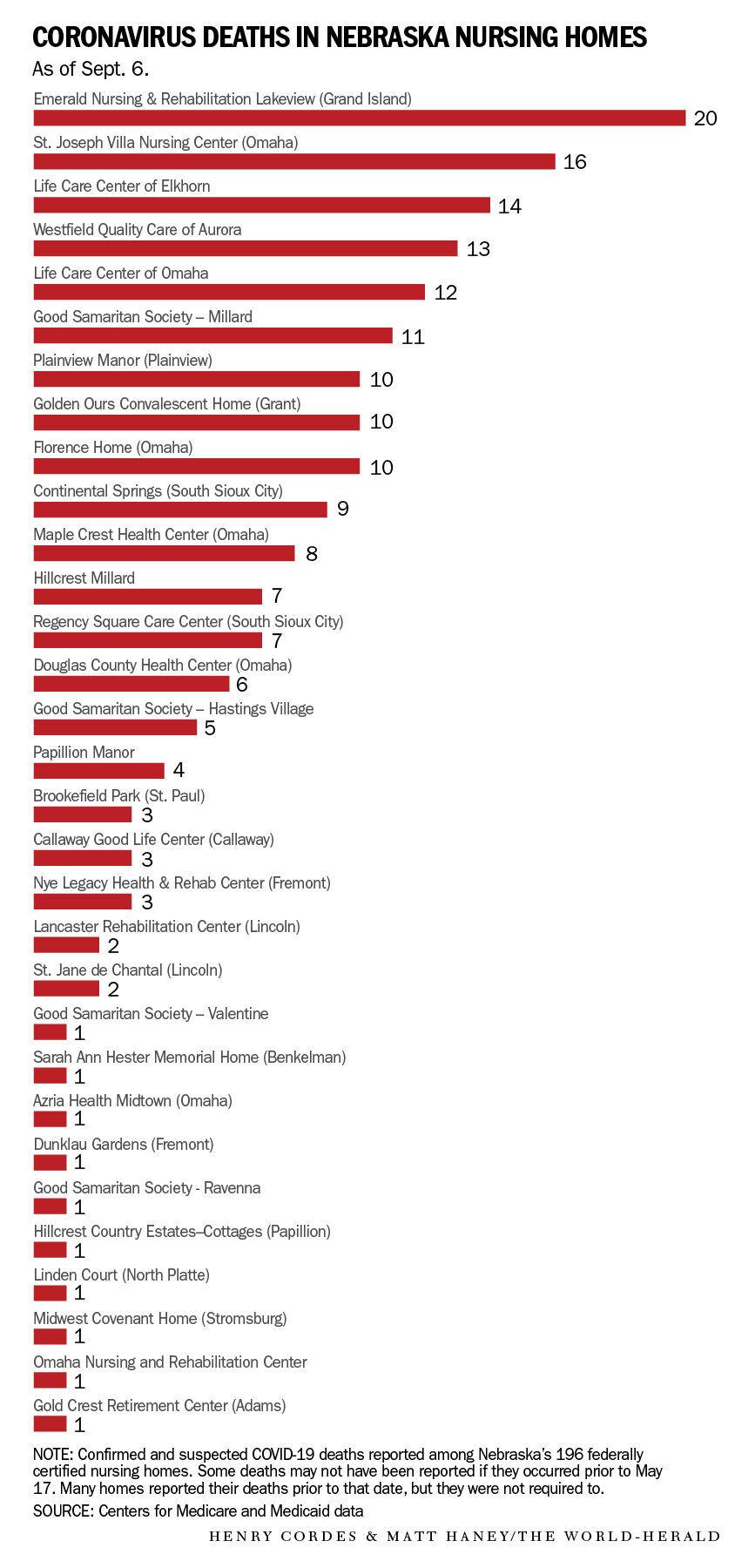 In all, through Sept. 6, 31 homes have reported fatal outbreaks, totaling 185 deaths. That's approaching half the state's total death count of 400-plus, underscoring the critical need to protect nursing home residents.
Nine homes had 10 or more deaths, including five in Douglas County. In Grand Island, one home saw 20 resident deaths.
And up until now, the vast majority of the deadly outbreaks have never been publicly disclosed.
"When you are concerned about your loved one in a facility, knowing what is happening is essential," said Todd Stubbendieck, state director for AARP Nebraska. "This transparency is important to people."
There's a strong correlation between nursing home deaths and communities in Nebraska where COVID-19 has spread most widely.
More than three-quarters of all nursing home deaths fall within three communities that have seen high virus levels: Douglas County, and the regions surrounding the meatpacking communities of Grand Island and Dakota County.
"The thing that we've learned is just how susceptible skilled nursing and assisted living facilities are to the community around them," said Heath Boddy, CEO of the Nebraska Health Care Association.
Nursing homes and their staff were hamstrung early on in the pandemic by limited ability to test. That shortfall made it difficult to identify asymptomatic carriers — staff members and others who unknowingly spread the virus without showing any symptoms.
Even when testing became more available, there were still often days-long waits for results — time for the virus to spread widely within a care facility.
"Sometimes it's just too late for those facilities," said Dr. Salman Ashraf, who as medical director of Nebraska Medicine's Infection Control Assessment and Promotion Program has consulted nursing homes on preventing and containing outbreaks.
The good news is the testing situation has improved — and could get considerably better in coming weeks.
The Trump administration, which has faced sharp criticism for its response to the pandemic, recently began distributing rapid point-of-care antigen testing devices to federally certified nursing homes across the country.

With this new ability to get back instant results, the federal government is now mandating that nursing facilities in communities with high rates of COVID-19 spread test all staff members at least once a week.
The figures also show most of Nebraska's deadliest outbreaks have occurred within homes with below-average performances in regulatory inspections, including many homes that have had a history of observed shortcomings in their infection control practices.
Even so, one of the state's most highly rated homes wound up with one of the deadliest outbreaks.
There's some positive news in the numbers, too. Considering that Nebraska homes have reported some 700 confirmed cases of COVID-19, it means almost three-quarters of nursing home residents infected survive. Even for the frail populations of such care facilities, COVID-19 is not a guaranteed death sentence.
Still, given the outsized role long-term care deaths play in Nebraska's total COVID-19 toll, it underscores the importance of home administrators, public health officials and regulators working to keep COVID-19 out.
New nursing home outbreaks and deaths continue to occur every week, offering ongoing proof of how quickly and lethally the virus can strike.
Until two months ago, all of Perkins County in southwest Nebraska had not seen a single coronavirus case. But then in mid-July, a local outbreak ensnared the small, county-run nursing home in Grant.
As of Sept. 6, 10 residents of Golden Ours Convalescent Home had died. Those deaths give Perkins County and its population of 2,900 the 10th-highest COVID-19 death rate in the nation — five spots ahead of New York City.
"If there's any lesson to be learned from this … it is absolutely what a damn grass fire it can become in a long-term care setting," Perkins County Health Services CEO Neil Hilton was quoted by the local paper telling the Perkins County board. "It's a grass fire."
Public records obtained by The World-Herald show a state inspection right around the time of the outbreak found the home in Grant failed to ensure two employees did not work when they were showing virus symptoms, and also failed to properly screen all staff members and residents for symptoms.
Two employees the week of the inspection tested positive for COVID-19. The following week, a dozen residents did.
It appears the Grant outbreak has claimed the lives of more than a third of the home's 26 residents. It's not uncommon for the deadliest Nebraska outbreaks to claim as much as 25% of a home's residents.
Chris Young, administrator at Westfield Quality Care of Aurora, said he hopes when people look at figures like that, they consider just how devastating it is not only for the families impacted, but the staffs of care homes, too.
For some residents, their caregivers become "their closest friends in the world," he said, and the bonds are mutual. It was extremely painful for his home early in the pandemic to endure 13 resident deaths.
"Westfield had a horrible experience," he said. "People have hearts in this profession. They care a lot."
Even before Nebraska had recorded its first confirmed case of COVID-19, nursing homes were on high alert.
They'd already seen the peril the virus posed for residents of long-term care facilities when a sustained outbreak at a Seattle-area nursing home killed dozens.
COVID-19 was proving it could spread easily person to person and was most dangerous for people over age 60. Long-term care homes bring together in a group setting dozens, even hundreds, of people in that age group, many with health conditions that make them more vulnerable.
Nursing homes are also staffed by workers who, of necessity, must move from resident to resident giving care. And those staffers at the end of the day return to their own families, perhaps stopping at the store or a gas station on the way home.
In doing their critical work, caregivers also serve on the front lines of the pandemic, putting their own health at risk.
"My heart goes out to all the front-line workers," the AARP's Stubbendieck said. "I can only imagine the worry they have about spreading the virus at work or home."
Before Nebraska saw its first COVID-19 case in early March, the state's nursing homes were already getting advice from federal officials, Nebraska Medicine's infection control program and state regulators on strategies to keep the virus out and prevent spread.
For example, they encouraged homes to look for ways to care for residents in cohorts, limiting the number of staff members going in and out of rooms. Proper hand hygiene was also stressed.
At the time, testing had yet to ramp up in Nebraska or across the country. So the best advice they could give was to take workers' temperatures and screen them for other symptoms using a questionnaire.
Even when the virus broke out in homes, there still often wasn't enough testing capacity to screen all workers. Boddy said early on there were also "awful" shortages of personal protective equipment, with caregivers frequently forced to reuse masks.
At the onset of the pandemic, scientists also still had much to learn about the virus, including how easily it could be spread by those who don't show any symptoms.
"We didn't know it, but early on, we were fighting it with one and a half arms behind our back," Boddy said.
One of the first big nursing home outbreaks to make headlines in Nebraska was at the Life Care Center of Elkhorn, part of the same national chain as the doomed Seattle home. The Elkhorn home disclosed in May that more than half of its residents contracted the virus, and that 11 of them died.
Also in Omaha, the county-run Douglas County Care Center reported six resident deaths.
However, most such outbreaks in Nebraska never came to light. Ricketts and the Nebraska Department of Health and Human Services established a policy of leaving it to the homes and county health officials to decide what to disclose.
The AARP has called on the state to publicly release the outbreaks, in real time. DHHS officials say disclosing the names of those homes risks violating the privacy of residents.
But in mid-May, the federal Centers for Medicare and Medicaid Services began requiring federally certified skilled nursing facilities to file weekly reports with the federal Centers for Disease Control and Prevention on their coronavirus cases and deaths.
Homes were to report each resident who died and had a laboratory positive test or was suspected of having the virus. It's a given that nearly all also had underlying health conditions that contributed to their deaths. After all, that's why they were in a skilled care facility.
The reporting requirement does not apply to 10 nursing homes in Nebraska that aren't federally certified. And it does not include other types of long-term care like assisted living facilities. But it offers the clearest picture of how care homes in Nebraska have been impacted by COVID-19.
Overall, the figures suggest Nebraska has been more successful than most states in protecting its nursing home residents.
Nebraska ranks 41st among the states and Washington, D.C., in coronavirus cases per 1,000 nursing home residents, and 38th in deaths.
Another grim way to look at it: The coronavirus has killed more than 4% of nursing home residents nationally. In Nebraska, though, only about 1.5% have died.
"We know every death is a tragedy," said Dr. Gary Anthone, Nebraska's chief medical officer. "But one of the reasons I think we have done so well on our mortality rate is our success in managing long-term care outbreaks."
Standing out from the data are the nine outbreaks where 10 or more residents have died.
They include 20 residents at Emerald Nursing and Rehabilitation Lakeview in Grand Island, the 16 residents at St. Joseph Villa, 14 at the Life Care Center of Elkhorn, 13 at Westfield in Aurora, 12 at the Life Care Center of Omaha (another affiliate of the same national chain), 11 at Good Samaritan Society-Millard and 10 each at Omaha's Florence Home, Golden Ours in Grant and Plainview Manor, a small rural home in northeast Nebraska's Pierce County.
The outbreaks at St. Joseph, Life Care Center of Omaha, Florence and Plainview have never before been disclosed. And most of the others became more severe than was revealed at the time — in some cases, much more.
In all, those nine double-digit death outbreaks account for almost two-thirds of all reported nursing home deaths in Nebraska.
Douglas County stands out as home to five of the nine deadliest outbreaks, more than one-third of all deadly outbreaks and almost half of all deaths.
Most nursing home deaths can be found within Douglas County and two well-known Nebraska hot spots: a five-county area surrounding Grand Island, where a major outbreak fueled largely by a local meatpacking plant rippled through the region; and Dakota County, another meatpacking community that still ranks in the top 10 nationally in per-capita coronavirus cases.
While the exact cause of outbreaks is almost never known, it's likely nearly all involved COVID-19 spreading through the community and then being brought into a home by an infected, asymptomatic worker.
"Even though we can be very harsh on nursing homes having outbreaks, if you look deeper, it's largely a reflection of what's going on in the community," Nebraska Medicine's Ashraf said.
It's also perhaps no accident that most of the homes with big outbreaks have seen spotty inspection records in recent years.
Nursing homes face much scrutiny from federal and state regulators. During annual reviews, state inspectors who work on behalf of the federal government inspect the condition of buildings, go through resident files to see that care plans are being followed, and observe interactions between caregivers and residents.
The federal government even ranks homes with a five-star rating system. Homes get an overall rating as well as individual ratings for quality of care metrics like numbers of bedsores or falls, staffing levels and the rate of deficiencies found by inspection teams.
Those in the industry like to say the regulatory rigor they face is second only to nuclear power plants. But such scrutiny is justified, given the vulnerable population they serve and the significant amount of tax dollars flowing to the homes. Medicaid, the state and federal health care program for low-income Americans, is the largest single payer for nursing home care in the United States.
A common shortcoming cited in the inspections is lack of proper infection control, such as when a caregiver is observed failing to use proper hand-washing technique either during or between procedures, or improperly changing out gloves. There can also be hygiene errors in not cleaning medical equipment between residents, in food service or the handling of resident laundry.
Any such errors would be particularly critical at the time of a pandemic.
"In order to control an outbreak, nursing homes have to follow infection prevention and control protocols very strictly," Ashraf said. "Errors in this situation can easily lead to further transmission of infection."
In federal inspection reports, the five Nebraska homes with the highest death tolls — the two Life Care Centers, St. Joseph Villa, and the Grand Island and Aurora homes — all received one-star "much below average" ratings for inspections. And all five were also flagged for infection control deficiencies in both 2018 and 2019.
But deadly outbreaks are not limited to one-star homes. Good Samaritan-Millard has a five-star rating. Looking at overall star ratings of the 31 homes with deadly outbreaks, you'll find six one-star homes and nine with five stars.
In recognition of the importance of infection control during the pandemic, the state at the request of the federal government during June and July performed surprise COVID-19 prevention inspections at all of the state's federally certified nursing homes.
During their inspection at Golden Ours in Grant, inspectors found so many serious infection concerns that federal regulators declared residents were in immediate jeopardy and fined the home. They also found it was not following federal guidelines to inform all residents and their families about positive tests in the home.
The Plainview home also received an immediate jeopardy finding for its shortfalls in processes for screening both employees and visitors.
Continental Springs, a home in South Sioux City reporting nine COVID-19 deaths, was the subject of a special investigation in the midst of its outbreak based on a complaint. State inspectors found staff weren't following proper precautions around residents who were confirmed or suspected of having COVID-19.
Emerald, the Grand Island facility that had already seen 20 deaths, was cited for a number of infection control deficiencies during its inspection. They included a staff member caring for a new resident under precautionary quarantine without full protective equipment, and subsequently tending to residents in other units. A state report on the inspection shows that as a remedy to the situation, the home pledged to hire an infection control nurse to educate staff.
The administrator with the Plainview home said the issues cited in the review are being addressed. Officials with Emerald and Golden Ours did not respond to contacts seeking comment for this story. The parent company of the South Sioux City home declined to comment.
Overall, Ashraf said it's likely too early to determine whether there's a correlation between homes' star ratings and coronavirus outbreaks. The most recent published study found poorly resourced homes that receive low ratings for staffing may be more susceptible to the spread of COVID-19, but the study didn't find any relationship between COVID-19 cases and inspection performance.
"I don't think you can predict a COVID-19 outbreak based on the star system," Ashraf said.
Deadly outbreaks have also been seen in corporate for-profit homes as well as those run by nonprofits and local governments.
Lancaster County and the City of Lincoln stand out in the data for their low numbers of deaths. Lancaster County has seen only four nursing home deaths, two at each of two facilities.
But as cases have surged across the state with the reopening of schools, the threat to Nebraska nursing homes remains. Many homes are now with federal permission allowing limited visitation, increasing the potential for virus introduction from the outside.
And the federal data continues to reveal new outbreaks each week. Life Care Center of Omaha had not seen a single positive case among residents until its outbreak hit in late July, producing 49 positive cases and a dozen deaths among its 89 residents.
And homes in rural areas, long spared from the worst of COVID-19, are increasingly showing up among those hardest hit.
Plainview Manor's 10 deaths have all come since Aug. 2. It reported that nearly all its roughly 35 residents became infected, which prompted a joint decision by the home and state to move all residents to hospitals.
Longtime Plainview Manor administrator Juleen Johnson said it's unclear how the virus got into the home. Between the deadly outbreak, the exhausting battle against the virus and increased regulatory demands brought on by the pandemic, it's been a stressful, trying and emotional time for all involved.
"It's heartbreaking," she said. "But our families are so supportive. They're crying, and we're crying."
Of all the recent nursing home outbreaks, none have been more deadly than the one at St. Joseph Villa.
When Eli Rigatuso and his siblings were scouting for a nursing home for their mother in late 2015, they visited St. Joseph Villa and were impressed to learn that the home director's own mother lived there.
Eli had no trouble entrusting Lily Rigatuso's care to St. Joseph.
The nursing home takes its name from the historic Omaha hospital that once was located at its South 10th Street site, but is owned by Delmar Gardens, a for-profit chain of homes based in St. Louis. With 184 licensed beds, St. Joseph Villa also ranks among the state's largest.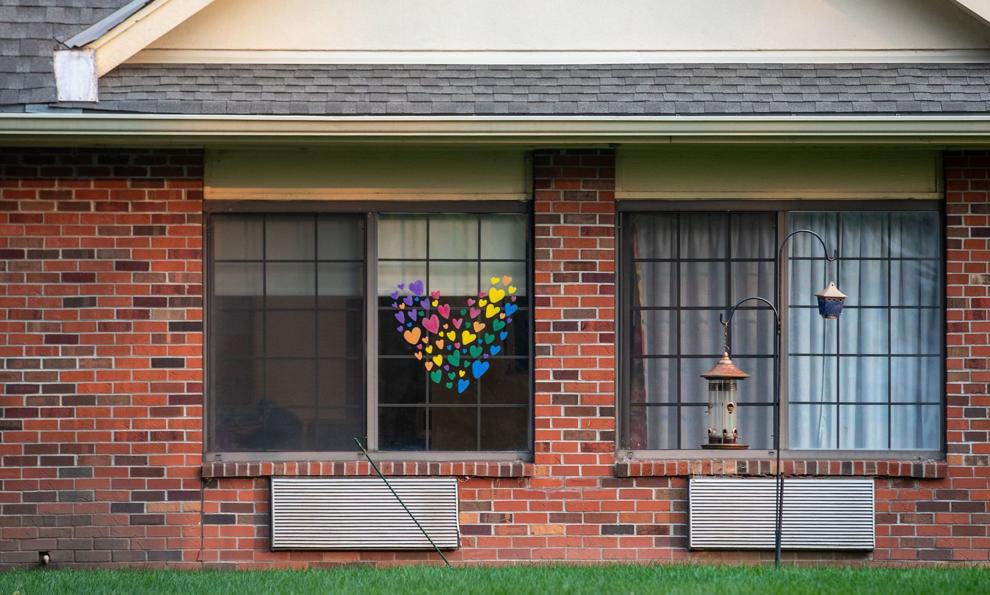 While St. Joseph Villa has a one-star rating, you would never know that by walking through the sliding glass doors of the facility whose exterior is adorned with a large image of a butterfly. Those familiar with the home say it is clean and well-kept, with a staff that's friendly and caring. One St. Joseph caregiver Eli knew as "Yo-Yo" was particularly magnetic and outgoing.
"Yo-Yo was the best," Eli said. "She talked to Mom the same way I talked to Mom."
Lily Rigatuso had been born on the Menominee reservation in Wisconsin before moving to Omaha as a child. Her life had not always been easy, for as a Native American she sometimes faced discrimination based on the color of her skin. But Eli said his mother was kind and gracious and taught all four of her children to treat everyone with dignity and respect.
Lily had been diagnosed with dementia some years earlier and was in St. Joseph's memory care unit. After three years at the home, a medical setback left her wheelchair-bound.
Then early this year, COVID-19 landed in the United States.
Eli, who typically visited his mother three times a week, had to get used to seeing her online through FaceTime and Zoom.
"I honestly felt when this was all over, I would be able to see her again and everything would be OK," he said.
For months, through precautions like cutting off visitation, ending group activities and screening workers for symptoms, the home largely succeeded in keeping COVID-19 out. Federal data shows that from March through July, the home saw only a handful of positive tests among staff and residents, thankfully none of them leading to any sustained outbreak.
"I want to reassure you that we are all in this fight," home director Hector Leguillow said in a May email to families. "We are learning every day and plan to see this through."
In late June, the home passed its mandated state COVID-19 review with no problems. Residents and their loved ones cheered the news that since the home had gone a month without a positive case, it would be reopening for limited and controlled visits starting July 6 — something families had long sought.
"While we are happy about the result, we remain mindful that the pandemic is far from over," Leguillow said of the inspection. "There is more work to be done to try and keep this virus at bay while trying to find some normalcy."
But suddenly, everything changed.
In the week following the visitation change, a staff member came up positive during a round of mandated baseline testing. Subsequent testing over the next week found 10 positive cases among residents and one more among staff.
A Delmar Gardens spokesperson said that determining the source of the outbreak would be speculative, but they have no reason to believe it related to the visitation change.
"Asymptomatic staff member spread is more likely," she said.
One of the tests that came back positive July 13 was for Lily Rigatuso's roommate.
That night, a care worker came into Lily's room and immediately called Eli.
"Did they tell you about your mom?" she said to Eli's alarm. Lily was spiking a fever.
Leguillow called Eli the next morning and apologized that he had not been the one to personally inform the family about the roommate's positive test and Lily's fever.
That same day, Lily was retested, and Leguillow drove the sample to Lincoln himself, something he frequently did to try to get results more quickly.
Lily's test came back positive. She was moved from her room to the wing of the facility set up as a special, restricted COVID-19 care unit.
Eli couldn't visit his mom — he was only able to stand outside her window. And the first time he saw her in the COVID-19 wing, he had a thought that she wouldn't make it.
She was having difficulty breathing, on heavy doses of oxygen. Because she was on a "do not resuscitate" order, she would not be going to a hospital and put on a respirator. The virus would run its course.
Eli returned the next day with a Native American elder. As his mother sat up in a wheelchair on the other side of the window, the elder burned sage and recited a beautiful prayer to prepare Lily's spirit for passage. Lily blew them kisses.
Eli showed up daily, one day staying outside his mom's window until 4 a.m. He played music for her, Lily's favorite featuring native drumming that she would tap her foot to under her covers.
Another day Eli saw his mom lift up her cupped hand as if touching a face in front of her.
"I believe the great native spirits were surrounding her and calling her home," he said.
As the cases at St. Joseph mounted, the COVID-19 wing had so many residents that Lily got a roommate.
Concerned that the roommate's TV viewing would bother his mom, Eli pushed Leguillow to get her moved to a room of her own. It took several days to work it out, but Lily moved on the morning of July 26.
Two hours later, she died.
Eli wasn't there for her death, but he was happy he'd been able to spend so much time with his mother at the end.
"I wanted to honor my mom and her transition," he said. "I didn't want her to be alone."
He hopes his mother's spirit will now be there to protect the other residents of St. Joseph.
Long after Lily passed away, the deaths at St. Joseph continued, right up through the home's most recent federal report. It has now posted new infections for nine straight weeks and new deaths for eight weeks in a row. In that time, there have been 73 resident positives and 18 among staff.
Following federal guidance, the home has kept all families apprised of new COVID-19 cases. St. Joseph has not informed them of any deaths, a decision the Delmar Gardens spokesperson said was intended to protect privacy.
The spokesperson noted several things about the death toll: That as a large home in the heart of Omaha, it has more potential exposure to the virus. And that many of those who died had multiple medical conditions, including four who were in hospice care before contracting the virus. She also said the home is thankful most infected residents have recovered.
Eli Rigatuso was surprised to learn of the home's high death toll. But he has nothing but good things to say about how St. Joseph Villa handled the pandemic and his mother's passage.
He sensed the staff shared his sorrow in watching her die. Right to the end, they tried to keep her comfortable, gently brushing her hair and washing her face.
"They took just lovely care of her," he said.
He also knows that given the nature of the virus, there was probably nothing more the home could have done.
"You can't light a match and throw it on a pile of wood and not expect it to go up in flames," he said. "COVID was the match going into that facility."
Immediately after his mother's death, Eli Rigatuso got another personal lesson in how dangerous the virus can be.
The day his mother died, Eli began showing his own symptoms of COVID-19. And a week later, he too, tested positive for the virus.
Struggling just to breathe, Eli was hospitalized for 12 days, including spending time in Nebraska Medicine's COVID-19 critical care unit. It took treatment with the drug remdesivir and lots of supplemental oxygen to get him through.
While his mom's experience told Eli that COVID-19 was real, he didn't know the punch it packed until he went through it himself. Regardless of your age, he said, COVID-19 is not something anyone should tempt fate with.
And it has no place in a nursing home.
Videos: Life in Nebraska amid the pandemic
Nebraskans have shown a wealth of emotions while facing the coronavirus pandemic. We have unleashed a wave of creativity to adapt in the world of social distancing. 
Watch a few bright moments our staff has collected while telling the story of this unprecedented period in history.