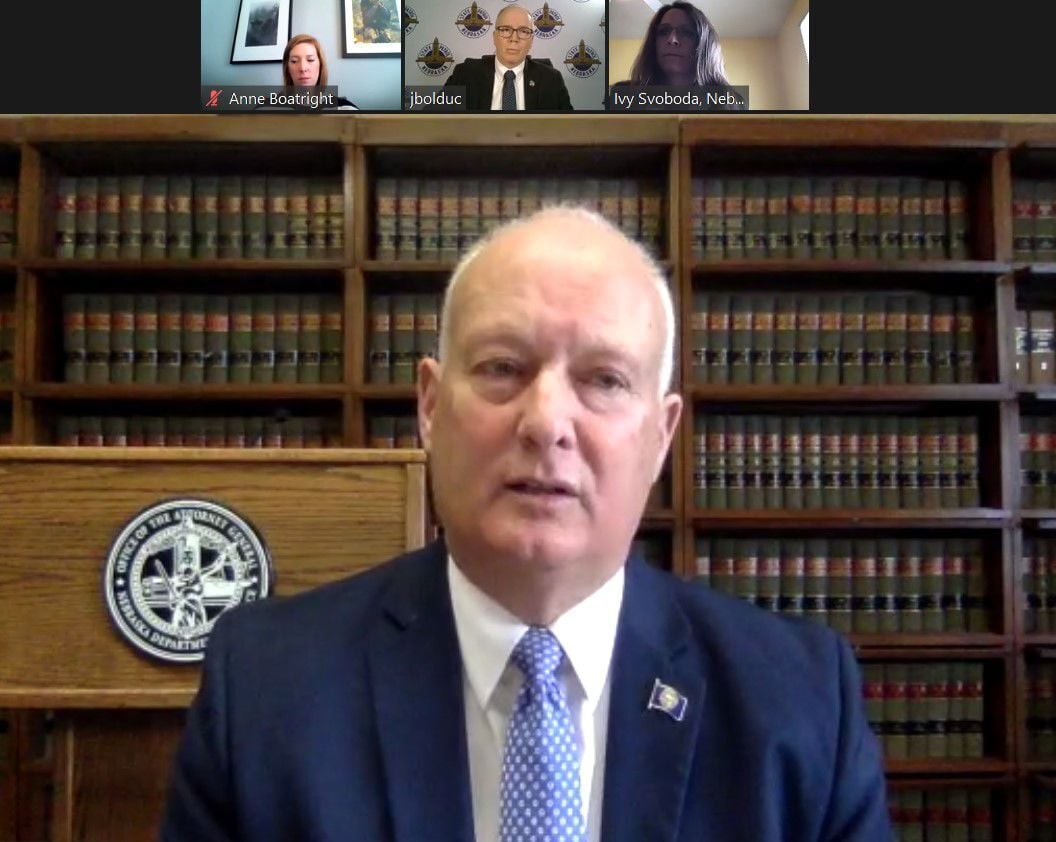 The state's top law enforcement officials say they're taking steps to focus on victims of child abuse and sexual assault, including a new website where victims can track sex assault exam kits.
They hope their efforts will help put away offenders and reduce victimization.
"There are a lot of dedicated law enforcement and child advocacy organizations and community supporters who understand that victims need to be recognized and they need to be supported," Nebraska Attorney General Doug Peterson said at a press conference Wednesday. "And that's what we're trying to focus on."
He said there's a lot of public debate now about justice reform and sentencing laws. While he said that's proper for a public forum, for those in law enforcement, one of the frustrations is a lack of victim awareness.
"When you're in the field day in and day out and you see the traumatization to the child, to the adult victim, to the families, it's really key that we not ignore that," Peterson said.
That's why, he said, earlier this month his office partnered with child advocacy centers in hosting more than 100 officers across Nebraska for a two-day online training focusing on child abuse and child exploitation cases.
And they hope to add one-day in-person trainings when they can, given the pandemic.
He said it's critical for sexual assault and abuses cases to be in the forefront for law enforcement because "in a lot of ways, you only get one shot at this."
Because it takes courage to come forward, Peterson said. And law enforcement have to be trained to handle the cases professionally.
He said children are the most vulnerable victims, and in the past three fiscal years have accounted for a greater percentage of those served, according to a report on the Nebraska Sexual Assault Payment Program, which reimburses health care providers for doing sex assault exams.
Anne Boatright, who leads the program through the AG's office, said they've served 3,564 victims of all ages since the program began in 2017.
"As the case numbers went up, we expended a significant amount of funds to support victims and ensure that they were not getting bills related to their medical forensic examinations," she said.
In the 2019-20 fiscal year, there were 1,592 cases, 43% of them involving children 12 or under, and the office paid $789,210 in state and federal money for the exams.
Boatright said the Attorney General's Office also recently created a Sexual Assault Forensic Kit tracking system website "to have accountability around every single sexual assault kit."
"This will allow us to track from when a medical provider utilizes that kit all the way through prosecution and everything in between," she said. "We'll have time frames around every single stop."
Spokeswoman Suzanne Gage said the website is not intended to be public. The site has two buttons: one where medical professionals, DNA examiners, prosecutors and law enforcement can log-in, and another for victims, who can log-in and track their own kit.
Nebraska State Patrol Colonel John Bolduc said it's "all with the goal of serving victims and preserving the public safety by preventing future victimizations by apprehending and prosecuting these offenders, many of whom are serial offenders."
He said the tracking system will allow them to be more effective.
"Our goal is to reduce the victims and hold accountable those offenders across the state," Bolduc said.
He said the State Patrol Crime Laboratory, which processes the sexual assault exam kits, has made good progress trying to catch up on a backlog that came when law enforcement began testing all kits, rather than only those most likely to result in prosecutions.
Bolduc said they've tested 800 of the kits and have 150 more in the queue waiting to be processed. The turnaround time is 12 months, he said, but the crime lab is increasing its staffing.
Five years ago, they had three people doing the work. Now, they have five, two focused solely on the backlog. He said two more staff members are being trained, two more were recently hired and they'll soon be posting for two more, bringing their total to 11.
Bolduc said the goal is to prevent a backlog from ever occurring again and ultimately reducing crime.
"We have a lot of time and energy invested in this," he said.
---
Our best Omaha staff photos of January 2021