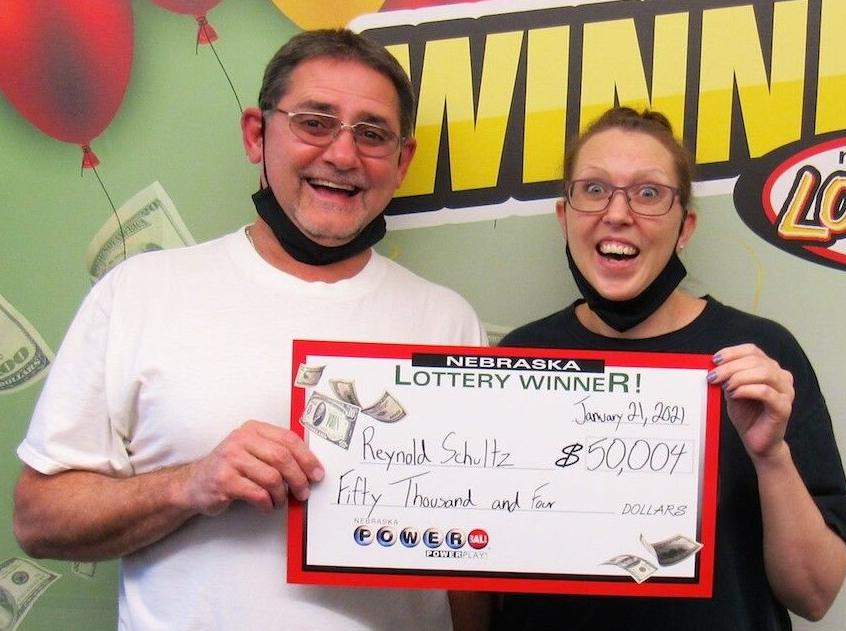 Someone in Maryland bought the giant $731 million ticket in Wednesday's Powerball drawing, but a couple from Lincoln also claimed a smaller piece of the action.
Reynold Schultz and Candace Day, his fiancée, were headed to work when they found out a ticket they had purchased at Russ's Market on South Coddington Avenue matched four of the five white numbers (40, 53, 60, 68, and 69) plus the red Powerball number (22) in the drawing. That was worth $50,004.
"We were more than excited," Schultz told Nebraska Lottery officials Thursday when the couple claimed their prize. "We were high-fiving each other."
Only one ticket matched all six numbers. It was sold in Lonaconing, a struggling coal-mining town of 1,200 people in mountainous western Maryland. Previously, it was best known as the hometown of baseball Hall of Famer Lefty Grove, a star pitcher for the Philadelphia Athletics and Boston Red Sox in the 1920s and '30s.
"I can't wait to congratulate the person," Richard Ravenscroft, owner of the convenience store where the ticket was sold, told the Associated Press. "I just hope whoever has won it uses it wisely and that other people benefit from it."
Those who missed out on the big Powerball payout still have a chance to snag a mega payout in Friday's Mega Millions drawing. The jackpot has rolled over 36 consecutive times, the longest run in the game's history. Friday's payout is estimated at $970 million taken as an annuity, or $716.3 million in a cash lump sum. But the odds against winning are extremely steep: 1 in 302 million.
It's the second-largest Mega Millions jackpot to date. The largest, at $1.537 billion, was won in October 2018 in South Carolina.
No one in Nebraska has ever won the top prize in Mega Millions, but three winning tickets of between $10,000 and $30,000 have been sold in the state since the top prize was last won Sept. 18. And a $1 million Mega Millions ticket was sold in Lincoln last March.
This report includes information from the Associated Press.
---
Our best Omaha staff photos of January 2021