From five miles away, Banner County Fire Chief Tim Grubbs could tell that the fire in western Nebraska's Wildcat Hills would be trouble.
Within 10 minutes of the fire being reported, the thin column of smoke had become a billowing tower, and in no time, 200 to 300 acres had burned, he said.
Everything was bad about that fire, Grubbs said: hilly, canyonlike terrain, parched landscape and hot, dry, windy weather.
"The conditions were as extreme as they could be for our area," he said.
The Hubbard Gap Fire in late August would leave six volunteer firefighters injured, prompt two emergency evacuations and devour 4,000 acres, mostly in the hills, according to Grubbs. Through an enormous effort, firefighters were able to stop the fire before it got a run at surrounding grassland and cropland.
"If we had not stopped it, it would have gone into the tens of thousands of acres," he said.
Although the nation has been riveted by horrific fires along the West Coast, this year's Hubbard Gap Fire, and another near Chadron, the Aristocrat Fire, are reminders that Nebraska is not immune to life-threatening, land-grabbing fires. And it's a danger that's expected to worsen with climate change, researchers say.
To be sure, 2020 has not been an extraordinarily bad fire year for Nebraska. So far, about 25,000 acres have burned, which is on the high side of average, according to the Nebraska Forest Service.
This year has seen a fraction of the state's worst fire year, 2012, when more than 500,000 acres burned during Nebraska's hottest, driest year on record. Researchers at the University of Nebraska-Lincoln have warned that hot, dry years like 2012 are expected to become routine in the next 80 years because of global warming.
After recent wet years, the return of megafires that Nebraska saw in the 1990s and early 2000s remains a threat, according to the Forest Service.
"We are clearly in another drought cycle," said John Erixson, director of the Nebraska Forest Service. "If the precipitation patterns do not change, we will experience conditions that will leave us vulnerable to another megafire."
Conditions remain dry in western Nebraska, and the fire season isn't over until the snow flies.
As Erixson noted, Nebraska's largest fires this year have flared up in tandem with drought.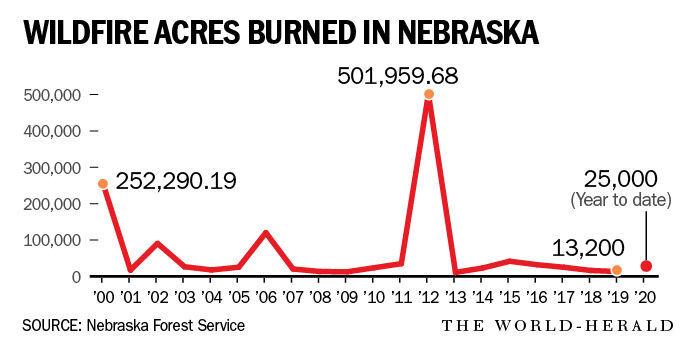 Both the Hubbard Gap Fire and the Aristocrat Fire occurred at the tail end of Nebraska's driest August on record. The day after the Hubbard Gap Fire ignited south of Scottsbluff on Aug. 27, the troublesome Aristocrat Fire erupted south of Chadron. Resources were stretched thin as Nebraskans, with help from their federal partners, fought both.
(Fires are named for nearby landmarks. The Scottsbluff fire started along Hubbard Gap Road, and the Chadron fire started near a butte known as the Aristocrat.)
Universally, from volunteer firefighters in Nebraska's far-flung counties to state and federal land managers, there's agreement that Nebraskans are better trained, better equipped and consequently better able to fight wildfires than in 2012.
Legislation and funding passed in 2013 is part of that, they say, but so is relentless training and efforts to collaborate.
Bryan Tuma, assistant director of the Nebraska Emergency Management Agency, said of the improvements since 2012: "It's a team effort, and this has really exemplified how you address these kind of issues."
Central to improvements has been aerial support, including a single-engine dedicated firefighting airplane that the state makes available to local firefighters.
Firefighters have been aggressive with air support this year. Erixson said that the state's plane (a private crop-dusting type plane under contract) plus six others have been used in firefighting this year, compared to two or three in a normal year. About double the amount of fire retardant has been used, too, he said.
"We've learned since 2012, if there is any doubt in your mind of your capacity of handling the incident, get help coming," said Slim Reece, assistant chief of the Harrison Volunteer Fire Department. "Start calling mutual aid departments, start calling air resources. Get on these things quick and get them taken care of so we don't get into that large fire."
Both the Hubbard Gap and Aristocrat Fires were beaten back before they could inflict major damage, but not without great effort.
On the Hubbard Gap Fire, nine aircraft (a mix of airplanes and helicopters) 29 fire departments, about 150 firefighters, 50 fire engines and five pieces of heavy equipment (dozers and road graders) were deployed, Grubbs said.
Even so, on more than one occasion, firefighters had to retreat.
"There were numerous times on this fire when we had to break away," Grubbs said. "It was just moving so fast, and the flame lengths were so great. It was just too dangerous."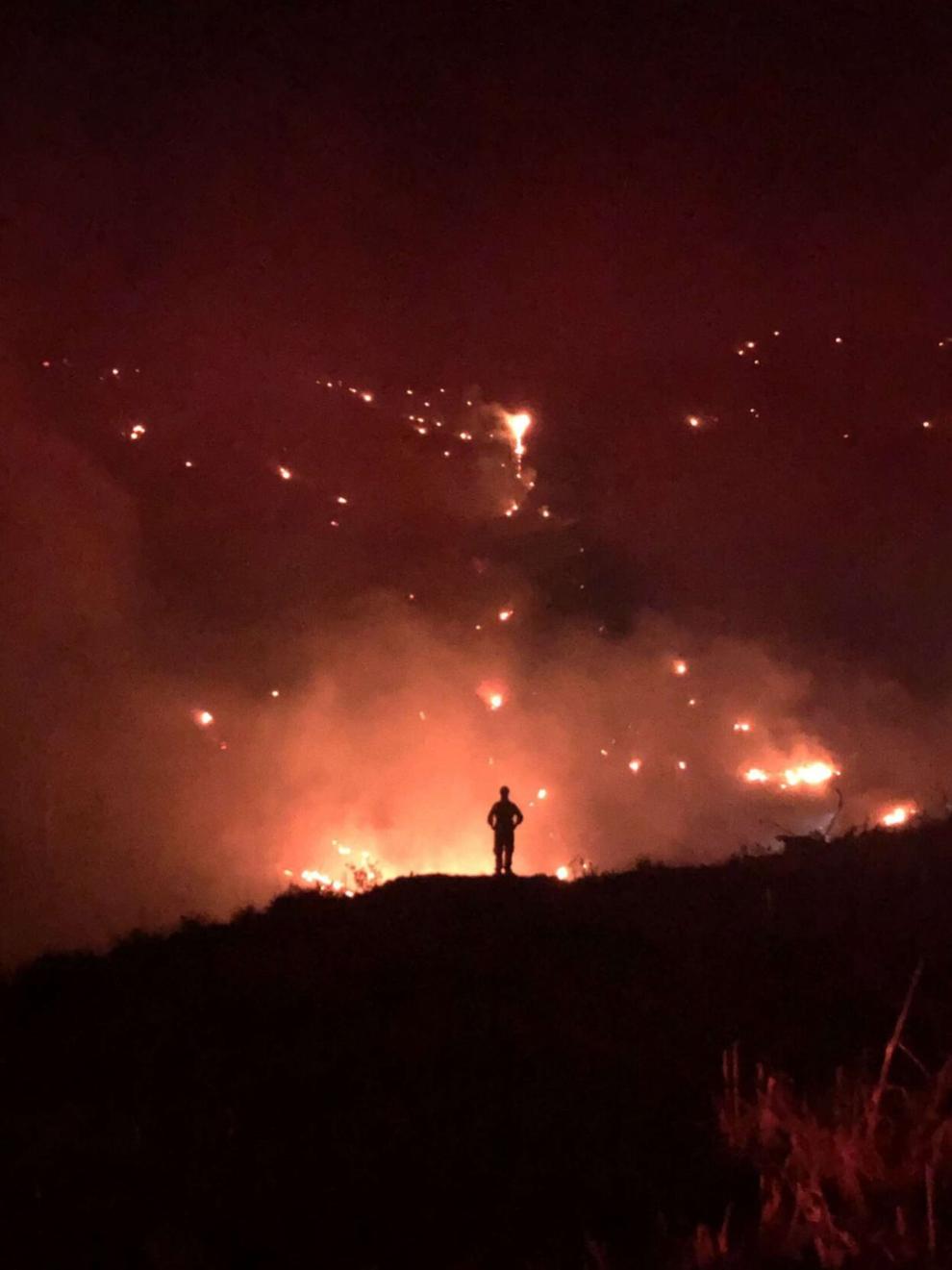 To the north, near Chadron, another group of firefighters was fighting similar battles with rough terrain and inhospitable weather.
That firefighters were able to get ahead of the 400-acre Aristocrat Fire was significant, said Tim Buskirk, district ranger for the Pine Ridge District of the Nebraska National Forest. The fire was at Chadron's doorstep, and the day after it was brought under control the winds shifted and blew hard toward the community of 5,500.
Buskirk said this has been the worst fire year in the Pine Ridge since 2012, and it's been made worse by the drain on resources assisting in other states, with the pandemic looming over everything.
Federal firefighters and equipment that normally would help Nebraska with its fires have been sent to the West Coast, he said. And the coronavirus has heightened the urgency of putting out fires quickly, so that more teams working in closer quarters aren't needed, he said.
"It was really important that we got that fire caught quickly so we didn't have to bring in a lot of resources and have to stress the system even more," he said.
Air support was critical to halting the Aristocrat Fire, said Branden Martens, chief of the Chadron Volunteer Fire Department.
"When we have these planes come in, we spend more money initially," he said. "But in the long term, we're able to knock these fires out faster and we're saving more property and it's safer, and that's big."
Photos: National Weather Service radar in Valley gets upgrade