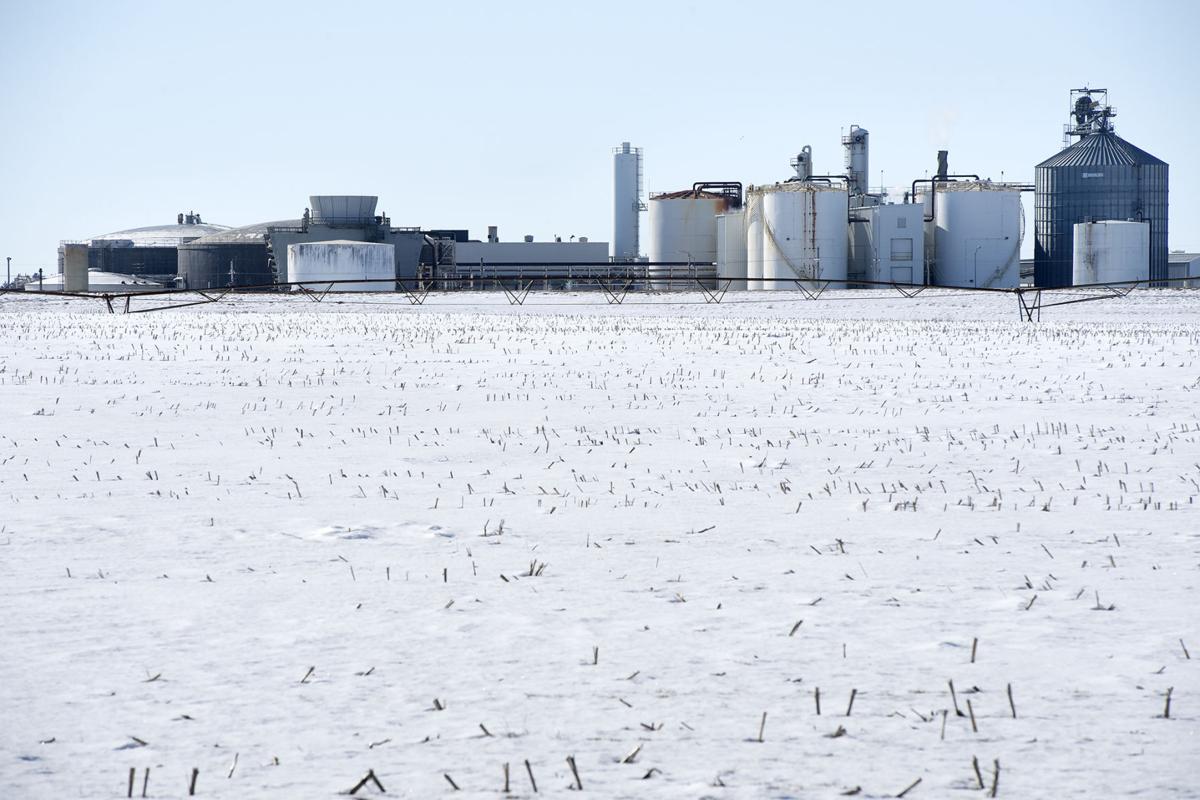 LINCOLN — Jody Weible has been complaining to state officials about rancid odors and respiratory problems possibly linked to the AltEn ethanol plant near her rural Mead home for three years.
She was glued to the television Monday morning as state officials announced that they had filed a 97-page civil lawsuit against AltEn, seeking to force the company to clean up its wastewater lagoons and properly dispose of more than 84,000 tons of contaminated waste seed corn.
Watching the press conference prompted a mixture of satisfaction and dread, Weible said.
"There's part of me that's really excited, and there's part of me that says they'll be gone within a week," she said.
The plant, which first opened in Mead 17 years ago under a different name, has closed and declared bankruptcy in the past, she said, and she fears that could happen again, leaving the state to clean up the pollution.
AltEn, in a three-sentence statement Monday, gave no hint of that, saying it had not had time to digest the lawsuit, but had successfully been working to clean up more than 3 million gallons of manure and stillage that leaked from its plant three weeks ago.
"AltEn is working on steps to address clean up issues on the property and those have been ongoing," the statement concluded.
Earlier Monday, state officials, including Gov. Pete Ricketts and Attorney General Doug Peterson, announced that they'd given up on getting voluntary compliance from the company after state inspectors had visited the plant 77 times since 2016 and had seen countless orders to take action go unfulfilled.
"Today, AltEn is going to be held accountable for its mismanagement," said Jim Macy, the director of the Nebraska Department of Environment and Energy, which asked that the lawsuit be filed.
The lawsuit cites 18 causes of action, from pollution of water and air to storage of solid waste without a permit.
The AltEn facility, unlike other ethanol plants, used leftover seed corn, which is coated in herbicides and pesticides, to produce alcohol. Its leftover grain has been labeled as waste that had to be disposed of at a licensed landfill or incinerated. The grain, because of its toxic content, could not be sold to cattle or deposited on farm fields.
Peterson, who filed the lawsuit, said it was the most comprehensive filing since he took office six years ago.
It seeks payment from the ethanol plant for cleanup costs, and penalties for continued noncompliance — fines up to $10,000 a day for each of the claims made in the lawsuit.
AltEn was facing a deadline Monday to remove the contaminated corn piles from its facility, but state officials said little progress had been seen.
"What's driving this is a poorly, poorly run operation," Peterson said.
Weible and other Mead residents have complained about the lack of enforcement steps by the state until the past month, when the facility ceased operation because of concerns that its wastewater lagoons would overflow.
Macy, as well as Peterson, defended the state's pace of actions. They said that while compliance with regulations is sought first, it takes time to amass evidence to file a lawsuit.
"This is part of due process," Macy said. "Sometimes it takes some time to develop a case."
The lawsuit said that state officials didn't discover that the plant has switched from field corn to seed corn coated in pesticides until 2015, and then didn't discover the extent of pollutant levels in the used grain until 2019. The pollutants, the lawsuit said, become more concentrated through the distilling process, creating a green-colored discharge, which is unlike other ethanol plants.
Macy, at the press conference, declined to say how long he has discussed seeking a lawsuit with the Attorney General's Office, citing attorney-client privilege.
But he did indicate that it was in the works before Feb. 12, when frozen pipes on a 4 million-gallon digester burst at the AltEn plant, sending contaminated manure and wastewater flowing down nearby ditches to a stream that eventually dumps into the Platte River. Officials have said they blocked the discharge from reaching the river.
Bill Thorson, chairman of the Mead Village Board, said Monday that he was glad the state had finally taken action instead of granting another "extension" for the company to comply.
"As long as they stay on them and don't give them extensions, I'll be happy," Thorson said. "Extensions don't work with them."
Macy, on Monday, said he didn't know how much the state had spent to clean up the recent spill at AltEn. But he has said the state might bear the entire cost of the cleanup if the company declares bankruptcy.
The state had ordered AltEn on Jan. 30, 2020, to remove the grain piles by March 1.
Last month, the AltEn plant was closed because of concerns about its wastewater lagoons getting close to overflowing. Then frozen pipes burst on the digester, which contained thin stillage and cattle manure, causing a spill of contaminated runoff that traveled 4 miles.
Macy said that recent, preliminary testing of liquids in AltEn's wastewater lagoons found levels of neonicotinoids, a farm chemical, that were at least 260 times the accepted levels in drinking water — 20,000 to 30,000 parts per billion, compared with 77 parts per billion, a standards used by the State of Minnesota.
Testing of the runoff from the leak were also toxic, about 2,000-3,000 parts per billion, he said, while one monitoring well near AltEn's waste lagoon registered 22-26 parts per billion.
The Nebraska Department of Environment and Energy has had personnel on site daily since the waste spill.
Speaking to complaints from Mead-area residents, Macy said he hoped the legal action would bring "a measure of relief."
"We heard your concerns," he said. "We take those seriously."
Macy said the department had recently tested soil in the village of Mead, but he doubts if contamination will be found there. More testing, Macy said, will be done of local drinking water wells and monitoring wells.
Nebraska regulators took a "progressive approach to enforcement, according to Macy.
For instance, the NDEE first notified AltEn that it had to dispose of its piles of waste grain September of 2019. That was four months after it barred the plant from using the grain as "soil conditioner" because the application rate used by AltEn resulted in a concentration of one pesticide, clothianidin, what would be 85 times higher than the maximum annual field load.
The ethanol plant disputed that the grain was solid waste for several months until January 2020 when the NDEE ordered AltEn to begin removing the grain piles in March 2020 and complete the job on March 1, 2021.
Weible, from her home a mile from the ethanol plant, said she's hoping the state is done giving the company more time to comply.
"I'm hoping with this lawsuit, they won't have that option," she said.
World-Herald Staff Writer Martha Stoddard contributed to this report.
---
Our best Omaha staff photos of February 2021