Some former parishioners at St. Michael Catholic Church in Central City who have longstanding concerns about the Rev. David Fulton were further angered, and a representative of the Archdiocese of Omaha said the church was seriously examining the "internal personnel matter."
Fulton delivered his homily after the day's Bible reading — which happened to be about Jesus expelling unclean spirits from a man — and then addressed his attendance at the pro-Trump rally in Washington, D.C.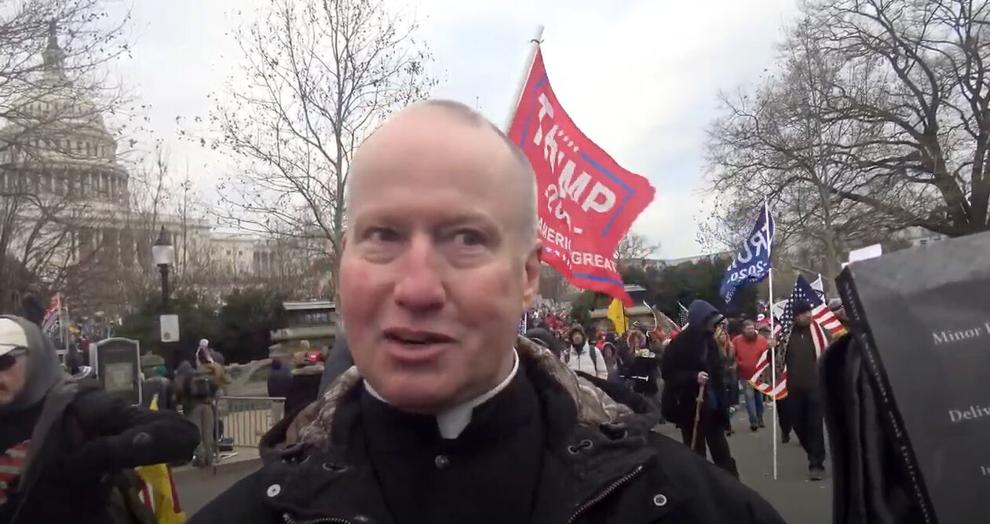 But before reading the apology that Fulton said Omaha Archbishop George Lucas told him to recite, Fulton offered his view.
Fulton said the Jan. 6 crowd in D.C. was so large that people who stood on the steps of the U.S. Capitol to take photos couldn't fit everyone in the frame. He reiterated what he told church officials, that he didn't learn about the siege on the Capitol until after he returned to his hotel.
He then turned his focus to Eddie Becker, the filmmaker who had interviewed Fulton and posted part of the interview online.
"This guy wanted to interview me, and I could tell that he wasn't ... of good intention," Fulton said. "But I thought maybe I could lead him to something that could help to evangelize him. And so I tried to find commonalities with what he was saying — he was saying very anti-Catholic stuff.
"I was trying to lead him to, maybe, information that could maybe change his mind, or at least suppress his anti-Catholicism," Fulton said. "And so he edited the video and he ended up weaponizing it."
After Becker watched the online video of Fulton's Sunday comments to his parishioners, Becker posted his full five-minute interview with Fulton on his YouTube channel. Previously, Becker had shared the full interview only with a World-Herald reporter.
Fulton's comments on Sunday, in addition to what he told Becker, further outraged former parishioners. They said they felt again that the Archdiocese of Omaha wouldn't listen to their concerns that Fulton couldn't effectively lead the parish. They said they had brought the issue to archdiocesan officials in September 2019 and asserted that the matter had divided the town of 2,900 about 25 miles northeast of Grand Island.
"It feels like we are up against Goliath at times," a former parishioner said.
However, one deacon at St. Michael said even though Fulton "spoke out of turn," he had every right to attend the rally in D.C.
Snippets from Fulton's interview with Becker first appeared in Becker's "Voices from the Insurrection" video. In the interview, Fulton held up a book of exorcism prayers and told Becker he had performed an exorcism at the U.S. Capitol because a demon is "dissolving the country."
The World-Herald reported Friday that Fulton, who declined to give his name to Becker, was the man in the video.
The Archdiocese of Omaha said Friday that Fulton is not a trained exorcist and that he later told church officials that he had not performed a formal exorcism, but "led others in prayer." Through a spokesman, Archbishop Lucas said he was "very angry" at Fulton and said Fulton shouldn't have attended the event, much less been there dressed as a priest, as "it was a misuse of his priestly ministry."
Archdiocesan officials said Fulton's views do not reflect the views of the archdiocese. After the article was posted Friday on Omaha.com, Deacon Tim McNeil, the chancellor for the Archdiocese of Omaha, sent an additional comment from Lucas: "Whether or not Fr. Fulton broke any laws, I condemn his participation in the event in the strongest terms."
McNeil said Friday that Fulton will not be punished for his attendance at the rally or for purporting to perform an exorcism. When asked Monday about Fulton's Sunday comments, Fulton's full interview with Becker or whether other archdiocesan priests had attended the D.C. rally, McNeil declined to answer.
"This is an internal personnel matter that we are taking seriously," McNeil said in response to questions.
Becker said Monday that he posted the full video because he was disappointed with Fulton's claims against him. Becker, 70, said he has lived in D.C. for 50 years and records what's happening there for historical purposes.
"People need to see (the full video) and examine him and discuss it," Becker said. "Doing this kind of documentary work, interviewing people, is the closest thing to being there. I can't make stuff up ... I like to hear what people say."
Central City residents said Fulton's views have caused turmoil in the town. In addition to St. Michael, Fulton serves as the priest at St. Peter in Fullerton and the administrator at St. Peter in Clarks.
Six now-former St. Michael's parishioners wrote a letter to Archbishop Lucas in September 2019 that was signed by about 100 other parishioners. In it, the authors outlined their "grave concerns regarding the well-being and future of our parish" under Fulton, based on such issues as communication, hostility, eliminating youth involvement, views toward women and abuse of power. The letter said Fulton was unresponsive to parishioners' phone calls and emails; was not receptive to a children's choir; and prohibited girls from being altar servers, among other issues. His homilies, the letter said, are based on "fear or intimidation rather than on embracing the Sacraments."
"Families are choosing to leave the parish, the archdiocese, and even the Catholic faith," the letter said. "Parishioners of all ages feel that he has lost his ability to lead our parish effectively."
According to former parishioners, the archdiocese backed Fulton and said he can decide how to lead the parish.
Scott Musil, who lives in Central City, said Monday that he was one of the authors of the letter. He said he now drives to Grand Island to attend church.
"He 'apologized.' (Archdiocese of Omaha) why aren't you doing more?" Musil tweeted Sunday, sharing video of Fulton's Sunday Mass. "Please remove this man's priestly credentials."
Another former parishioner said Fulton "gave a poor excuse for his behavior."
"I don't have any confidence this will be treated any different," said the former parishioner, who spoke on the condition that she not be named.
Sunday, Fulton said the archbishop had called him Saturday and wanted him to read a statement at all the parishes he serves.
"I used bad judgment in participating in the rally in Washington, D.C., on Jan. 6, 2021," he told the St. Michael congregation. "I spoke and acted in a way that was not consistent with my vocation as a priest. I acknowledge that the confusion and hurt that I caused to you, to the church and to the other members of the community.
"I apologize to the archbishop. I wasn't anticipating all this happening, obviously," Fulton said. "It was a short trip and I went and came back and ... went straight on with my work."
Matthew Maresh, 31, who was born and raised in Central City, said he is frustrated that Fulton traveled to Washington and then administered communion the following Sunday in Central City without wearing a mask. Maresh's grandfather, who attended St. Michael, died in November of COVID-19.
Maresh, who now lives in Topeka, Kansas, also said, "It bothers me to see his rhetoric repeated in people I know from the community, who listen to the man, who trust this man. The rhetoric that he's spreading isn't one of 'The church loves everyone.'"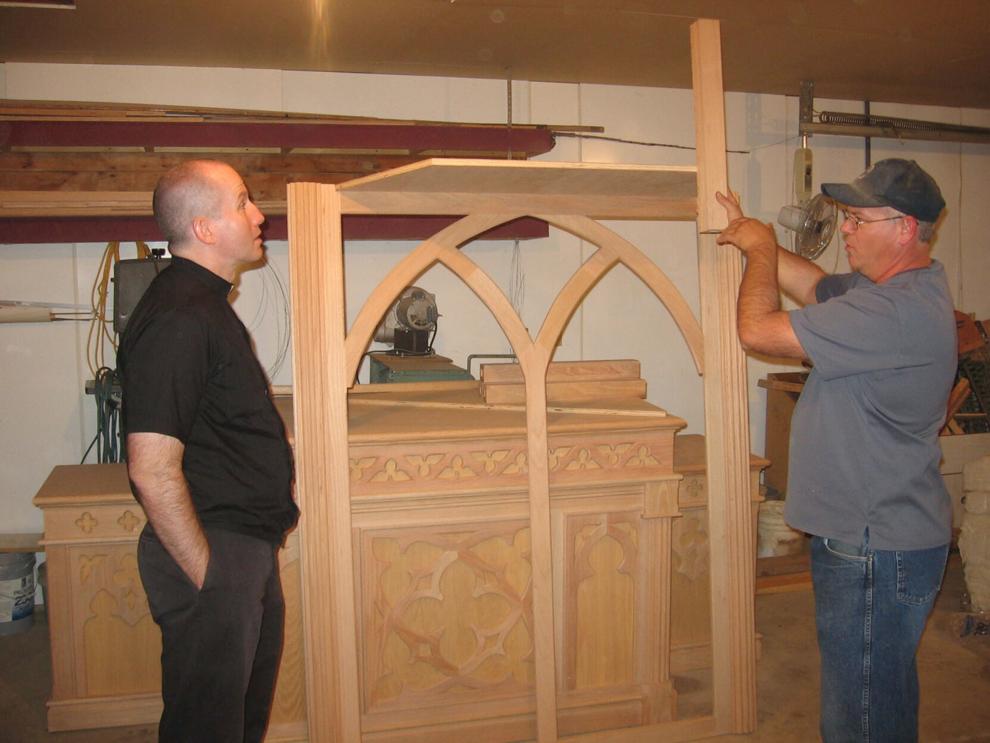 Don Placke, a 77-year-old deacon at St. Michael, said he has lived in Central City for 48 years and supports Fulton and the church.
"He stands out as one that is very sincere in his beliefs. He prays and he doesn't do everything that you would think a priest, a cleric, would do," Placke said. "Possibly, he might be 40 years behind. I think the Vatican, they want the church to be more open, to invite the congregation to be part of the Mass ... He's more conservative."
Placke said Fulton had the right to attend the rally and probably was "at the wrong place at the wrong time." Placke said he agreed with the archbishop that Fulton shouldn't have worn his clerical collar but that he never has seen Fulton without his collar — at the grocery store or while having breakfast with residents.
Placke also said that Fulton shouldn't have said he had performed an exorcism but that he thought Becker's edited video took Fulton's comments out of context. Placke had not yet seen the full interview Becker posted.
Placke acknowledged the split in the church but said Fulton has the authority to run the parish his way.
"We might not have the harmony, either, that we used to have," he said. "That is something that we have to work at."
News of Fulton's appearance at the rally brought "a bad light to Central City," Placke said, and it's unfortunate that it happened. But Fulton deserves respect, he said, not punishment.
"He's a priest and he deserves that respect," Placke said. "Just like we would give that respect to the president, now President Biden, who we might not agree with."
---
Photos: FBI releases 40 photos seeking identification of suspected rioters at US Capitol