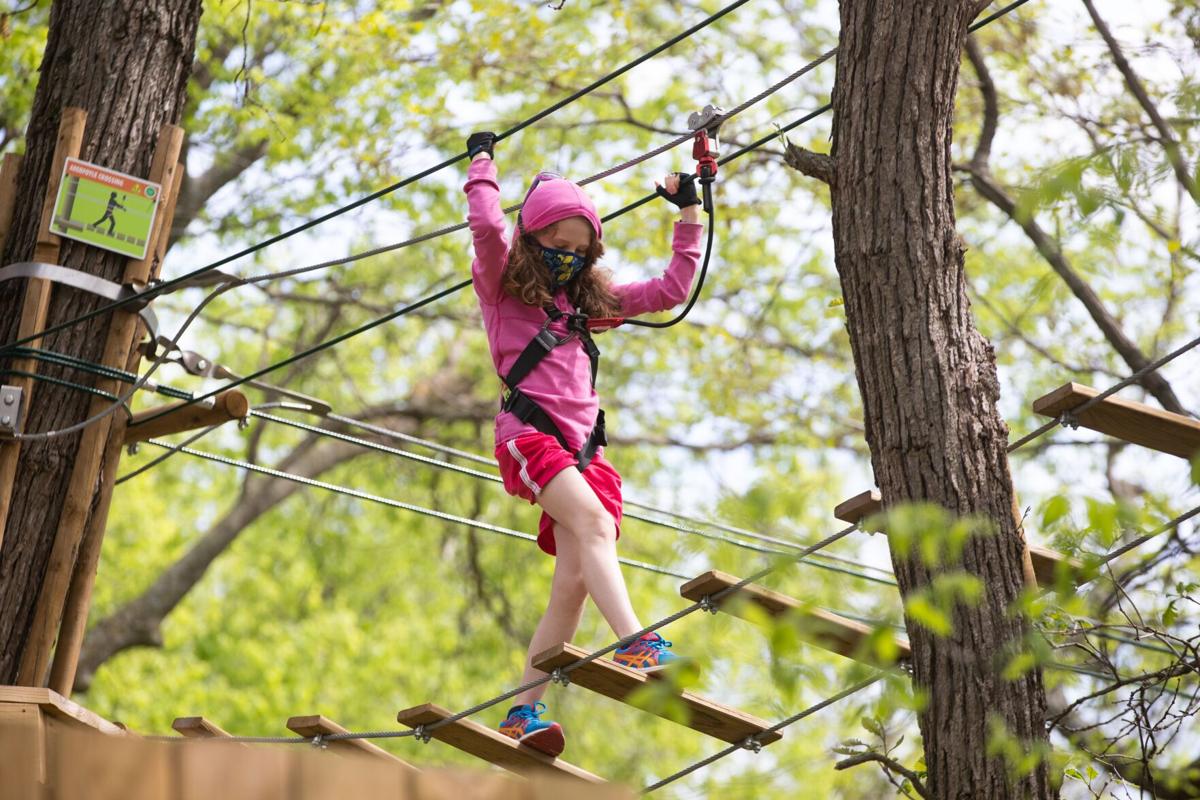 After a year described as "devastating," the head of Nebraska's Tourism Commission sees plenty of reasons to be bullish about the approaching summer.
Passenger numbers are up at the state's largest airports, vehicle traffic across Nebraska has rebounded to pre-pandemic levels, and in March, statewide lodging tax revenue from hotel stays exceeded the amount generated during the same month a year earlier — the first time that has happened in more than a year.
Those indicators, combined with increasingly positive trends on the pandemic front in the form of declining COVID-19 deaths and rising vaccination rates, point to increasingly rosy predictions for summer tourism.
"Hopefully now, I think the recovery has truly begun," said John Ricks, executive director of the Nebraska Tourism Commission.
In recent weeks, Ricks has been traveling the state and checking in with communities. More so than anything else, he sees excitement.
"One of the major attractions I talked to said they had their biggest April ever and it's picking up," he said.
That is the case in Ogallala just south of Lake McConaughy, where Stacey and Kathleen Bauer own Front Street, a replica Old West strip of buildings that includes a restaurant, bar, museum and general store. The Bauers purchased the tourist-dependent business, which first opened in 1963, in 2016.
After seeing a year-to-year decrease in business of 45% in 2020, things are already looking much better in 2021, Stacey Bauer said.
"(It will be) probably our best year since we purchased it, if the numbers stay the same," he said.
However, industry experts like Deborah Ward, interim executive director of the Omaha Convention and Visitors Bureau, caution that recovery across the travel and tourism sector will take longer than the pandemic recession.
The Omaha group and the Nebraska Tourism Commission project that it will take three to five years to return to pre-pandemic levels of business.
"This year will be better than last year, that's an absolute guarantee," Ward said.
Pandemic dealt devastating blow
COVID-19 crippled the travel and tourism industry across the globe and in Nebraska, where tourism accounted for $3.5 billion in economic activity in 2019, according to the State Tourism Commission.
"The effects were immediate and devastating," Ricks said.
Nebraska's unemployment rate jumped from 3% in February to 3.1% in March to 7.4% in April, according to revised 2020 figures from the Bureau of Labor Statistics. Much of that came in the leisure and hospitality sector, which shed 40,000 employees between February and April.
In Omaha and Lincoln, which benefit from business travel and large events, it was as if a light had been switched off.
The Berkshire Hathaway annual shareholders meeting went remote. The College World Series and Huskers' spring game were canceled. The Olympic Swim Trials were postponed until this year.
"The hits just kept coming," Ward said.
Predictably, passenger volumes plummeted at airports, including Eppley Airfield in Omaha, which saw a nearly 50% decline in total passengers in March 2020 compared with March 2019, according to Omaha Airport Authority data.
Traffic volumes on Nebraska roads also tumbled from the beginning of March through mid-April 2020.
All of those indicators gradually started improving following the initial shock, though the speed and extent of the recovery varied. Overall, the economic impact of tourism in 2020 fell to $2.2 billion, a drop of roughly $1.3 billion from 2019.
Outdoors offers refuge
A rare bright spot was found in something Nebraska has plenty of: outdoor, open space. State parks, which for the past decade have largely seen steady attendance numbers, saw a spike in visitors in 2020.
Nebraska Game and Parks sold 610,402 park permits, a 23% increase from 2019 and the largest number recorded dating back at least a decade.
Ever-improving programming offered by parks staff has contributed to steadily increasing park usage in recent years, said Jim Swenson, parks administrator. But 2020, a year where people were encouraged to socially distance and congregate outdoors whenever possible, was different.
"In 2020 when most businesses and opportunities were being removed from availability, parks with open air spaces became a mainstay," Swenson said.
The exodus to the outdoors extended beyond state parks and recreation areas. Scenic parts of the state, such as the Sand Hills, saw a boost in popularity throughout the summer.
"I think the whole area was up, because of all the circumstances," said Rita Rowan, co-owner of Sharp's Outfitters in Sparks, Nebraska.
Sharp's operates a campsite and tubing business on the Niobrara River. Rowan's parents, Wayne and Doris Sharp, purchased the business in 1972.
Rowan said last July was the busiest she has ever seen at Sharp's, which has 120 campsites and 30 spots for recreational vehicles. August also was busy, with people from all over the country, some benefiting from remote work and remote schooling, coming to camp and float the Niobrara.
"There was nothing else to do," Rowan said with a chuckle.
Yet another indicator of the great outdoors' appeal came in the form of RV sales. Nationally, RV shipments in 2020 totaled 430,412 units, according to the RV Industry Association, a trade group. The annual total was up 6% over 2019 and good enough for the third best year on record.
For some local dealers, 2020 was unrivaled.
"The 2020 year was the absolute best I've ever had," said Pat Leach, owner of Leach Camper Sales in Lincoln, which has been in business for 59 years.
In talking with customers, Leach said it was clear that COVID-19 concerns fueled much of the increased interest.
"This year and last year, there's been so many first-time buyers," Leach said.
Strong summer ahead
Many people are expecting a strong summer for travel, fueled by a desire to get out into the world after a year of restrictions.
"There is legitimate pent-up demand, and people are in fact moving around," Ricks said, pointing to the lodging tax figures for March.
"We really came out of the blocks strong, if that is truly the beginning of the recovery," Ricks said.
And it's not just hotels seeing increased business. Eppley Airfield, which reported 18,255 total passengers in April 2020, saw 265,355 in April 2021. The count is still well below the 405,435 passengers who traveled through the airport in April 2019, but the overall trend points to gradual improvements.
Even as air travel and hotel stays rise, RV sales remain strong.
"It's absolutely the busiest I've ever been in all the years Leach Camper Sales has existed," Leach said, adding that 2021 has thus far outpaced his record 2020 year.
Right now, the biggest issue is keeping up with the demand, according to Leach, due to bottlenecks in the supply chain.
Leach said it's increasingly common for a buyer to put a deposit down on an RV before it even arrives on the lot.
"I personally think it's going to remain good," he said of the RV business. "People have discovered the RV lifestyle is a different kind of lifestyle than going to the hotels and the motels."
Optimism across the RV industry is part of the reason why Nebraska Game and Parks is planning for another strong year in 2021, which also happens to be the 100th anniversary of Nebraska's state parks.
Swenson, the park administrator, said between the centennial celebrations occurring through the year and other industry trends, parks staff is projecting another annual increase in visits across the state's 76 recreation areas in 2021.
While leisure travel is expected to rebound this summer, other segments of the travel industry, specifically business travel and meetings/events, will likely see a slower recovery. But Ward, with the Omaha Convention and Visitors Bureau, sees some signs that those segments are gradually coming back, especially with the return of youth sport tournaments and the more recent lifting of capacity restrictions on large events.