The upper Midwest was hit harder than any other part of the country during the polio epidemics of the 1940s and '50s, which culminated with a terrible outbreak in the summer of 1952 that left hundreds of young Nebraskans hospitalized with paralysis.
Some lived for months immobilized in iron lungs. They experienced overwhelming relief when the Salk vaccine was tested in the mid-1950s, and the Sabin oral polio vaccine in 1961. But for many who thought they had overcome polio, the disease struck again 30 to 50 years later in the form of post-polio syndrome, causing pain and paralysis in the very same limbs.
Now the generation that fought polio in their youth is up against COVID-19 as senior citizens. 
The World-Herald solicited memories of that era from readers. Below are excerpts from some of those responses.
"I was 14 years old at the time (1952) and my mother was deathly afraid of this disease, curtailing all possible chances my brother or I would 'catch' it. No state fair (which we ALWAYS attended), daily afternoon naps (at 14), and not much contact with others." — Bernice "Bunny" Vanis, 83, Lincoln (formerly of Cheney, Nebraska)
"Our almost daily swims at the local pool turned into occasional outings for a dip in the creek, with only each other to play with. We could go outside to play in the morning but had to stay in our yard and – horror of horrors – take a nap in the afternoon. It was pure misery, but I can only imagine what it was like for my mama, with four little ones, stuck in that sweltering house." — Nell Fuller, 71, Bellevue (formerly of McComb, Mississippi)
"That summer things changed. The swimming pool at Ripley Park closed and the movie theaters closed. We entertained ourselves with playing at Shunganunga Creek digging caves in the bank and catching crawdads on a string tied to a piece of beef liver." — Ray Germonprez, Omaha
"Some believed the dreaded disease was transmitted through the pool water. My parents were not about to take chances. On an occasional Sunday afternoon visit to the park, my sister and I would sit on the ledge overlooking the pool. I envied the kids splashing in the water and I secretly admired the bronzed, handsome young lifeguard on duty." — Ava Herman, 86, Omaha (formerly of Otoe, Nebraska)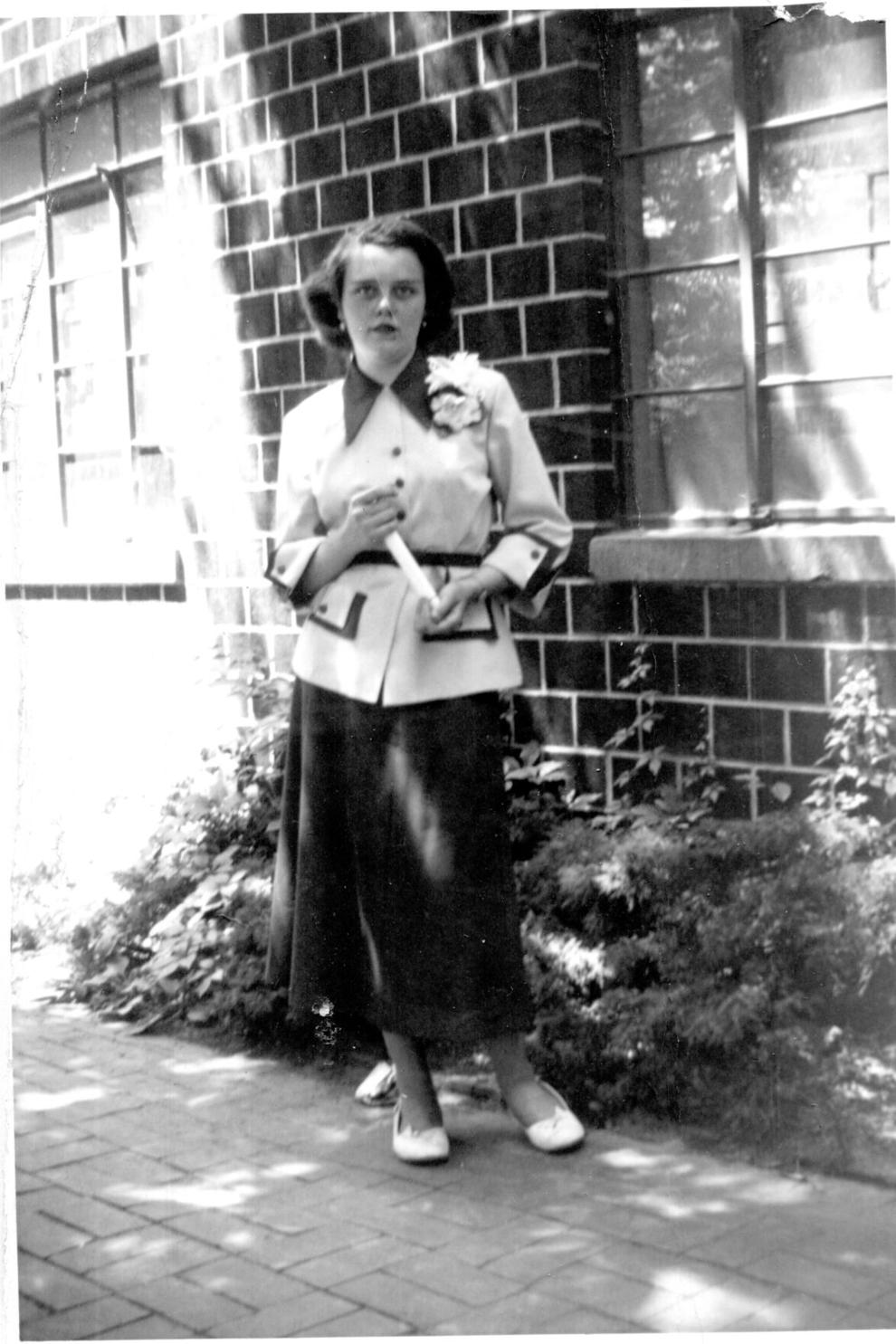 "I remember people, especially our parents, expressing worry and concern because at that time, no one knew where the contagion came from. Some Omaha city swimming pools had been filled in with dirt, just in case the virus was spread by water. I do remember we didn't go swimming during that worst summer when there was no vaccine on the horizon, many kids were getting sick, and The World-Herald printed daily numbers of hospitalizations." — Lorraine J. Duggin, 79, Omaha
"I remember my mother wouldn't take me to the Millard Park city pool in the summer of 1954. The city pools closed later in the summer. None of the kids in my block were allowed outside for awhile." — Don Glasgow, 75, Omaha
"Many families were very frightened and rightly so. My husband's uncle ended up in an iron lung and died, leaving his wife and three young children at the time. He was a very healthy, mid-20s, young man before being infected with it." — Diane Langel Proulx, 70, Omaha (formerly of Le Mars, Iowa)
"Our family was driving to Park Rapids, Minnesota, for our annual summer vacation. Our 1947 Chevy had no air conditioner; we rolled down the windows to try and stay comfortable. As we were driving in the heat of the day through Sioux City, my mother worried about the polio epidemic and ordered that none of the car windows were to be opened. To this day I still remember how hot that was, but at least we felt safer from polio." — Ken Barjenbruch, 81, Omaha (formerly of Leigh, Nebraska)
"I can remember clearly the isolation during the hot summer months. We could no longer go to the pool or spend our Sunday afternoons at the movie theater. My worst fear was the possibility of contacting the disease and laying in an iron lung for years." — Marlene McWilliams
"As a kid, I understood little about it, but we were terrified. Pictures of a room full of iron lungs were frightening. How did you go to the bathroom if you were in one of those?!" — Steve Sidner, 71, Omaha
"A few months after my aunt contacted polio in 1955, we were having a gathering at our home, I was three and half years old, walking around the kitchen table and I plopped down on the floor, unable to get back up. My parents just knew!" — Debbie Bowman, 69, Plattsmouth (formerly of Springfield, Nebraska)
"(In 1952) I began kindergarten at the one-room country school down the road from my family's farmhouse. Not long after the school term began, a high fever kept me in bed one morning. My head felt weirdly heavy, and it was a struggle to try to stand up. I felt extremely dizzy. My parents brought a cot into the kitchen so they could keep an eye on me. I remember trying to get up to walk to the bathroom. My left leg buckled, and according to my mother, my back was 'stiff as a board.'" — Ann Erisman Kelleher, Omaha (formerly of Auburn, Nebraska)
"I got severe symptoms such as non-stop nausea and vomiting, diarrhea, fever as high as 105 degrees, weakness, headache and my whole body ached. My parents treated me at home thinking I had the flu." — Connie Sass Russell, 82, Omaha (formerly of Springfield, Nebraska)
"I got polio in 1952 at the age of 4 months. I didn't move when my dad accidentally stuck me with a diaper pin after a nap." — Lin Reding, 69, Bennington (formerly of Pierce, Nebraska)
"I became ill with a fever, headache, and backache, so our family physician made a house call to my home. He put his hand behind my neck to make me sit up, but my back was already stiffening and wouldn't bend." — Bernice "Bunny" Vanis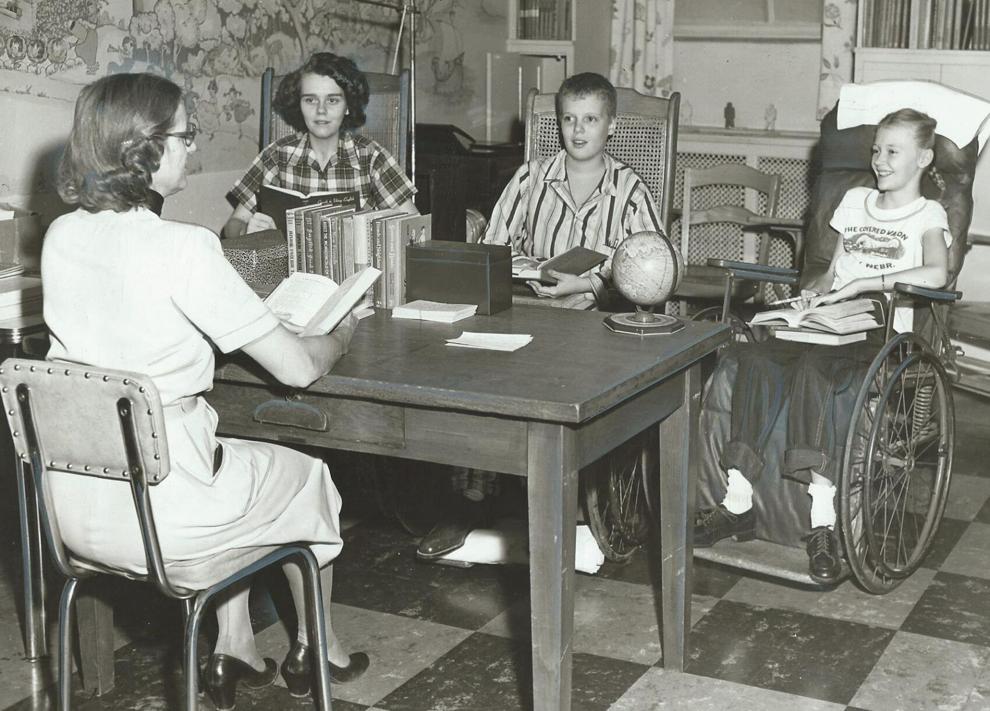 "(In 1954) My cousin, Bonnie Roland, who was in the eighth grade and lived six blocks from us, went to bed feeling OK. She woke up in the night and was having a hard time breathing and felt some paralysis spreading throughout her arms and legs. She was rushed to the hospital in Scottsbluff and died in the morning from polio. It came on incredibly fast and destroyed her life at an early age." — Roger Curry, 76, Papillion (formerly of Gering, Nebraska)
"In July 1952 I had polio. We had a 2-year-old and a 4-year-old, and I was four months pregnant. I couldn't care for my two small children so my parents took them for a few months. I had severe pain in my right arm." — Betty Foster, 93, Omaha
"My mother brought me a drink of water before bed and I couldn't swallow. It came out my nose instead. They took me to our doctor's residence that same evening. He immediately diagnosed it as polio." — Bill Hutfles, 72, Omaha (formerly of Corning, Kansas)
"I was 4 years old. My oldest sister, who was 17, took me and my 2-year-old sister uptown to Popcorn Days. We had candy apples, got our picture taken, and tried to enjoy the carnival atmosphere. She recalled that I was tired and listless, so she took me home. I had to stop and sit on the curb because I was so tired. The next day, my left leg just didn't work. It didn't hurt, but neither would it hold me up or allow me to walk. She was already carrying my little sister, but she felt guilty at not being able to also carry me. For the rest of her life, she felt that she had in some way caused me to get polio." — Millie Lill, 79, Denison, Iowa (formerly of Ida Grove, Iowa)
Hospitalization and treatment:
"I believe there were eight beds in the room with a boy in each bed — all with polio. My polio seemed to be confined to my spine. As I remember, the treatments for me were large thick steaming pads placed on my back from the base of my skull all the way to my tailbone. The hot packs also extended almost to my elbows. I remember the hot packs made me feel trapped from all the weight. I would often wake up and still have the pads on my back, thinking I was paralyzed!" — James Wiederin, 75, Omaha (formerly of Ralston, Iowa)
"One of the treatments prescribed to try and slow the progression of polio was to take scalding hot towels from a vat and place them around your legs. The smell was atrocious. Probably like burnt skin." — Debbie Bowman
"Late every afternoon, dressed in a bathing suit and swim cap, I was taken downstairs from my bed to a large tub filled with very warm water. There, I was encouraged to be physically active by making different leg and arm movements in the water." — Ann Erisman Kelleher
"I was treated with curare. Because a shot was believed to cause muscular contractions, the hospital attempted putting the curare into my food. As a 6-year-old, whose mother was an excellent cook, I found the food to taste so bad, I didn't want to eat it." — Kathleen Gillies Brown, 80, Omaha
"I was put in isolation for two weeks, that was the first time away from home. Not only was I scared and missing my parents, they did a spinal tap on me with no family member to comfort me. That was the worst pain I had ever had. I was given hot baths with extremely hot towels wrapped around my legs and many hours of therapy." — Darrel Sudduth, 81, Plattsmouth
"The whole (Children's) Hospital was polio patients, four or six to a ward. The nurses were so busy that the children who felt better took care of each other, comforting, reading, and even grabbing the occasional bedpan for a roommate. Visiting hours were only three hours a week." — Rona Rockwell Wasiak, 80, Omaha (formerly of Fremont, Nebraska)
"My lower left leg began to atrophy and was casted. I was not cooperating with nursing care, so my dad said 'You get to work or I'm not coming back to see you again.' Tough love!" — Bernice "Bunny" Vanis
"I remember having hot towels or small, damp blankets on my legs a lot. I remember being pretty lonely because I don't think I was able to see my parents much or at all. I think that they were able to see me through a glass window to my room." — Janet Q. Wilson, 75, Council Bluffs, Iowa (formerly of Peoria, Illinois)
"I had exercises performed on me to prevent the contraction of muscles that was a side effect of the virus. Stretching, pulling, forced to sleep with my feet pressed flat against a board at night to stretch the calf muscles."  — Millie Lill
"They opened the door and gave my hand to a nurse on the other side. She guided me through the door, turned me around and said 'Say goodbye to your mother.' Wow. To a farm kid, those were big words that took my breath away and produced big tears." — Bill Hutfles
"I was admitted to the original Children's Hospital in 1947, located near 44th and Dewey. The nurses were very nice. I received quite a few get-well cards. Upon discharge from the hospital, I wanted to take the cards with me but was told I could not. Later I realized that the cards could have been contaminated with the virus." — Donald Miller, 77, Omaha
"Everything I had touched had to be burned. I mourned for my ragdoll that Mom had made for me, that I'd had since I was just over a year old, and whom I had named Irene. In my child's mind, it was my fault that my beloved Irene had to be destroyed." — Millie Lill
"There was a large yellow 'iron lung' in the hallway occupied by a cute little blonde gal that looked to be younger than me (age 6). Her head laid on a small pillow outside the 'lung' with her body inside. I recall the constant sound of pumped air to help her breathe easier. She passed away before I left (the hospital)." — James Wiederin
"Memories of the first months were a blur of pain. They said I was in an iron lung for a short time. I just remember not being able to move, to barely lift my eyelids to see." — Rona Rockwell Wasiak
"I was high school friends with a boy whose mother was paralyzed from the waist down. When she got sick, she had two little boys and was pregnant with her third. After spending some time in the hospital, she came home in an iron lung which was set up in the middle of the kitchen. Can you imagine what that must have been like? She eventually regained the ability to breathe on her own and the iron lung was replaced with a big kitchen table for her growing family." — Nell Fuller
"I was placed an iron lung, because I could not breathe on my own. They put an ice tent over my head to bring down my fever. Many children died, some were in iron Lungs, some were less affected. The hospital was full, and very busy with care of nurses. I was critical for a time but with a lot of prayers, I recovered and went home in November 1952." — Marjorie Girnus Lessig, 83, Omaha (formerly of Fremont, Nebraska)
"They walked me down a hallway that had all of these iron lungs lining the walls with kids heads sticking out of one end. The nurse told me it helped them breathe. She walked me into a room that had an empty bed near the door. I think three other boys were in beds in the room too. She introduced them all to me. The boy in the farthest bed (we'll call him Johnny) wasn't there the next morning. I asked the nurse where Johnny was? She said 'Johnny's not with us anymore.'" — Bill Hutfles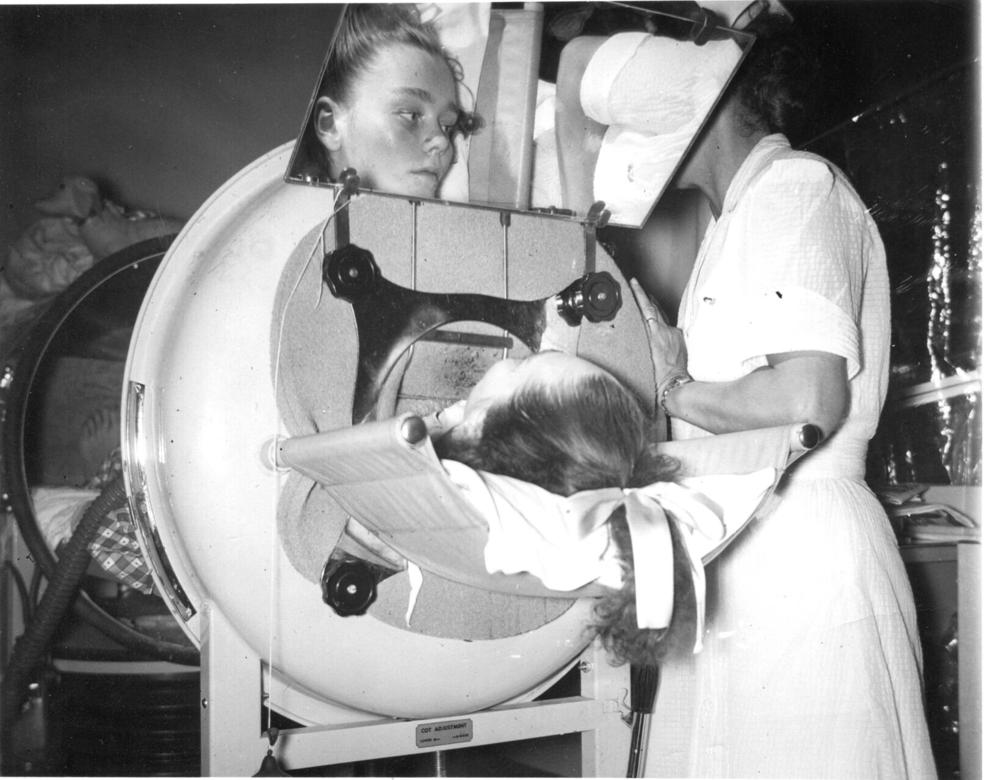 "When I got home, my father was lying on the couch and not feeling well. Within days he was in the Douglas County Hospital and then in the Veteran's Hospital in an "iron lung." It was a terribly frightful machine in which my father (age 28) was placed, all except his head, like a Pringles can horizontally. An electric motor worked the bellows from underneath, forcing the pressure in the chamber to change resulting in air being forced in and out of my father's lungs. He came back to us about a year later." — James H. Truell, Grand Island (formerly of Omaha)
"My mother was in an iron lung in Hot Springs, Georgia, where she survived by what the doctors said was the 'thickness of a hair.' Unfortunately, she was paralyzed from the waist down and in a wheelchair for the rest of her life." — Jay Trofholz, 65, Columbus, Nebraska
"A relative lived in an iron lung for a few years (after) coming down with polio. Her parents hauled the lung, with her in it, to family get-togethers. She did not live but for two or three years." — Joan Clark, Omaha
"When I got my first job as a programmer in the '70s, working on OPPD's accounting software, I learned that we had an "Iron Lung" flag in the customer record. This meant that the system would not cut off the customer's power without someone going to check on the status of the iron lung." — Steve Sidner
"With all victims, it seems the virus ran the course it wanted and left the person to try and repair the failed parts." — Debbie Bowman
"I had to lay on a hard exam table, wearing only underwear, while (chiropractor) Dr. Brown, a quiet man, attached pads from a creepy looking machine to my left leg. The pads would give uncomfortable little electric shocks to my leg. Weird as it was, in looking back, I wonder if mother and Dr. Brown knew something the rest of the world did not. After a few months, the crutches were no longer needed. I was able to walk using my left leg again in spite of a pronounced limp and a sensation of weakness." — Ann Erisman Kelleher
"I was paralyzed from the neck down and spent the next three months doing the Sister Kenny whirlpool hot water pack therapy. After I was discharged I used crutches for one year and wore a steel back brace for two years." — Connie Sass Russell
"I spent a lot of time in the Lincoln Orthopedic Hospital on 10th Street undergoing numerous surgeries and learning to walk by age 3 with a leg brace. I still wear a 4 pound left-leg brace very similar to the 1960s model. I've been told there's been very little research in improving the braces because there are so few of us polio survivors existing!" — Lin Reding
"On the day I was released from the hospital, the therapist said 'I didn't think I'd ever tell you this, but you were the one patient that I thought would never get out of bed or walk.' Talk about a miracle! With the help of crutches (only up to the elbow) and special shoes (with a brace attached), I finally went home. I did manage to graduate with my class in 1955. I was able to walk across the stage in high-heeled shoes to receive my diploma!" — Bernice "Bunny" Vanis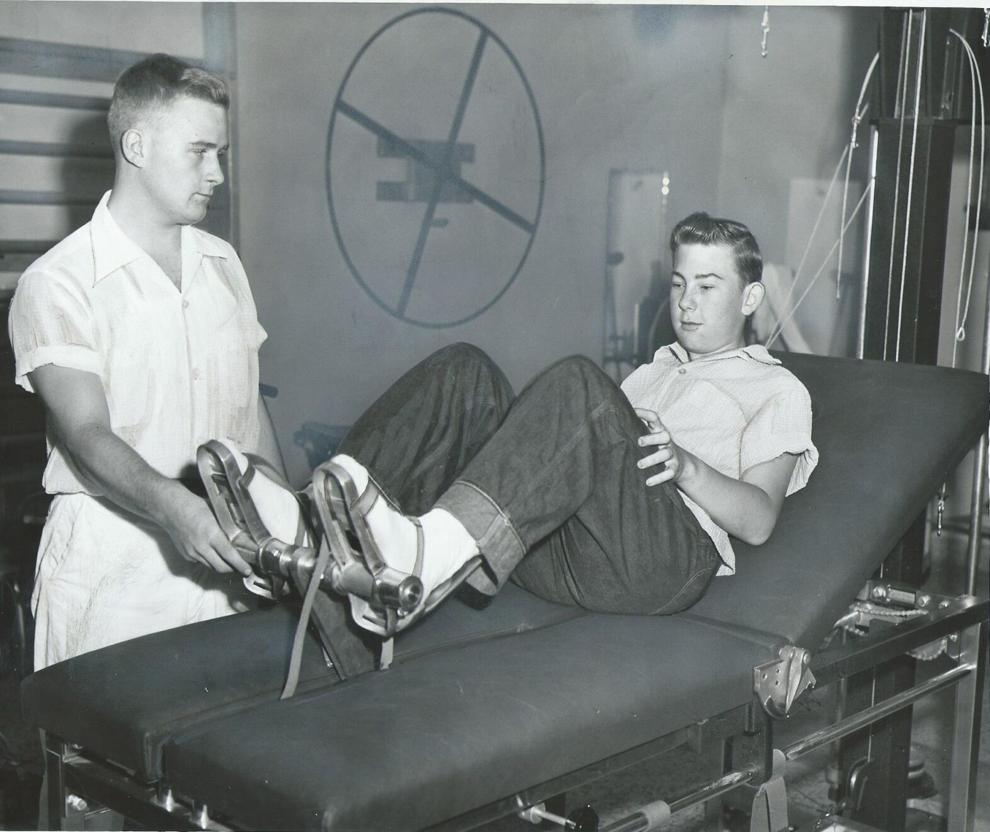 "Many pain medications were administered as well as a referral to a psychiatrist. Nothing helped but eventually the pain got better. I went through months of rehabilitation, with my neighbors providing transportation. By the end of November, I was able to function enough to care for my children. That was such a happy day to have them back. My pregnancy progressed normally, thank goodness, and in March, my third child was born." — Betty Foster
"I contracted polio at the age of 3 years. It originally affected most of my body, but, as time progressed I was able to rehabilitate everything except my right leg, which was fitted with an iron and leather full-length leg brace. I learned to ride a bicycle and roller skate but sports were pretty much out of the question as my running wasn't up to par with others of my age." — George Blessing III, 80, Murray, Nebraska
"I've had a lot of surgeries because of it — including a fusion of my spine in third grade when I spent the whole year in a hospital bed in my parent's family room on the farm. I have always walked with two crutches and a leg brace, but my parents pushed me to be like others. I drove a tractor and helped on the farm, to some degree." — Diane Langel Proulx
"Once (I was) released it was required that I wear a brace for my back. It went from my armpits to my waist. I also attended first grade at Bennett school for physical therapy. My sister reminded me that I had a tendency to remove the brace while playing with my friends. She said Mom would find it thrown in the dirt. Mom soon fixed that by putting the brace on backwards so I couldn't unbuckle and remove. With physical therapy I learned to walk again, and the brace corrected the problem with my back. I am one very Lucky Irishman!" — Gary Gilboy, 75, Elkhorn (formerly of Youngstown, Ohio)
Vaccines becomes available:
"As soon as both Salk and Sabin vaccines were available, I received both vaccines. My two grown children also received both vaccines as they reached appropriate ages. I have advocated for polio vaccines many times in conversations with other parents." — Kathleen Gillies Brown
"When school started that fall, we got the word: polio shots at the municipal auditorium. I was in the middle of a family of eight kids. One of my older brothers had the shot the day before mine was scheduled and regaled me with a description of the event: huge needles, severe pain and mean nurses. Needless to say, the ride on the bus to the auditorium was longer than usual as I contemplated my demise. Lo and behold, the reusable needles weren't that big, and the nurses were kind in delivering the Salk vaccine." — Ray Germonprez
"Our fifth grade class lined up in the school gym to wait our turn to receive the shot in the arm. After about five minutes at our desks in the classroom, a girl fainted and fell to the floor. I don't remember any physical reaction from the shot other than a sore arm." — Don Glasgow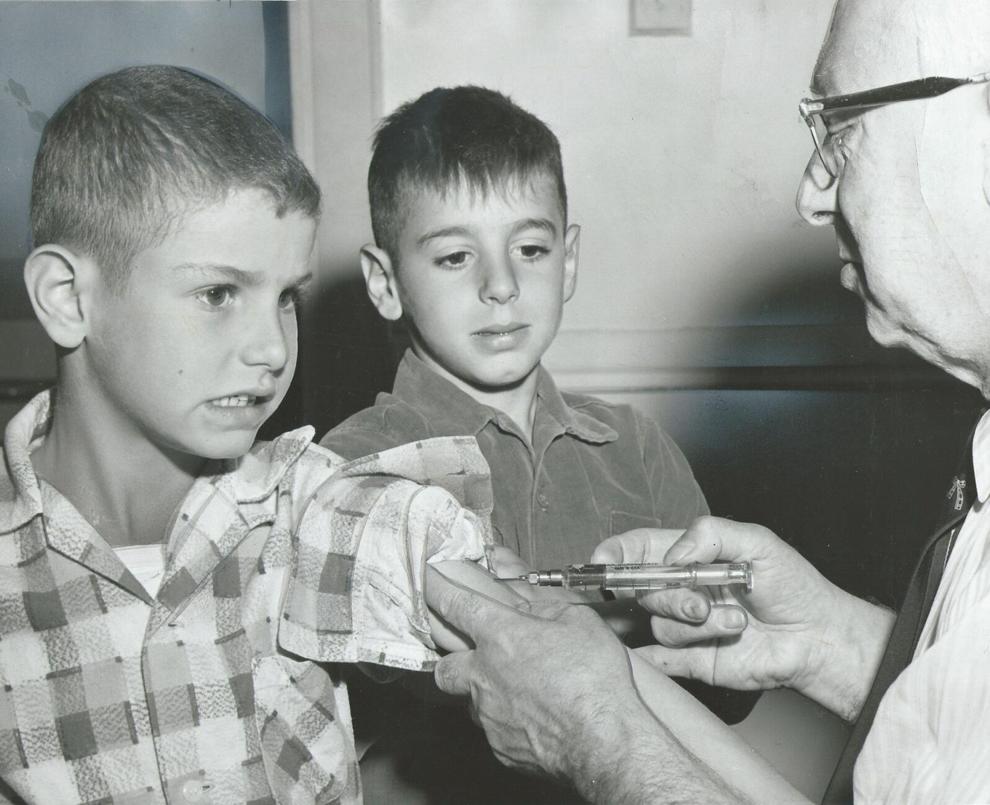 "Each class lined up and marched down the hall to our little library, which had been set up as the vaccination station. Public health nurses administered the vaccines and mothers were present to dry tears and keep order. It was such a special day that many of us were dressed up; Mama let me wear my favorite Sunday dress, black Mary Janes, and lacy white socks." — Nell Fuller
"The line (to get the Salk vaccine) stretched out the front door, but I don't remember a long wait. I do remember that once we got the vaccine, the fear went away. After that it was back to normal. Actually we were more concerned with the Russians dropping nukes on us." — Rick Nelson, 73, Omaha
"I remember when the call came over the intercom in 1960 for all kids to line up outside the nurse's office. This was a yearly event. Roll up your left sleeve, and walk through. The nurses would give someone in front of you a shot, wipe off the needle with alcohol, and then give you a shot. Ten shots in one needle, then refill. That would never fly today, would it? We hated the thought of that shot taking place but knew it was coming." — Dave Irwin, 73, Sumner, Nebraska (formerly of Valentine)
"I remember receiving the polio vaccination in Norfolk around 1960. Probably I was 6. I held that pink sugar cube in my mouth until it dissolved and I didn't want to swallow it!" — Nancy Ringer Gillpatrick, 66, Omaha (formerly of Norfolk, Nebraska)
"When the Sabin vaccine came available in the early 1960s, there was another big push for people to be vaccinated. In our county, there were stations set up at many of the local schools on three consecutive Sunday afternoons. The program was called SOS (Sabin Oral Sunday) and everyone was encouraged to participate." — Nell Fuller
"The Sabin vaccine was given after church on a Sunday at the public high-school in Utica. Given orally in a small cup was much easier. I wondered if it was effective because it was too easy. Those were scary times, seeing children on TV using iron lungs to stay alive. We were thankful for the vaccines." -- Stan Gierhan, Lincoln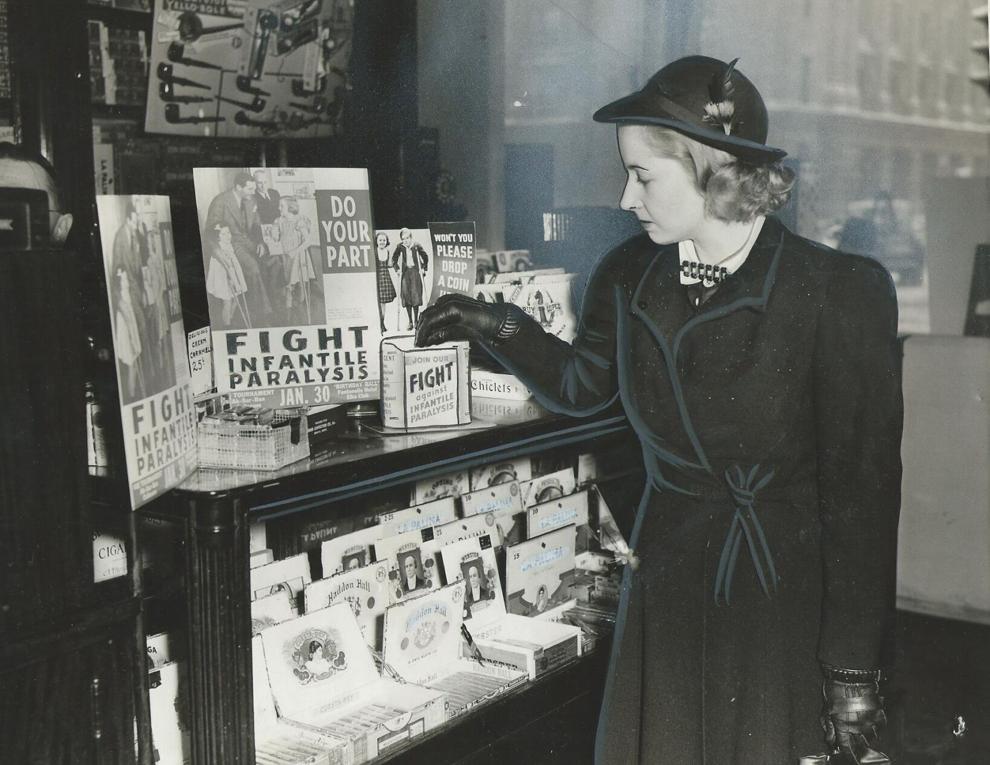 Decades later, post-polio syndrome:
"As I age, I see less symmetry between the left and right sides of my body. This is a small price to pay, however, when I consider the poor souls who did not survive the virus, survivors who were confined to wheelchairs the rest of their lives and survivors whose lives have been ambushed by post-polio syndrome decades after having celebrated their recoveries." — Ann Erisman Kelleher
"Polio left me with a severe double curvature of the spine resulting in chronic back and hip pain. I have had post-polio syndrome for about 10 years resulting in back and hip pain, weakness, trouble swallowing, restless leg syndrome, neuropathy, and sleep apnea." — Connie Sass Russell
"My left side, especially my leg, has always been weaker. My left leg is smaller than my right, but I didn't let it stop me as I grew up. The last 25-30 years my legs have gotten weaker and achy. I also have scoliosis, which many polio survivors have." — Darrel Sudduth
"I have led a fairly active life till (post-polio syndrome). Put me back in a wheelchair for the last eight years, but life is still good." — Rona Rockwell Wasiak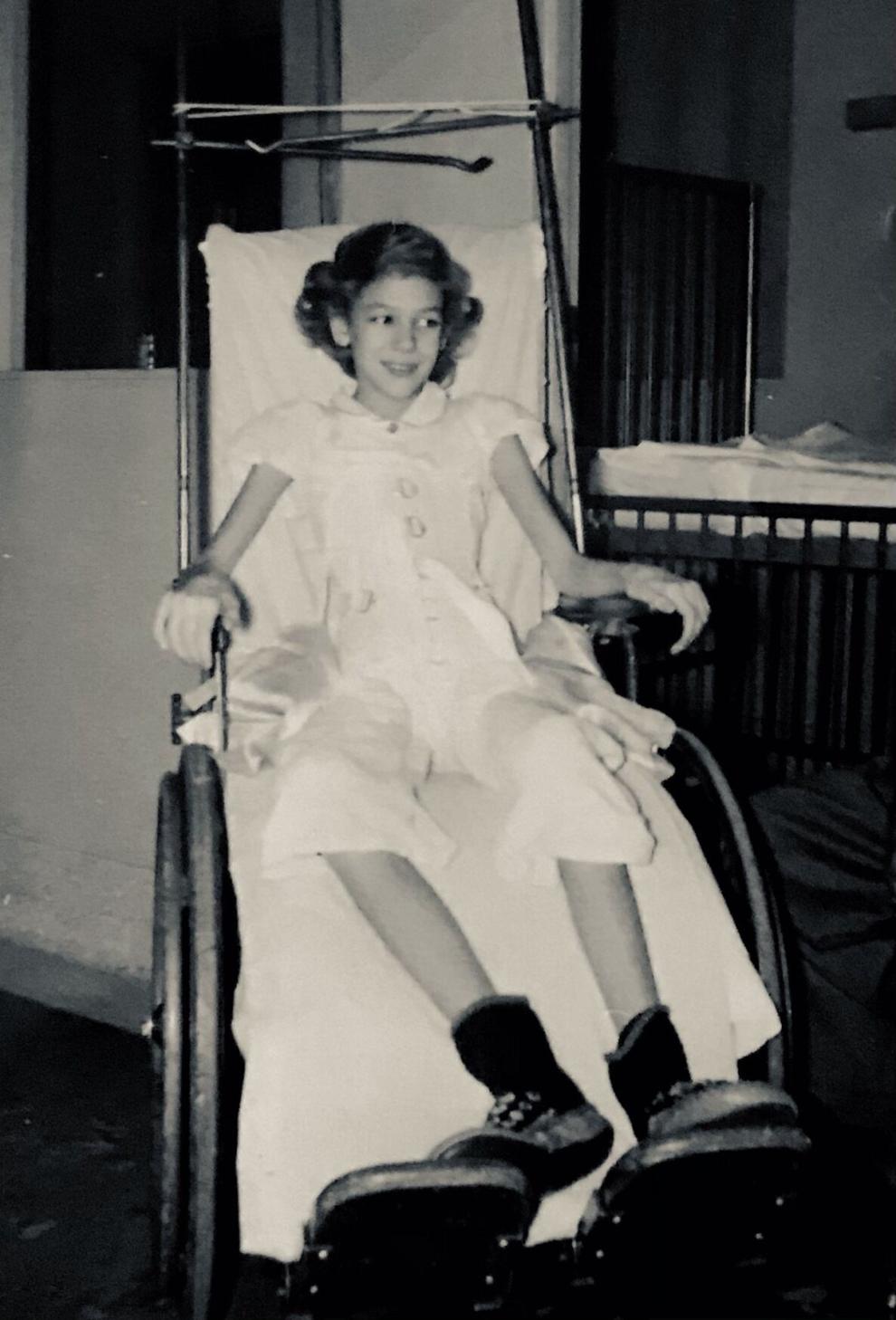 "As I reached retirement age, I noticed that my 'better' leg was becoming somewhat arthritic as the knee was causing me some issues. The doctors injected it with various cure alls which all provided me with some comfort but the issue persisted and I decided to make a lifestyle change and purchased a generation 1 Segway, which I converted to off road specifications as I needed the mobility. I've used it for more than 10 years, and it has given me more freedom than I've ever experienced in my 80 years of living on this old earth." — George Blessing III
"Life went on until my 40s, when I experienced such fatigue and fell so often. I went back into a brace. Post-polio syndrome reared its ugly head. Now I use a power chair part of the time, more and more as time goes on." — Millie Lill
"I think my experience with polio has made me very aware of the dangers of the (COVID-19) pandemic, the importance of the requirement to stay home, to not be out in crowds, to wait for the vaccines to be available. It isn't worth contracting or passing along the virus because one thinks it isn't really important. Believe me, it is important." — Kathleen Gillies Brown
"The COVID-19 pandemic is very surreal to me as it is so identical to the polio epidemic in 1950. I'm getting the vaccinations because I am very high risk for getting the virus." — Connie Sass Russell
"I'm listening to what the doctors and scientists say. I'm 81 years old, so I'm social distancing, wearing a mask and not going out unless I absolutely need to. I'm fully vaccinated and can't wait until the number of cases go down so I can get back to going out to eat breakfast at a restaurant." — Darrel Sudduth
"I think this experience has made it easier for me to handle the current COVID situation of isolation. Although the disease is very different, the recommended precautions and isolation are the same." — Marlene McWilliams
"The science today is much more advanced and the vaccines safer than they were in the '50s. We lined up and, heaven forbid, waited in that line for the polio vaccine. So stop whining and get the shot. If not for you then for those you might be saving. Please." — Susan Tongier Wolfe, 72, Omaha (formerly of Coffeyville, Kansas)