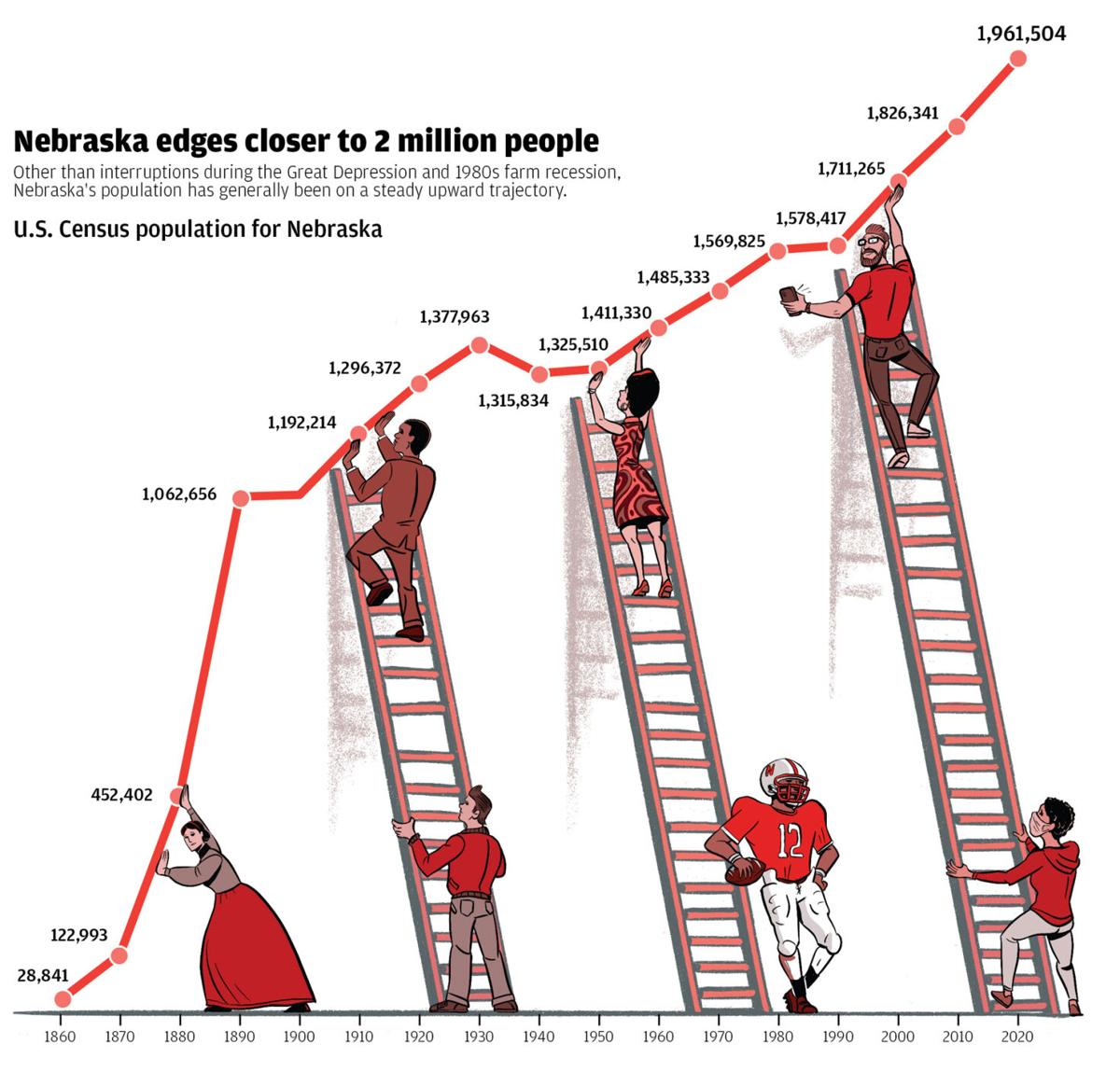 Historically strong population growth over the last decade has helped Nebraska preserve all three of its seats in Congress and pass West Virginia to become the nation's 37th-largest state.
The U.S. Census Bureau on Monday announced the official 2020 population counts for Nebraska and the rest of the country for purposes of congressional apportionment.
Nebraska's official head count of 1,961,504 was a 7.4% increase over its 2010 count — equaling the national growth rate during the decade. In fact, Nebraska's population growth ranked 20th among the 50 states.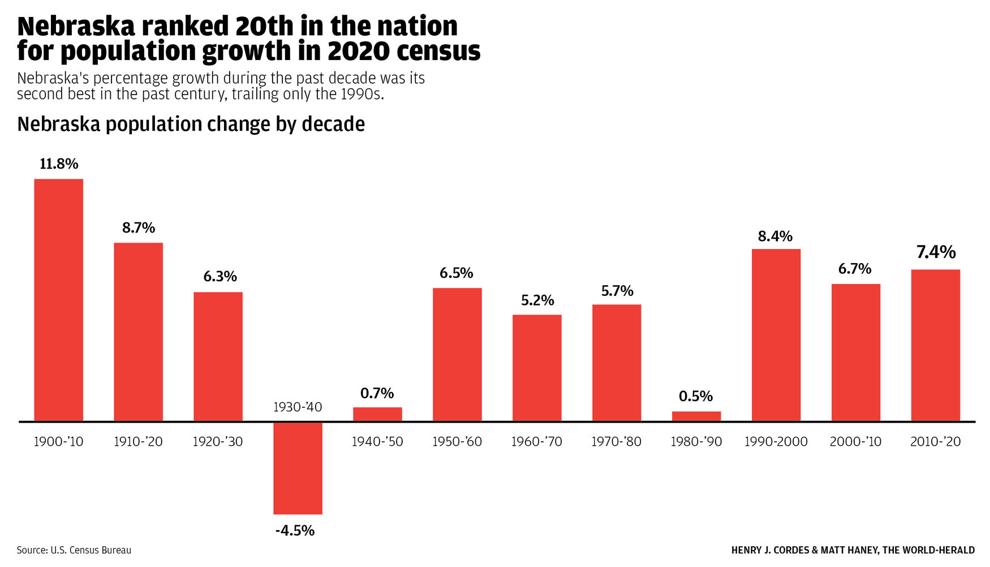 The growth rate for the decade is the state's second best in the past century.
Nebraska hadn't previously ranked higher than 30th in population growth in any decade since 1900, said David Drozd, research coordinator for the University of Nebraska at Omaha's Center for Public Affairs Research. Nebraska's average rank for growth since 1900 has been 39th.
"So to be at 20th this time shows how good it was this decade," Drozd said.
Monday's figure shows that Nebraska has been growing steadily for 30 years. The state's growth rate was 8.4% during the 1990s and 6.7% in the 2000s.
2020 Census: Ranking of fastest-growing states
| State | 2020 Census population | % change | Rank of change |
| --- | --- | --- | --- |
| Utah | 3,275,252 | 18.4% | 1 |
| Idaho | 1,841,377 | 17.3% | 2 |
| Texas | 29,183,290 | 15.9% | 3 |
| North Dakota | 779,702 | 15.8% | 4 |
| Nevada | 3,108,462 | 15 % | 5 |
| Colorado | 5,782,171 | 14.8% | 6 |
| Washington | 7,715,946 | 14.6% | 7 |
| Florida | 21,570,527 | 14.6% | 8 |
| Arizona | 7,158,923 | 11.9% | 9 |
| South Carolina | 5,124,712 | 10.7% | 10 |
| Nebraska | 1,963,333 | 7.4% | 20 |
Nebraska's 2020 population figure came in well ahead of West Virginia's 1,793,716, moving Nebraska's population up to 37th among the states.
This is the first time Nebraska has moved up in the state rankings since at least 1900. Nebraska most recently dropped two spots from 36th to 38th after the 2000 Census, falling behind Nevada and New Mexico.
Iowa's official 2020 head count of 3,190,369 represented 4.7% growth over the past decade — 28th among the states. Iowa will keep all four of its seats in Congress.
Monday's census release did not include any population counts for smaller geographies — from counties and cities all the way down to individual blocks. Nor did it include any demographic data, such as the race or ethnicity of the state's residents.
Without that data, it's difficult to tell exactly why Nebraska's population pushed higher than expected, although the Omaha and Lincoln metro areas certainly had a lot to do with that.
Drozd said the center's research shows that Nebraska continues to grow naturally through births.
Plus, he said, more people are moving into Nebraska than are moving out, a trend that has carried on for three consecutive decades.
Jim Smith, executive director of Blueprint Nebraska, said Nebraska also well outpaced the typical growth rates around the Midwest.
In a post-pandemic world, Nebraska will be well positioned as people work from anywhere and thirst for quality of life, said Smith, who heads a group of state business leaders pushing for Nebraska to step up its economic growth.
"I think they offer great opportunities for Nebraska," he said.
Gov. Pete Ricketts, in a statement, attributed the growth to Nebraska promoting fiscal responsibility and keeping government "out of the way."
"The last 10 years has created great momentum that we will continue to build on as we emerge from the pandemic," he said.
Last week, state senators debated why young people were leaving the state, and some lawmakers suggested that high property taxes were the problem.
State Sen. Matt Hansen of Lincoln invited feedback from millennials on Twitter.
Among the series of responses, many expressed concern about Nebraska's attitudes toward the LGBT community and diversity in general.
Hansen said Monday that he's excited to see Nebraska's strong population growth numbers.
Still, he said, "absolutely I think we could be doing more" about issues such as inclusion.
With the delay in the detailed counts until at least August, the Legislature likely will need to meet in a special session to draw up boundaries for congressional districts, the legislative seats and other offices.
In the national counts released Monday, West Virginia, California, Illinois, Michigan, New York, Ohio and Pennsylvania all lost House seats.
Texas gained two seats, while Colorado, Montana, Florida, North Carolina and Oregon gained one each.
Nebraska last lost a seat when it went from four districts to three in 1960. Looking ahead to 2030, the current trends bode well for Nebraska to keep its three seats through even the next U.S. House reapportionment.
Drozd said Nebraska is in much better shape to maintain its seats than it was 10 years ago.
If Nebraska can match or closely trail the U.S. growth rate, Drozd said, it should be able to keep its three congressional seats until at least the 2040 Census.
---