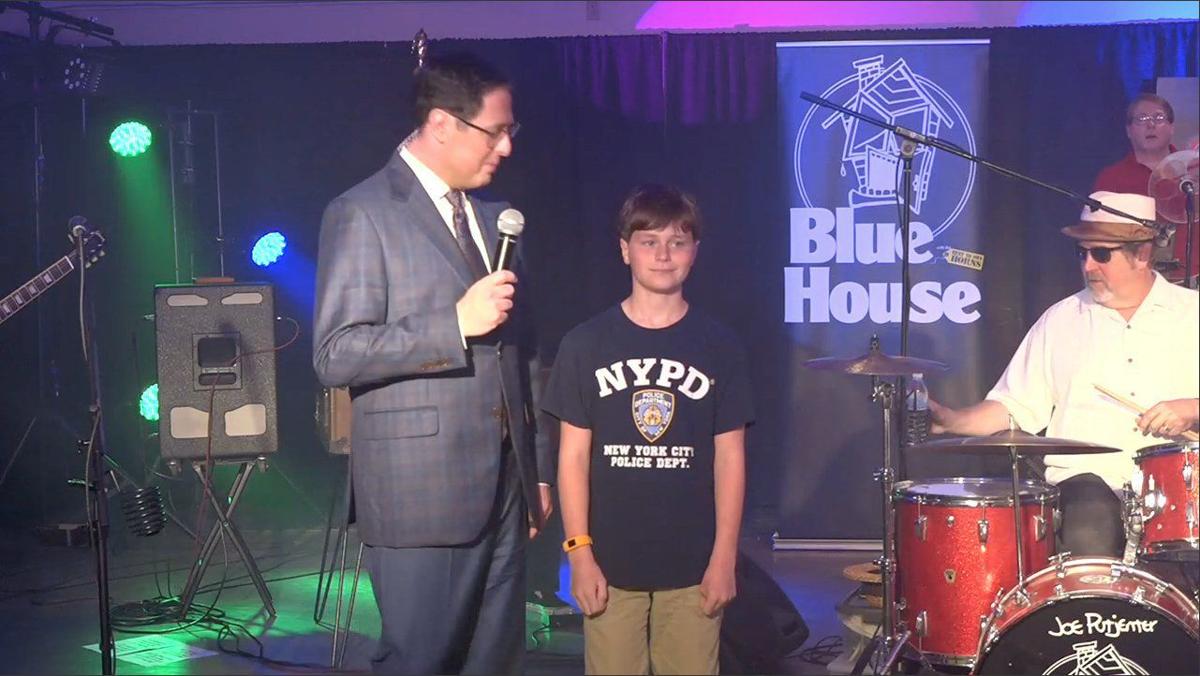 We're all going a little bit stir-crazy these days dealing with COVID-19.
There are only so many gardening and household projects a person can find to do during the weekend. And even with the proliferation of cable TV channels and streaming services, it's hard to find something worth watching.
But luckily, some enterprising Nebraskans are thumbing their nose at the shutdowns and trying to offer some fun for the shut-ins.
One example — "Quarantine Tonight," a nightly live-music show launched by former State Sen. Mike Flood on News Channel Nebraska, his cable television network.
The show has featured all kinds of local musical acts — classical pianists and polka bands, country crooners and gospel singers, even members of the Nebraska Cornhusker Marching Band. On Cinco de Mayo, a Latino band rocked and rolled. It's a musical "Tonight Show" from the hometown of Johnny Carson, the late king of TV talk show hosts.
Groups perform with proper social distancing, and some wear face masks. It's filmed live at an "undisclosed location" (the Knights of Columbus Hall or the VFW Hall in Norfolk) to discourage spectators from showing up and pushing the number of people there past 10.
It's been a huge hit, according to Flood. "Quarantine Tonight," which was initially projected to run only until the end of April, has been extended twice and is now approaching its 90th show. The show has received 2,300 handwritten letters and emails, Flood said, from viewers thankful for having live entertainment despite the pandemic.
"I got up with two canes and danced in my living room last night," wrote one viewer from Dixon after watching a big band from her younger days, the Burt Heithold Band.
One polka performer, Angie Kriz of Bellevue, said many people have expressed their thanks.
"Your show was the one thing I could do for a release," she was told.
Kriz and her trio, Angie Kriz and the PolkaToons, have felt the sting of the virus. Dozens of live gigs have been canceled; her husband lost his job. But the lively band — whose tuba player, Craig Falls, has a "Polka or Die" covering over the bell of his instrument — gets a measure of revenge by playing a coronavirus polka, with the stanza "Oh my you virus, won't you go away …"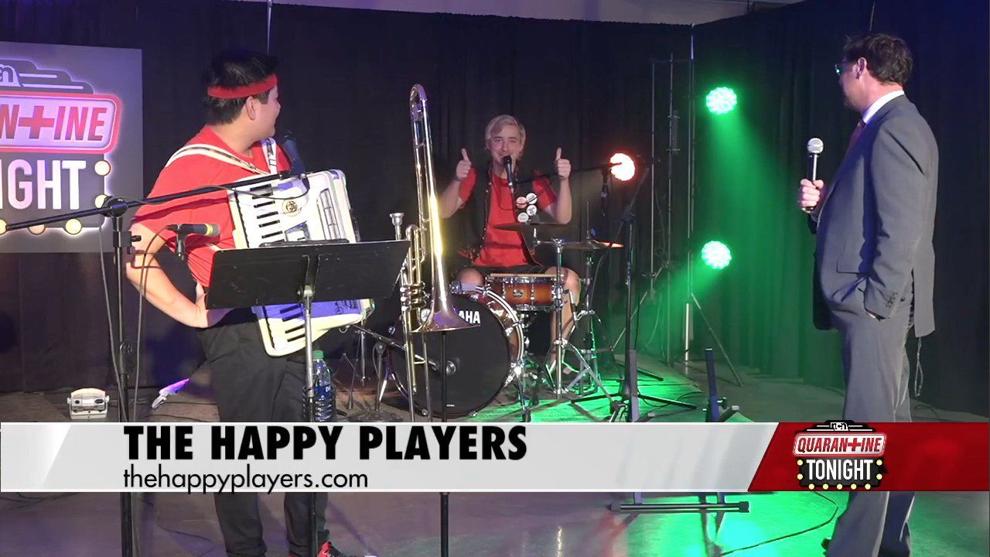 "Everyone is very aware of it," said Kriz, a "lunch lady" at Bellevue's Twin Ridge Elementary School by day. "I'm usually hugging everyone in the crowd. I keep my distance (now) and give people more elbow bumps."
One other precaution on the show — Flood uses his two sons, 14-year-old Brenden and 10-year-old Blake, as camera operators to avoid spreading anything to nonfamily members. Blake, who had no previous camera experience, needs to stand on a milk carton to reach the handles of the heavy video camera. You can see a quiver in his shots once in a while.
"It is definitely a 10-year-old that is running the camera," Flood said. But the audience has accepted it, he said. Some have even sent Dairy Queen coupons with the suggestion, "take your kids out for ice cream."
Now that high school sports are returning, "Quarantine Tonight"is moving to three nights a week, Monday through Wednesday, at 8. It's on Cox Channels 1116 or 116 in Omaha.
* * *
Every morning, former Mannheim Steamroller guitarist Ron Cooley clicks on his iPad or cellphone and performs a song for his Facebook page. The COVID-19 concerts have become a replacement for dozens of live gigs canceled because of the pandemic.
Cooley, a guitar virtuoso, has performed a range of tunes, from Coltrane to the Beatles, "Ave Maria" to pop ballads from the '70s.
He typically films at the crack of dawn before a round of golf. He has used his pandemic performances to pay tribute to a recently deceased Omaha jazz mate, Tom Hennig, and to celebrate the 41st anniversary of his wedding to wife Chris. Once, he donned a bright-blue Omaha North stocking cap while playing a song written by a fellow North alumnus, the late Neal Hefti.
Cooley is nearing his 140th daily concert.
"I love to play guitar, and finally I'm sitting around the house playing what I like to play," he said. "And I'm keeping my chops up."
At 71, he's more focused on shooting his age in golf than chasing gig after gig. Cooley retired from Mannheim Steamroller two years ago after 30 Christmas tours with the group. He still plays an occasional jazz gig with his band, Rat Pack Jazz, and sits in with several groups, including the band (now idled) that plays during Mass at North Omaha's Sacred Heart Catholic Church.
But rock 'n' roll gigs, with all the heavy equipment and high volumes, aren't as attractive as they once were. He said he's turned down maybe 40 gigs out of an abundance of caution during the pandemic. Playing solo, to an audience on Facebook trying to find a musical refuge, has been a great alternative.
"I don't think anybody's happy with the whole thing that's going down," Cooley said.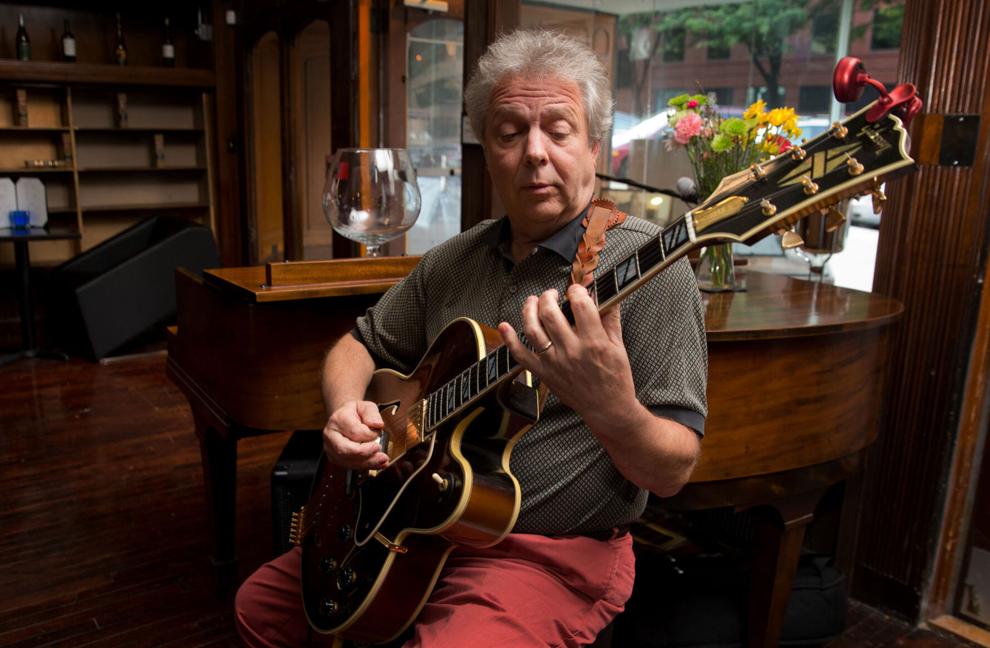 But he's lost 17 pounds by walking during his daily golf round, gets to play songs he loves on Facebook each morning, and has avoided getting the virus so far (though he was tested once after coming in contact with someone who did).
"This has been a good thing for me," he said.
* * *
If you wanted a unique and well-crafted dinner in northeast Nebraska, you could always count on Adam and Roz to fit the bill at The Uptown.
It's sad to learn that a couple who had entertained thousands at their restaurants in Norfolk and Stanton is down to one.
Rosalind "Roz" Lamson died Aug. 13 after a bout with pancreatic cancer. She was 70.
Roz and Adam Staib had been a team for 44 years, first in helping start an organic food co-op in Norfolk, and then opening The Uptown restaurant in the old Madison Hotel in downtown Norfolk in 1981.
It was a warm, welcoming place where you could get salmon, beef Wellington, roast duck and other dishes not normally found in rural Nebraska. The crew filming the documentary "Johnny Goes Home," about hometown boy Johnny Carson, loved the place. Adam and Roz catered meals when filmmaker Alexander Payne came to shoot the movie "Nebraska" and when Dick Cavett spoke a couple years back at Wayne State College.
The pair, who married in 2015 (Adam said they were too busy before then), moved to Stanton in 2001 and carried on the tradition. They drew big crowds to a special St. Patrick's Day festival every year and on "Burns Day," a Scotch-tasting tribute to the Scottish poet Robert Burns.
Roz, according to Adam, had a natural rapport with customers and loved helping them enjoy their nights out. Her original Normandy tomato bisque soup recipe was legendary.
Adam is heartbroken. But he said he and the staff are committed to keeping The Uptown going as a legacy to his longtime partner.