"By all means let them have it," General Dwight D. Eisenhower declared from his Frankfurt office in the late summer of 1945.
Months after leading the Allies to victory over Hitler's Nazi regime, Ike put an operation in motion to help Denmark recover its most historic war memorial. It was the 4-ton Isted Lion, a statue the Germans had held as war booty for 80 years.
Seventy-five years ago, Colonel Barney Oldfield, a Nebraska-born U.S. Army public affairs officer, spearheaded the bronze statue's repatriation. Calling it one of his strangest experiences in "peace or war," Oldfield wrote that the Isted Lion held the same "emotional, sentimental and patriotic meaning" for the Danes that the Statue of Liberty had for Americans.
The Isted Lion was created by H.W. Bissen to commemorate Danish soldiers killed in the 1850 Battle of Isted in which the Danes defeated German-minded insurgents backed by Prussian troops. More than 6,400 soldiers were killed and wounded on both sides. It was then Scandinavia's costliest battle to that date.
Danish dignitaries and celebrities, including fairy tale writer Hans Christian Andersen, attended the imposing war memorial's dedication in 1862 in Flensburg's St. Mary's Cemetery, then part of Denmark. Many German nationalists were not pleased with the lion's placement in the Danish port town of Flensburg instead of rural Isted. They viewed it as a victory snub. It didn't help that Denmark placed the 12-foot-tall feline facing sternly south toward Germany.
The lion didn't remain in place for long. In 1864, Prussian and Austrian troops fought the Danes again and won. Denmark surrendered Flensburg to Germany, and the Isted Lion's iconic transformation began: from Danish war memorial to German war booty.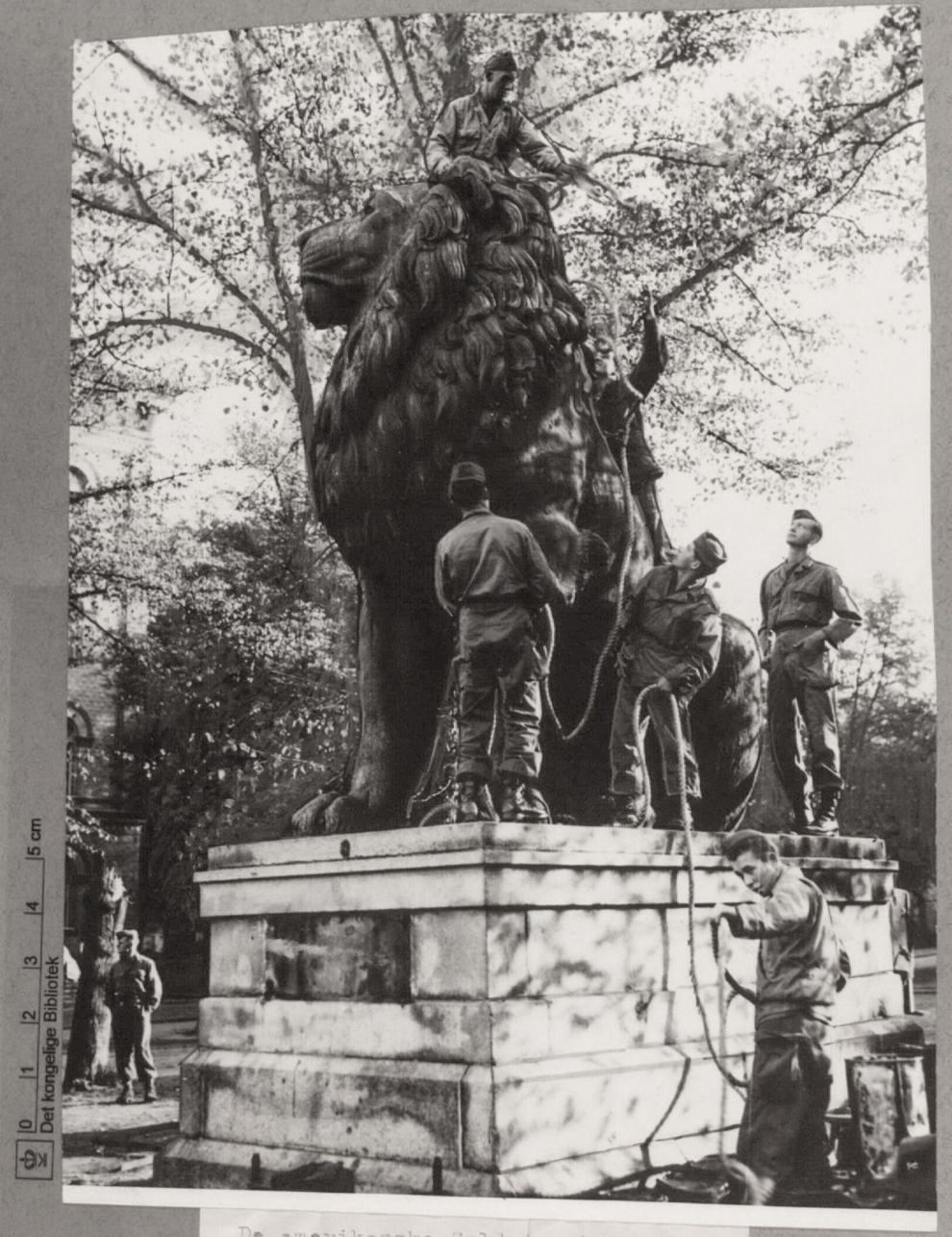 Prussian troops carted the lion 225 miles to Berlin's Zeughaus Museum in 1868. Later, it was moved to Berlin's Lichterfelde Cadet Academy, a symbol of military supremacy to inspire cadets until Germany's World War II surrender in May 1945.
When Danish war correspondent Henrik V. Ringsted learned of the stolen Isted Lion's whereabouts in summer 1945, he turned to Colonel Oldfield with an unusual request. "He wanted some help in moving the monument," Oldfield wrote, "and wondered if the U.S. Army could be it." Eisenhower said it could.
Before Oldfield entered the military in 1940 and became a press relations officer to Gens. Eisenhower, Omar Bradley and Bernard Montgomery, the 36-year-old Nebraska native had been a newspaperman, movie reviewer and radio host of "Hollywood Highlights."
Oldfield, a native of Elk Creek, about 60 miles southeast of Lincoln, was known for hatching unique ways to promote the war effort. He once suggested recruiting strippers to help sell war bonds, but Army brass nixed his plan before the women entered Fort Benning's gate. More successfully, Oldfield volunteered as a paratrooper. He later enlisted several war correspondents to join the airborne, go to jump school and drop into occupied France on D-Day so they could report firsthand from the Normandy battlefields.
But nothing compared to his latest assignment.
The 12-foot-tall Isted Lion was too big to be flown to Denmark by C-47 aircraft. Instead, the lion was carefully hoisted from its pedestal by crane, disassembled by an engineering platoon and lifted onto a soft bed of sawdust that filled a 10-ton trailer. Oldfield mapped out a speedy 600-mile run with the lion from Berlin over pockmarked roads and choppy North Sea waters to Denmark.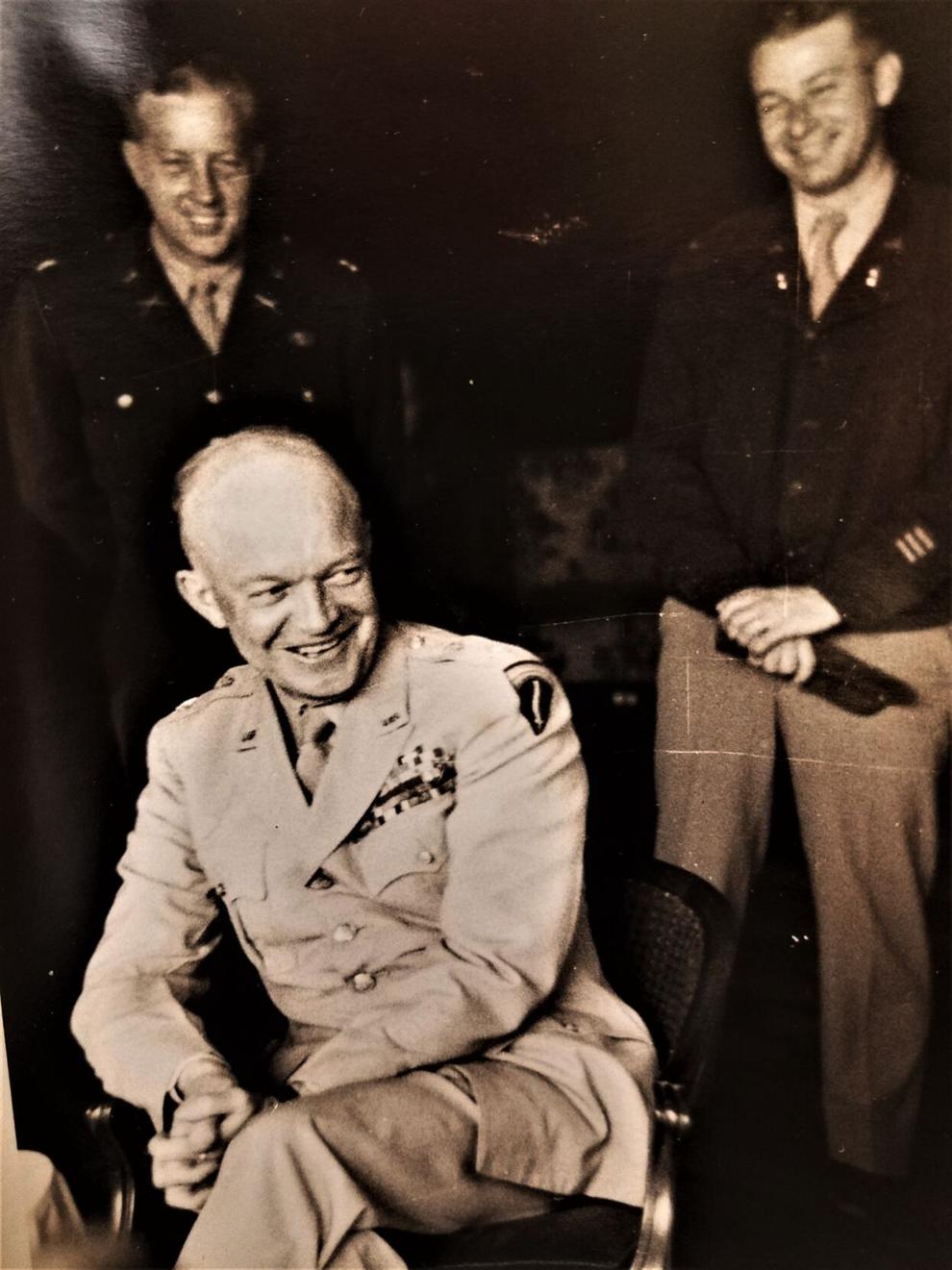 Oldfield believed the journey's riskiest part was its first 110 miles through the Russian occupation zone. He worried Russian sentries might recognize and confiscate the historic lion for the Soviets to use as political leverage against Denmark.
"Any American passing through the Soviet zone at that time would have had good reason to be worried and to have a plan in case anything went wrong," said Michael Neiberg, historian and author.
"This was the dawn of the Cold War. Soviet-U.S. relations at this stage were tense, especially in Berlin," said noted WWII historian John C. McManus. "Already, the Soviets had begun to restrict road access and other routes of movement for Americans in and out of the city and also through Soviet-occupied Germany."
Indeed, Oldfield had a plan. A jeep with a cameraman would lead their five-vehicle convoy. A truck pulling the 10-ton trailer that carried the tarp-covered Isted Lion would follow. Oldfield and Danish journalist Ringsted's Chrysler sedan came next. Another Army jeep and a trailer brought up the rear.
"One thing I want you to remember," Oldfield told Sgt. Watters (whose first name is not known), who drove the 10-ton trailer. "If we are stopped at any Russian checkpoint, and you are asked what the load is, tell them it's scrap metal and junk." Because the statue's leg, tail and head plate had been disassembled and half-buried in sawdust, Oldfield hoped Russian inspectors would fall for the ruse.
Early on a cloudy, frosty Oct. 4, Oldfield's convoy left Berlin. Oldfield's hand-picked cameraman, soundman and photographer rode in the open-top jeeps. Two army sergeants drove the truck with the 4-ton lion. Oldfield and Ringsted trailed. Rations of cheese, biscuits, port and scotch came along for the ride.
Every few miles on the 110-mile road from Berlin to Helmstedt, the first leg of the journey, Russian sentry boxes appeared from the cold, damp haze. The sentries waved idly at the American convoy. "Nobody made a move to come out," Oldfield wrote.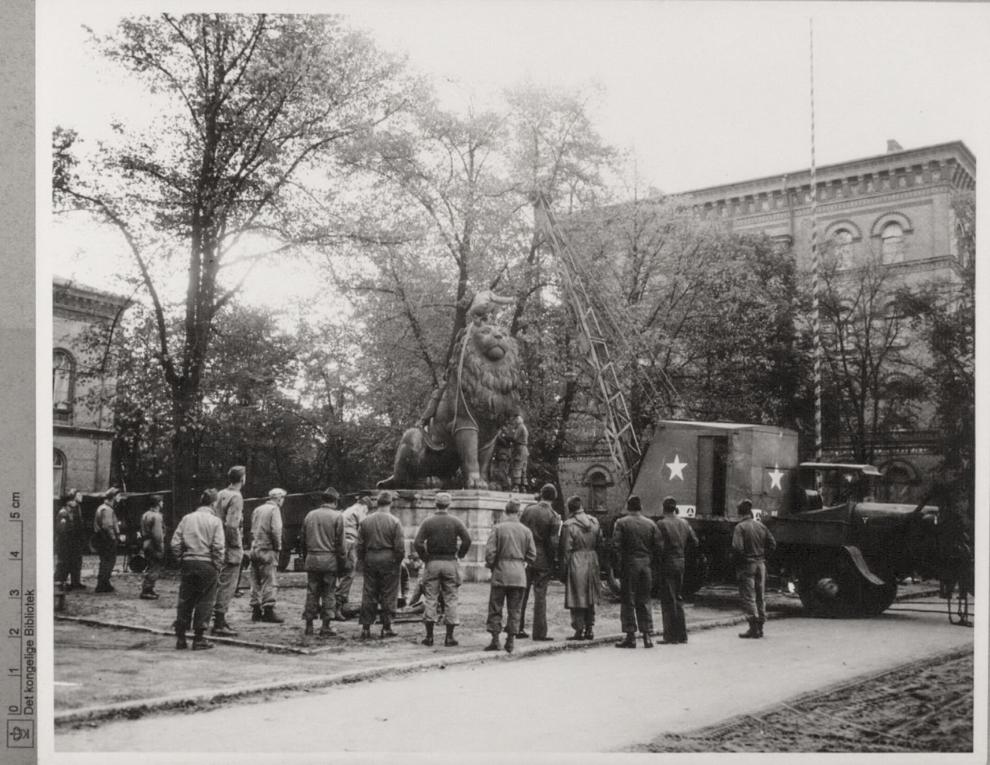 Soon, the caravan rumbled onto the Russian-built Elbe River bridge. As the morning sun burst through, two Russian soldiers stepped onto the bridge's west end and flagged the Isted Lion's convoy to a stop. "One of the Russians had his gun slung over his back, his hands in his pockets," Oldfield wrote. "The other carried his rifle at high port, ready."
The soldier poked his rifle under the trailer's tarp while the other Russian examined Sgt. Watters' travel papers.
Oldfield jumped from his car holding a carton of American cigarettes to be offered as a distraction. He beckoned his cameraman, too. "Most Russian soldiers liked to have their pictures taken, so we lined them up alongside the trailer hitch, lit up their cigarettes, and engaged in the usual palaver," Oldfield wrote. "Those two liked being photographed fortunately and soon lost interest in the trailer."
"Little did they know what the newsreel commentator would (later) say," Lt. George Fuller, the mission's soundman, wrote later. "Little did they know they were congratulating the 'Amerikanski' on his fine work in returning the Lion to his Majesty, good King Christian the 10th."
Moments later, Oldfield's convoy rolled under the Soviet liftgate, through the Russian checkpoint and into the British occupation zone. "We now had the Isted Lion out," Oldfield wrote.
The next day, the convoy had crossed the Danish border and headed up the Jutland Peninsula. It went over Fyn Island bridge and on to Nyborg for the 18-mile North Sea ferry ride to Korsør. The Isted Lion barely scraped under 27 highway overpasses before arriving at Copenhagen's town hall square. "We were directed to the Tøjhusmuseet (Arms Museum) as the best temporary parking place for the lion," Oldfield wrote.
There it would stay, guarded by Danish soldiers. The Isted Lion's royal acceptance ceremony was put on hold after the assassination of a prominent Danish resistance leader by Nazi Party sympathizers. There were concerns that Danish King Christian X could be targeted by Nazi terrorists at the acceptance.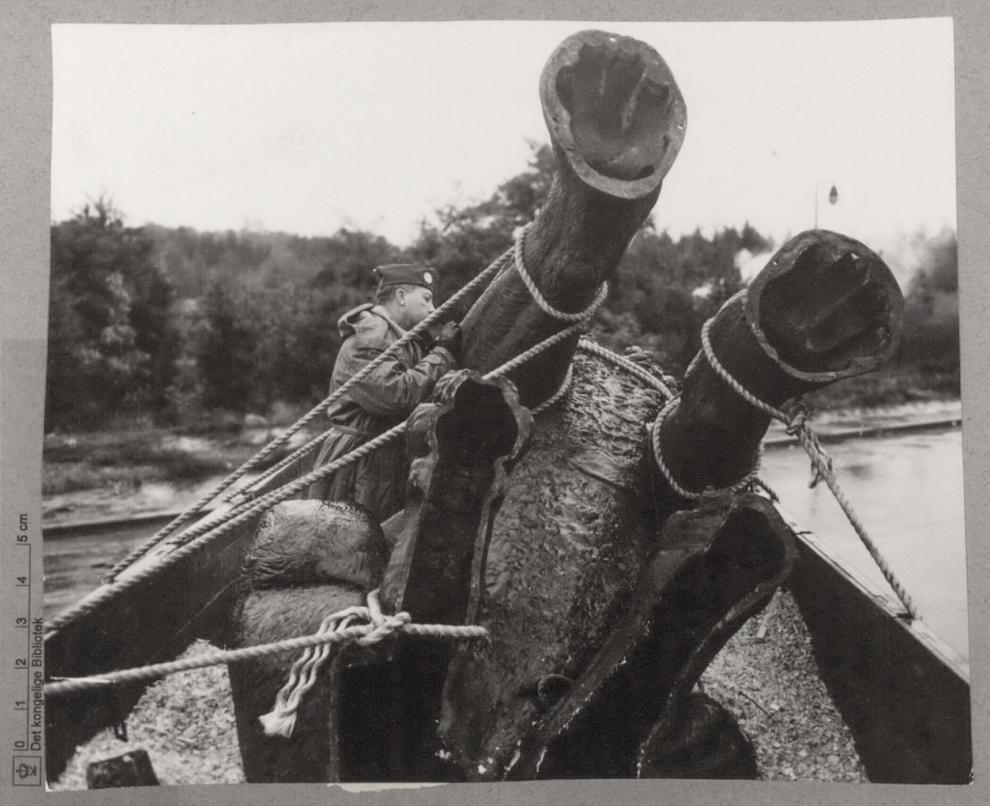 For two weeks, security and protocol arrangements for the lion's official turnover were debated. Meanwhile, word of the monument's return leaked to the press. "We found our simple logistics exercise had drawn more than 250 newspapermen and photographers from seven countries," Oldfield noted. "It dominated Danish newspaper front pages for a week."
A Danish company made a newsreel about the lion's journey from film shot by Oldfield's cameraman. "When the film sequence played in theaters, the audience alternately cheered and cried," Oldfield wrote.
On Oct. 20, 1945, America's official return of the Isted Lion to Denmark unfolded under rainy skies. At the guarded Tøjhusmuseet courtyard ceremony military, bands played each country's national anthem. Danish descendants of Battle of Isted soldiers paraded 47 regimental flags past the looming lion.
King Christian X and his queen arrived in an open convertible and rolled to a stop in front of the statue where he gave his acceptance speech. The king said he hoped the Isted Lion would someday return to its original home at the Flensburg cemetery.
And then it was over. There were a few quick handshakes before the chilly rain sent invited guests and dignitaries hastily away.
"I was left alone with the Isted Lion and looked up at him," Oldfield wrote. "He had been a political issue, a thorn in international relations. He was a victory symbol for Denmark yet had spent most of his life in captivity as evidence of small Denmark's inability to cope with her adversaries. He was so many things."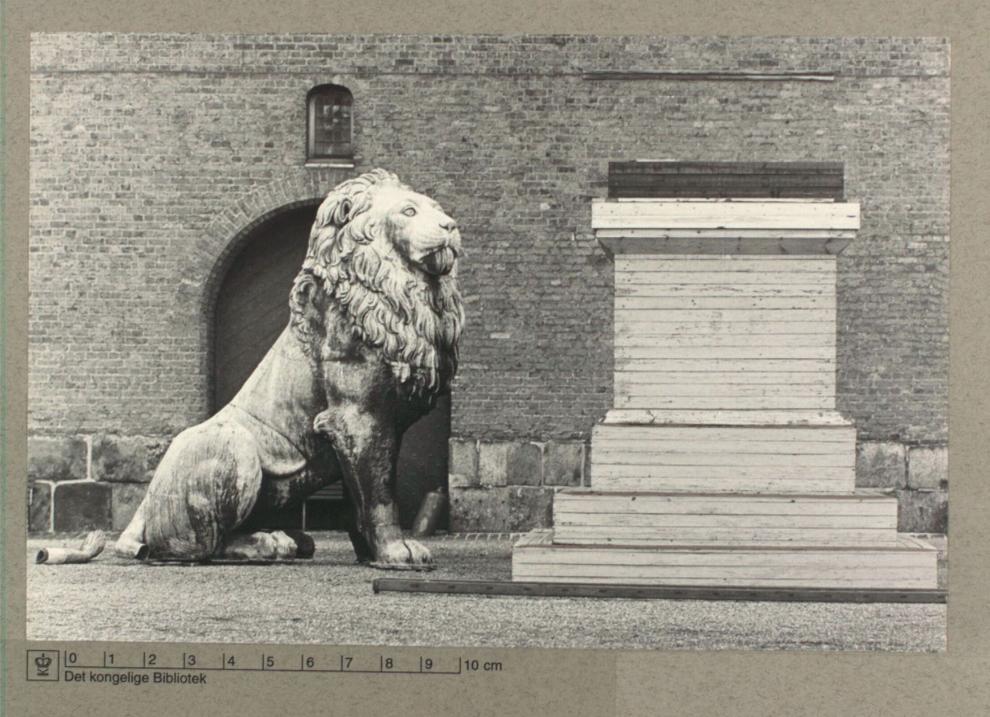 Oldfield's words are still relevant today, 75 years after he helped guide the Isted Lion's return to Denmark. Controversy over the monument continued through the late 1990s when a new generation of Danish politicians called for the lion's return to Flensburg, Germany. A formal request from the Flensburg City Council ultimately led to the Danish government's decision to return the Isted Lion to its original home.
In September 2011, the restored lion returned to the Flensburg cemetery where its journey began 146 years earlier. With the Isted Lion's return came a new meaning. It now symbolizes friendship and trust between Denmark and Germany.
"It shows the dynamism of cultural heritage," said Danish historian Inge Andriansen. Before her death in 2013, Andriansen said whoever possessed the Isted Lion held title to its symbolic meaning. "It tells us sites and their memories are often reinterpreted," Andriansen wrote. "They gain their vitality from renewed meanings that are extremely far away from the event they were originally intended to commemorate."
Barney McCoy is a professor in the University of Nebraska- Lincoln's College of Journalism and Mass Communications. Mitchell Yockelson is a historian and author of "The Paratrooper Generals: Matthew Ridgway, Maxwell Taylor and the American Airborne from D-Day through Normandy."