Moratoriums helped cut evictions in Nebraska last year by almost half, but thousands of Nebraskans still lost their rental homes — including at least 60 people who should have been protected by federal pandemic law, according to research by Creighton University and housing advocates.
"We found at least 60 cases where a property should have been covered by the CARES Act," said Pierce Greenberg, a Creighton assistant professor. "That's important because the purpose of that moratorium was to prevent that sort of thing from happening. ... It underscores some of the imbalances within eviction court.'"
In all of those 60 cases, the researchers found, the landlord had legal representation but the tenants did not. Overall, only 4.4% of Nebraska renters facing eviction in 2020 were represented by attorneys. That was more than normal because of extra efforts to help tenants during the pandemic. Fewer than 2% of eviction defendants had lawyers in the previous four years, the researchers found.
The study fits into a national debate about the uneven playing field faced by tenants with no legal representation in eviction proceedings. A number of American cities have adopted right-to-counsel laws, providing tenants with court-appointed attorneys. Bills to do so have been introduced in several state legislatures, including in Nebraska.
Creighton's Social Science Data Lab, led by Greenberg, collaborated on the study of evictions with the Omaha nonprofit Together, which provides assistance to low-income people and advocates for them. The researchers concluded that "the pandemic amplified issues of fairness and representation in eviction court."
"It's crazy that people were being evicted from their homes in the midst of a pandemic," said Erin Feichtinger, director of advocacy and policy at Together. "Even worse than that is that people were being evicted when they should have been protected by any of the various state or federal moratoriums that existed at one point or another. The experience of 2020 in evictions really highlighted the disparities that exist in eviction proceedings."
The study found that there were 3,488 evictions in Nebraska in 2020. That's a 45% decrease from the annual average of 6,286 over the previous four years. The authors attributed the decrease to federal and state restrictions on evictions, rental assistance from the government and nonprofit groups and increased legal help for tenants from such groups as Legal Aid of Nebraska and the Tenant Assistance Project in Lincoln.
But the authors cautioned that a significant rise in evictions could occur when federal restrictions, recently extended by the Biden administration, expire June 30.
That national moratorium, imposed for public health reasons and opposed by many rental property owners, forbids evicting people for nonpayment of rent at federally financed properties. But advocates say many people facing eviction don't know about the federal protection or how to assert it in court.
Rental property owner associations have generally opposed moratoriums, saying owners can't afford to rent properties for free. They have said they try to avoid evicting tenants but sometimes have to do so.
Nebraska also had a statewide moratorium on evictions in spring 2020. The number of evictions in the state dropped dramatically during that time, then rose again in subsequent months.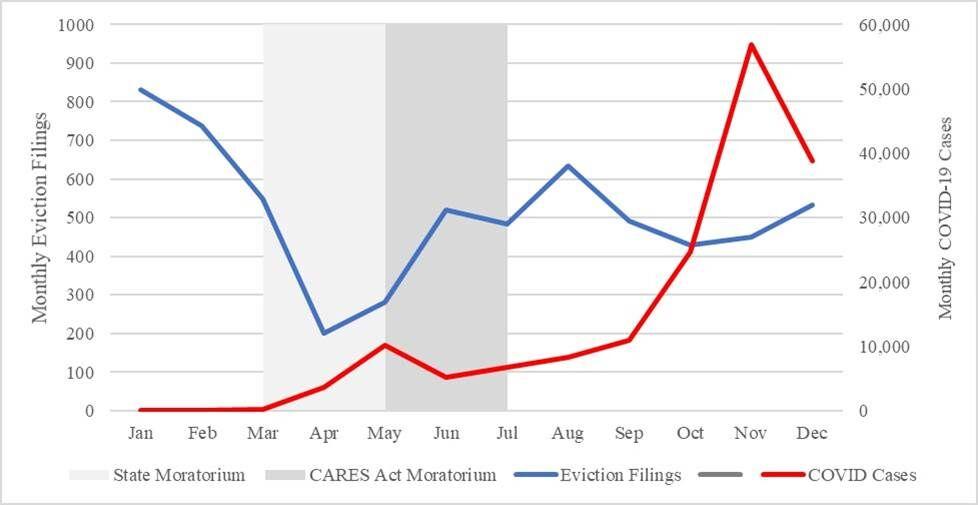 The study of 2020 evictions also found that:
The vast majority of evictions — 74% — occurred in Douglas and Lancaster Counties.
More than one-fifth of all the eviction filings in the state were for homes in North Omaha. Renters in North Omaha were much more likely to be evicted than those in the rest of the state. In the ZIP code 68111 in North Omaha, 5.5% of renters were evicted; statewide, it was 1.4%.
Slightly more than half — 57% — of eviction cases resulted in people actually being evicted. That's less than the average of 72% in the prior four years.
Of the 60 cases that the researchers concluded should have been protected under the federal moratorium, 36 were in Douglas County.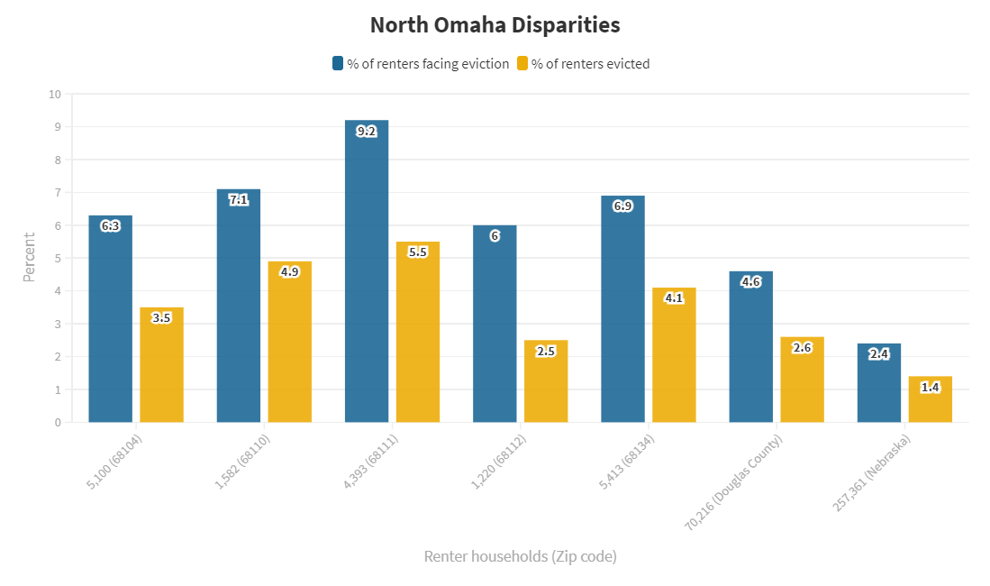 Greenberg said researchers used national databases to check if a property was federally financed and local court records for the reason for the eviction.
The findings about evictions during the pandemic "really highlighted the very urgent need for some kind of change, that something needed to change," Feichtinger said. "Because even though we were trying our best to protect people in an unprecedented public health and economic crisis, it wasn't working because the process is just not fair."
The researchers said they hope the study will help inform consideration of policy changes in the Nebraska Legislature. A number of bills were introduced this year to make changes to state law on evictions. One, Legislative Bill 419, would create a right to publicly supported counsel for people facing eviction, paid for by county governments with help from a $50 eviction filing fee. It appears unlikely to pass this year.
Meanwhile, LB 320, Sen. John Cavanaugh's priority bill, would make smaller changes, including protecting people who are victims of domestic violence from being evicted because of the crimes against them. It also would make the rules the same for landlords and tenants for requesting an eviction hearing postponement. Currently, the bar is higher for tenants.
---