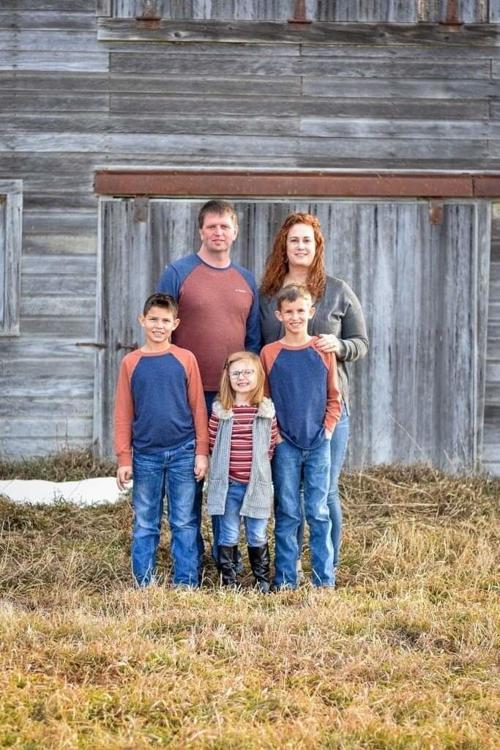 LINCOLN — Kenny Reinke has more than one story about living without high-speed internet in a rural area.
Like those times last spring when he drove his son to a high hill near their farm north of Neligh so he could do his school-related Zoom meetings using a cellphone hot spot.
Or the nights when his family of six has to ration use of their satellite-provided internet to avoid hitting a data cap that limits the amount of data they can use without an extra charge.
And he is concerned that the increased use of internet technology in agriculture — which already means moisture-detecting sensors in farm fields, irrigation systems run via a digital link and virtual farm shows and seminars — will leave his operation in the dust.
"Every year we get further and further behind," Reinke said. 
Reinke's stories aren't new or novel.
And during recent state legislative hearings on the subject, one question kept coming up: Why isn't rural broadband service more available now, given the hundreds of millions of dollars in public funds already funneled to private firms to help provide it?
The "digital gap" between the availability of high-speed internet in urban areas and the state's rural areas has been around since the advent of slow-speed, dial-up internet. But it was brought into sharper focus by the COVID-19 pandemic, which forced students to link up with teachers remotely and countless workers to establish makeshift offices at home.
A Pew Research poll two years ago found that while nearly two-thirds of rural residents had access to broadband internet, 75% of their urban counterparts said they were able to obtain it, a gap of 12 percentage points.
In Nebraska, an estimated 80,000 rural residents lack internet that delivers speeds of 25/3 (25 megabits per second download and 3 Mbps upload), which is the current federal definition of broadband. Nearly double that number, 150,000, lack 100/100 speed, which is broadly considered to be real broadband today.
And the Cornhusker State doesn't match up with its neighbors. A 2019 state task force study found Nebraska ranking behind all of its neighboring states except Wyoming in broadband availability. Connectivity to fiber optic lines — considered the Cadillac of connections for broadband — also lagged behind in the state at about 9% compared with 12% nationwide.
A year ago, BroadbandNow, a California-based research firm, ranked Nebraska 48th in terms of access, price and speed.
Billions of state and federal dollars have poured into telecommunications companies over the past couple of decades to improve rural broadband. And now Gov. Pete Ricketts is proposing to spend $40 million over the next two years.
It's the first time that state taxpayer funds would be devoted to the effort, though last year, Ricketts provided $29 million of the federal CARES Act funds sent to Nebraska to the effort. 
Included in the public money that's already been funneled to private firms:
The Nebraska Universal Service Fund — which comes from fees levied on cellphone and landline phone bills — has handed out $919 million since 1999 to telephone and telecommunications companies to maintain and improve their services, though it's only been in more recent years that the funds have been focused on broadband. Since 2016, $106.5 million has been spent directly on high-speed internet expansion. The fund first gave grants for wireless internet, via cellphones, in 2008, then, four years later, began grants for wired internet services.
That's on top of the millions spent by the feds since 1996 through the federal Universal Service Fund — another fee that appears on your phone bill. In just the last couple of years, a rotating group of federal programs has sent $60 million to Nebraska through the Rural Digital Opportunity Fund, $124 million via the Alternative Connect America Cost Model and $9 million from the USDA's ReConnect Program.
If you go back to the '90s, Nebraska Public Service Commissioner Crystal Rhoades of Omaha said she has added up about $6 billion that has been spent in Nebraska between state and federal funds to subsidize improved telecommunications. 
"I don't understand why everyone doesn't have 25/3 broadband already," she said.
To be sure, it's expensive to string fiber optic lines to the far-flung ranches and farms scattered across Nebraska. Estimates range from $5,000 per mile to up to $40,000 per mile, depending on the terrain and other factors. 
There's little profit for private companies in linking up a farm 15 miles from town, so government subsidies are required, like when the Rural Electrification Administration was created by President Franklin Roosevelt in the 1930s to bring electric service to America's rural areas. There are a lot of companies with varying technologies — from satellite systems and wireless towers, cable TV lines to fiber — jockeying for a job that would cost upward of $60 billion, according to one estimate.
When you start asking why rural broadband isn't better, you get plenty of explanations and a fair amount of disagreement, though most of those involved say that grants to expand high-speed service are being spent more wisely now.
A former longtime member of the Nebraska Public Service Commission, which doles out state funds to expand broadband, said that the state has only in recent years focused its USF money directly on high-speed internet, and it's just an expensive task.
When the state's universal service fund was first implemented, most of the money went to maintaining existing copper telephone lines, not to deploying high-speed internet. That didn't start happening until about a decade ago, Landis said, plus the "goal posts" for what is considered high-speed internet keep moving and changing.
Initially, he said, the goal was to fund good, dial-up internet, then speeds of 10 Mbps/1 Mpbs, and then 25/3 and now, it's 100/100. So, Landis said, areas that might have seen upgrades a few years back are now "underserved" areas that need higher speeds.
"You're constantly trying to catch up with this improving technology," he said.
But others, including Rhoades, maintain that there was a lack of accountability over how the money was spent, allowing big firms to use their USF funds for administration and other expenses, rather than for rolling out broadband for rural residents, which generates less profit.
"The dirty secret isn't that we don't have enough money, it's we don't have enough oversight," Rhoades said. "It's been all carrot and no stick."
A rural broadband task force formed by the State Legislature concluded in 2019 that there was a large gap in broadband service penetration between small, local providers and "price cap" carriers like CenturyLink, Windstream, Great Plains and Frontier/Citizens. The report said that 79% of the rural households that didn't have broadband resided in those price cap service areas.
Windstream, CenturyLink and Great Plains provided broadband to 39%, 68% and 22% of their customers, respectively, as of June 2018, the report said. By comparison, smaller, local firms like Three River TelCo (centered in Lynch), Mobius Communications (Hemingford) and Glenwood Communications (Blue Hill) were reaching 98-99% of their customers.
Over the past decade, those four big companies — CenturyLink, Windstream, Great Plains and Frontier/Citizens — have collected $219.7 million in state USF funds, which is about 55% of the funds distributed since 2010.
Landis, the former PSC member, said that those firms cover the most territory, so it stands to reason that they would have the most underserved areas.
And a spokeswoman for CenturyLink disputed that it used its money for administrative costs or for needs in more profitable, urban areas. NUSF support is not used for administrative costs nor in urban areas. "Absolutely not," said spokeswoman Linda Johnson. "We have to follow the PSC's strict rules for allowable costs and must verify that we used the funds properly."
Initially, companies got a yearly allocation from the state universal service fund and had to demonstrate that their investment in their overall system was higher than their allocation, said Mike Hybl, the executive director of the Nebraska Public Service Commission.
That has changed in recent years. The commission, since 2016, now hands out grants for specific projects, and doesn't pay until the project is done. If the work isn't being done within a certain time period, the commission has the authority to "claw back" funds or start a process, called a "reverse auction," to take away service area from a company that isn't expanding broadband and give it to company that will.
There has also been a reduction in the large price cap companies can use for administrative costs. The price cap companies used to be able to use was 50% of their NUSF funds for operations; now it's 20%. 
Rhoades said that the steps have increased accountability, but more could be done.
She said she'd like to see even less money allowed for administration, freeing up more funds to string fiber and expand infrastructure. The PSC, she added, doesn't currently have a good way to do speed tests, to prove that companies are providing the services they say they are, and an accurate map of areas of the state that are served and not served.
The bottom line, Rhoades said, is that the Public Service Commission needs more statutory authority to properly oversee spending of the NUSF. 
State Sen. Curt Friesen of Henderson, who chairs the legislative committee working to advance some broadband legislation this year, said that he, too, saw a lack of oversight on spending of state and federal funds initially, but that's improved.
He said the task force study in 2019 revealed a surprising number of rural communities that lacked proper broadband. But overall, Friesen said, it's just an expensive and complicated process that will take time.
The senator, who lives outside Henderson, about 115 miles west of Omaha, said he's among the lucky ones. A local company installed fiber about six years ago, and he's had broadband ever since.
Reinke, at his farm eight miles north of Neligh, hasn't been so lucky.
"We're seeing so many streaming services now," he said. "There's no way it would even work here."
Last spring, the family considered renting a house in town so the kids could have access to good internet service there for their schoolwork.
Other options, such as "fixed" wireless — which shoots a "line of sight" signal from a nearby water tower or antenna — don't work for him because their farm is tucked low in a valley. There's a fiber optic line a half-mile from their home, but the company that owns it isn't interested in stringing a link just to his house.
Reinke said he is waiting and watching for one possible solution: billionaire Elon Musk's low-level, Starlink satellite system (which got an $886 million federal grant last year). But that may be months away, and is expected to be expensive.
"We're at the point we'd pay anything if we can get it," he said. 
---
Our best Omaha staff photos of February 2021