Calls offering assistance for flooded farmers and ranchers are outpacing requests for help, the director of the Nebraska Department of Agriculture said late last week.
People around the country have been volunteering feed, labor and transportation.
Feed such as hay for livestock continues to be the No. 1 need, Steve Wellman said in a conference call with Jim Macy, director of the Nebraska Department of Environmental Quality.
The Department of Agriculture has a hotline for taking donations and receiving requests. Some transportation requirements have been eased to facilitate needed deliveries.
"One-third of the phone calls are asking for need, two-thirds have been offers to provide assistance of some sort,'' Wellman said.
Hay donations have been coming in from states as far away as Pennsylvania and North Carolina, but it hasn't been easy to keep up with the demand in some areas.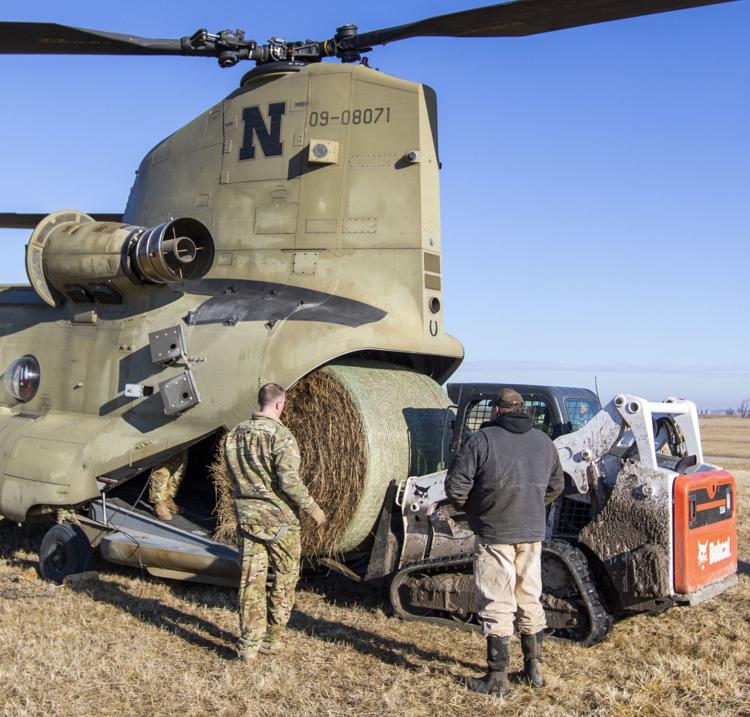 "As fast as the hay is coming in, it's going out,'' said Phil Robles, who works for the Aurora Cooperative.
The co-op is working with Heartland Livestock Aid, which has set up drop-off sites in hard-hit areas around the state. They're hoping that will make it easier to reach the most needy or those still cut off due to impassable roads.
Wet hay will rot quickly as the weather warms. Some has been washed away completely.
On Wednesday, a Chinook helicopter was used to drop huge round bales of hay to cattle stranded in Colfax County.
The Guard's last aerial hay bale drop was during the blizzard of 1949. In 1979, the Guard used 18-wheelers to haul 500 tons of hay.
"It's new territory for us," said Major Gen. Daryl Bohac, the head of the Nebraska National Guard.
Photos: Major flooding hit Nebraska and Iowa towns in March 2019