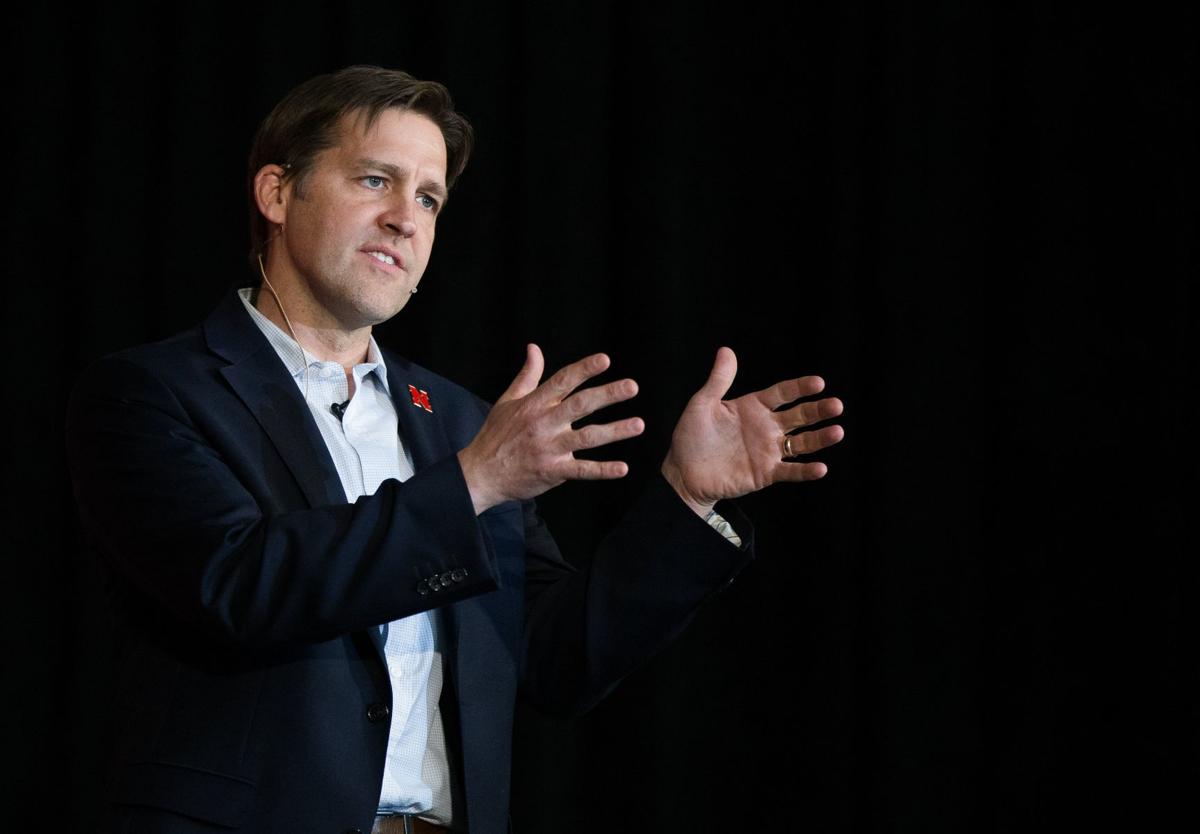 WASHINGTON — Sen. Ben Sasse said Tuesday that President Donald Trump's delay of U.S. military aid to Ukraine was wrong.
But the Nebraska Republican also said he won't vote for articles of impeachment, in part because Trump ultimately did the right thing by releasing that military aid before a key legal deadline.
"I think there are lots and lots of things here that we should be critical of, but the idea that at this time and in this place you'd remove the first president in U.S. history for this — it would be setting America on fire when what we should be doing is trying to figure out how to shore up public trust," Sasse told The World-Herald.
Sasse's approach to impeachment is similar to others who have taken issue with the president's actions but found they do not merit removal from office.
"I believe that delaying the aid was inappropriate and wrong and shouldn't have happened," he said. "A number of us have said that."
In Monday's closing arguments, Rep. Adam Schiff, D-Calif., said the evidence is clear: Trump used that military aid in a corrupt attempt to pressure Ukraine into smearing his political rival, former Vice President Joe Biden.
But Sasse offered a different summary of what happened: The president followed bad advice from his personal attorney Rudy Giuliani before ultimately following good advice from official aides such as Secretary of State Mike Pompeo.
"I don't think you remove a president for initially listening to bad advice but then eventually taking better advice," Sasse said. "And I think that's what happened."
Democrats have argued that that reversal, in which Trump ultimately released the aid, was prompted not by better advice but by the president's realization he had been caught in a criminal act.
But Sasse said it actually fits with a pattern of a president who initially follows his isolationist tendencies and opposes foreign aid, only to be swayed to a different course by the guidance of Pompeo and others.
Sasse said that in this case, the president got particularly terrible advice from Giuliani, and the former mayor should exit the national stage. "Rudy's lost his fastball, and he ought not to be one of the president's key advisers," Sasse said.
But Sasse also had harsh words for Democrats and their handling of the impeachment. He suggested House Speaker Nancy Pelosi's decision to pursue impeachment forced a binary decision that prevented what could have been a constructive discussion about how to handle attempts at foreign influence in U.S. elections.
"Months ago Nancy Pelosi decided that the way to keep her grip on her gavel was to satisfy the hyperpartisans in her caucus and the Twitter-crazed left by going along with impeachment," Sasse said.
All four Republican senators from Nebraska and Iowa have now announced that they will oppose the impeachment articles when the Senate takes final votes Wednesday afternoon.
Sen. Deb Fischer, R-Neb., said on the Senate floor Tuesday that House Democrats failed to make a compelling case. In an interview later, Fischer said Trump was following his duty "in asking for that investigation of an energy company that was viewed as the most corrupt in the Ukraine."
Sen. Chuck Grassley, R-Iowa, said on the floor that the president's request to Ukraine does not represent impeachable conduct.
"A president isn't prohibited by law from engaging the assistance of a foreign ally in an anti-corruption investigation," he said.
Speaking to reporters afterward, Grassley did offer something of a criticism of Trump's actions.
"It's not something that should have been done and I think that needlessly (invited) a lot of controversy when you're going after a person that may not even be your opponent," Grassley said.
Sen. Joni Ernst, R-Iowa, also said House Democrats failed to make the case for removal.
"Given the constitutional requirements, voting any other way on these articles would remove the ability of the American people to make their own decision at the ballot box in November," she said.
---
Photos: Nebraska and Iowa's members of Congress
Be the first to know
Get local news delivered to your inbox!