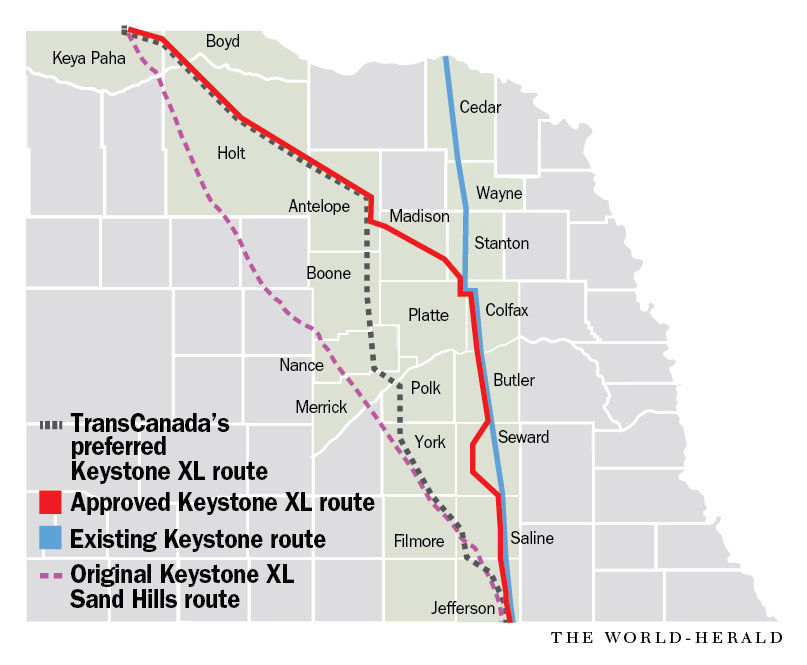 LINCOLN — A week after approving an alternative route for the Keystone XL, a Nebraska agency is being asked to "reconsider" that decision by both pipeline developer TransCanada and landowners opposing the project.
A spokesman for TransCanada said Monday that its motion for the Nebraska Public Service Commission to reconsider is not about changing the route but to "address some questions" raised by the approval of the "alternative mainline route" by being allowed to file an amended application.
"(This) is not an attempt by TransCanada to have the PSC alter its approval of the alternative mainline route," said company spokesman Terry Cunha. "As we outlined (last week), we continue to review the decision and its impact on the cost and schedule on the project."
An attorney for landowners against the pipeline, Brian Jorde of Omaha, said that his reconsideration motion seeks to clarify that the PSC rejected the only route under consideration, the "preferred route" of TransCanada, and that a new application must be submitted to proceed with the alternative route.
The PSC "was only evaluating one thing, and one thing only. Then, surprise, here comes something out of left field," Jorde said.
He asked the PSC to schedule oral arguments so that landowners can address TransCanada's request to merely amend its application. Jorde declined to discuss the arguments that may be raised at that hearing, saying he was reserving his comments until then.
As of Monday, no ruling had been made on any of the motions, which were filed electronically over the Thanksgiving weekend. A spokeswoman with the five-member PSC said that the panel has up to 60 days to rule on such requests.
The motions further complicate the Keystone XL project and could add further delays to the pipeline, which was proposed in 2008.
Then-President Barack Obama denied a federal permit for the project in 2015, but that action was reversed after President Donald Trump took office in January. A federal lawsuit filed in Montana is contesting that decision, contending that an environmental review of the Keystone XL done in 2014 was inadequate.
TransCanada has said it will decide in December if it will move forward with the Keystone XL project after reviewing whether there is enough financial support for the $8 billion project.
Much has changed in the oil business since the 36-inch pipeline was proposed. The price of crude oil has plummeted and some major oil companies have pulled out of the Canadian tar sands region — the source of oil for the Keystone XL — seeking oil sources elsewhere that are more profitable and easier to extract.
Be the first to know
Get local news delivered to your inbox!