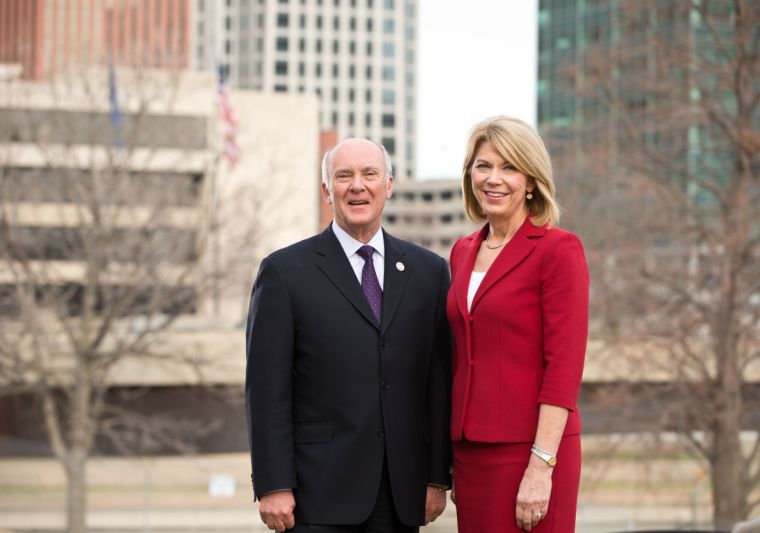 Mayor Jim Suttle fired back at challenger Jean Stothert's claims of increased crime in Omaha, calling the city councilwoman's report of recent statistics "not honest, not fair and not ethical."
The two candidates have each offered up Omaha police crime statistics — with a different take on their meaning. Suttle says voters should look at his administration's place in a long-term drop in crime, while Stothert urges focus on Suttle's time in office.
Suttle acknowledged Tuesday that crime did rise slightly during 2011 and 2012 but stayed at the lowest levels since the early 1970s, when Omaha was a smaller city.
Overall, crime in 2012 was 27 percent lower than the rate in 2001, when it hit a high point. Suttle said reports for the first quarter of 2013, which were to be released today, would show a 4 percent decline in violent crime, a 3 percent drop in property crime, and a 3 percent drop in crime overall.
"I have never said that we don't have crimes in our city and that we shouldn't be diligent in moving forward to combat crime," he said.
The candidates' back-and-forth over crime statistics heated up head Monday, when Stothert challenged Suttle's claims that crime rates had largely remained flat during his time in office.
Stothert called a press conference, where she said overall violent crime in Omaha went up 9.7 percent between 2010 and 2012 and property crime increased 10.6 percent, making for a city that was less safe than before Suttle took office.
OWH Mayor's Guide
For profiles of the candidates, exclusive Q&A's, bios, campaign cash numbers, list of forums, World-Herald stories and more, visit the OWH Mayor's Guide.
Both campaigns are using statistics from the Omaha Police Department, which reports the figures to the FBI as part of the federal Uniform Crime Reports. Many of the figures are available on both the OPD and FBI websites.
Suttle said Stothert pulled numbers that painted an inaccurate picture of crime in Omaha in recent years.
"We need to talk about the whole picture," he said. "Not a snippet here and a snippet there — what a dishonest, unethical way to approach. And she wants to be the leader of this city? Is this what she's going to be doing on subject after subject?"
Tuesday, the Stothert campaign rejected Suttle's claims that numbers hand been hand-picked to show negative trends.
"What's so disturbing with this, is that given all the facts that crime is up 10 percent in the last two years, Jim Suttle continues to deny that there even is a problem," said Stothert's campaign manager, Ryan Horn. "Murder alone is up 37 percent since 2009. We will never solve the problem of rising crime if we don't face the facts."
Statistics from the Omaha Police Department show that there were 30 homicides in 2009, which was down from 45 in 2008.
In 2010 and 2011 the numbers rose to 34 and 43 homicides, respectively. Last year, the number dropped slightly, to 41 homicides.
Sgt. John Wells, the leader of Omaha's police union, characterized Stothert's reports as "misleading."
"Once again, someone is playing politics with my membership, using it as a political pawn and ignoring the professional work they do day in and day out," he said.