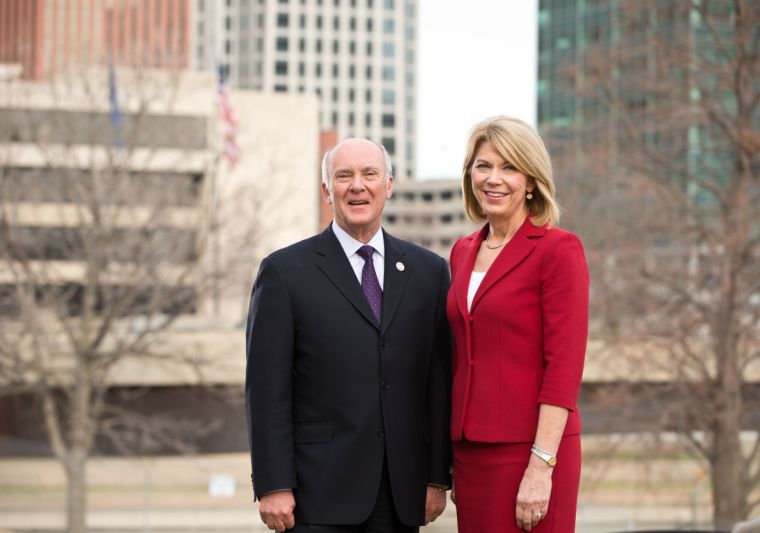 Click here to view The World-Herald's guide to the mayoral race.
When it comes to guns, Democrat Jim Suttle and Republican Jean Stothert are about as close on the issue as two gunslingers at opposite ends of a street.
Stothert argued Friday that police should focus their efforts on capturing criminals and not the guns used to commit crimes.
Mayor Suttle appeared to argue that sometimes guns stoke the violence.
The two Omaha mayoral candidates clashed over firearms and potholes at their second debate of the week, held at the Omaha Press Club.
About 120 people attended the noon forum, which was a relatively low-key rumble in comparison with a debate earlier this week.
The debate over gun control came after Suttle was asked whether his support of gun control laws has hurt his campaign.
Earlier this year, Suttle came out in support of an assault-weapons ban in Omaha, in addition to limiting high-capacity magazines. He also urged Congress to approve universal background checks — as proposed by President Barack Obama — for anyone purchasing a gun.
He doubled down on those positions Friday, saying they were needed to protect Omahans.
"You and I have a Second Amendment right to own and possess firearms, but our children also have the right to go to school without fear of being victims of gun violence," Suttle said.
For her part, Stothert opposes tighter gun control laws and argued that such laws would hurt only "law-abiding citizens" and not the criminals.
"We have to address the criminals and not the instrument used to commit the crime," Stothert said.
To that, Suttle argued that the men who committed mass murder at Sandy Hook Elementary School in Connecticut and the Von Maur department store in Omaha were not criminals until they began shooting schoolchildren and shoppers.
"The perpetrators walked into that facility as a law-abiding citizen. They became a criminal when they pulled the trigger," Suttle said.
Suttle and Stothert found more in common with potholes. Both disliked the asphalt craters that plague motorists in Omaha, but they differed over who would do more to fill the holes.
Suttle said that since becoming mayor he has stepped up citywide resurfacing projects in an effort to get a handle on potholes. He said 91 miles of city streets are resurfaced each year, compared with 25 miles before he took office.
Stothert then said she hoped to put "extra dollars" into street repair, which brought a quick response from Suttle. He noted that Stothert opposed and has aggressively campaigned against a wheel-tax increase that he helped pass in order to ensure more money was spent on roads.
"First of all, she's going to roll back the Suttle tax, including the wheel tax. And now she's talking about we need more money into the Public Works Department to do resurfacing," Suttle said.
Stothert responded that she didn't see any inconsistencies in opposing the wheel tax while wanting more money for roads.
"It's all about prioritizing, and it's about making sure your city departments are running efficiently," she said.