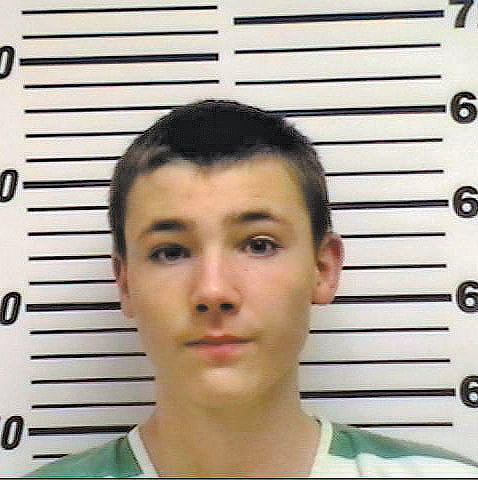 LOGAN, Iowa — Seventeen-year-old Cody Metzker-Madsen had "anger issues" but seemed to respond well to the guidance of his foster parents, a relative of the foster parents said Tuesday.
"He just wasn't normal. … He needed special attention," said Mic Coolman, whose son is foster parent Don Coolman. "They did see improvement in his actions," he said.
Mic Coolman said he had never known Metzker-Madsen to be violent. But authorities are charging the teen with killing his 5-year-old foster brother Saturday.
The body of Dominic Elkins was found about 7:15 p.m. Saturday in a ravine near the foster parents' home near Logan. He had multiple injuries to his head and torso, according to a court document.
Metzker-Madsen has been charged with first-degree murder. He is being held in the Harrison County Jail on $500,000 bail.
According to a report in the Des Moines Register, Dominic's mother, Barbara Kunch, 24, of Atlantic, said her son had severe behavioral problems that led her to have him placed in a residential treatment center last year. She told the paper that he would become violent at school and that he had uncontrollable tantrums.
She said he had received treatment for attention deficit disorder, oppositional defiant disorder and a sleeping disorder, according to the Register.
The two boys were living in the home of Don and Julie Coolman, in a wooded area in the hills north of Logan. Metzker-Madsen had lived there for three years, while Dominic had been there only a few weeks. Don Coolman's parents, Mic and Ladena Coolman, live next door.
The family reported Dominic missing and possibly injured shortly before he was found. Before deputies arrived, Metzker-Madsen led the family to the ravine where Dominic's body lay.
According to the court document, Metzker-Madsen had blood splatters on his face but no visible injuries.
Metzker-Madsen told authorities that the two boys had been "playing with bricks" when Dominic began hitting himself in the head with a brick.
Metzker-Madsen later changed his story, though further details weren't provided in the court document.
In addition to the state criminal investigation, the Iowa Department of Human Services has opened its own probe.
"We are looking at all the circumstances surrounding the incident," said Vern Armstrong, the department's administrator for field operations.
Armstrong would not talk about specifics of the case. He did say the agency will look at the decision to put Dominic in the home and who was supervising him at the time of his death.
"I haven't come across a situation like this," Armstrong said. "I have been working for the department for 24 years, and I don't remember one like this."
Armstrong said Don and Julie Coolman have been foster parents for more than 10 years. Mic Coolman said the couple have one other foster child.
Armstrong said any decision to remove a foster child from a home is made on a case-by-case basis.
"This would be a really difficult time for anybody to be dealing with, so we have to take that into account as well," he said.
Mic Coolman said that he tried to do CPR on Dominic shortly after he was found but that it was too late.
"I knew he was gone," Mic Coolman said. "He'd been gone for a while."
He said Don and Julie Coolman were devastated by Dominic's death. He said the couple are dedicated foster parents and usually try to stay in touch with their kids after they leave their care.
"I don't know of many foster homes that work harder," he said. "They don't have them in the home just to benefit themselves."
Mic Coolman said he did not know Dominic but understood him to be a delightful, eager-to-please little boy. When he first came into the foster home he uttered some profanity and used improper grammar but responded well to Julie Coolman's efforts to correct it, he said.
"Julie felt that the teaching she was doing was desired by him," he said.
Metzker-Madsen could become angry if he didn't get his way and threaten to break things, Mic Coolman said, but he never knew him to carry out those threats. He said the teenager was a student at Heartland School in Omaha, which provides services to those with behavioral disorders.
The Iowa State Medical Examiner's Office in Ankeny did an autopsy but has not released information on the cause or manner of death, said Mitch Mortvedt, special agent in charge of the Iowa Division of Criminal Investigation for western Iowa.
The Iowa Attorney General's Office is prosecuting the case.