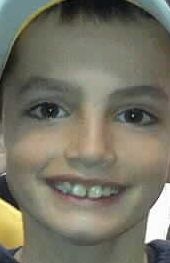 Third-grader Martin Richard had just gotten ice cream and was near the Boston Marathon finish line, eagerly watching for friends to run by.
Then two bombs exploded, the second just moments after the first. And the spirited 8-year-old, pictured on Facebook in his classroom holding a sign that read "No more hurting people," was dead.
"I just can't get a handle on it," said Jack Cunningham, a longtime friend of Martin and his family. "In an instant, life changes."
Cunningham recalled how, as a pint-size preschooler, the boy had insisted on getting out of his stroller during a 5K race in South Boston. As soon as his mom let him out to run with the rest of the family, Martin took off along the rainy race course.
"He was just having a ball, splashing in every puddle," Cunningham said.
The boy's father, Bill Richard, released a statement thanking friends, family and strangers for their support following his son's death.
Richard's wife, Denise, and the couple's 6-year-old daughter, Jane, suffered serious injuries in the blasts. Their older son Henry wasn't hurt. Two neighbors said Jane lost one of her legs in the attack.
"He had that million-dollar smile and you never knew what was going to come out of him," family friend Judy Tuttle said of Martin. "It doesn't get any better than these people."