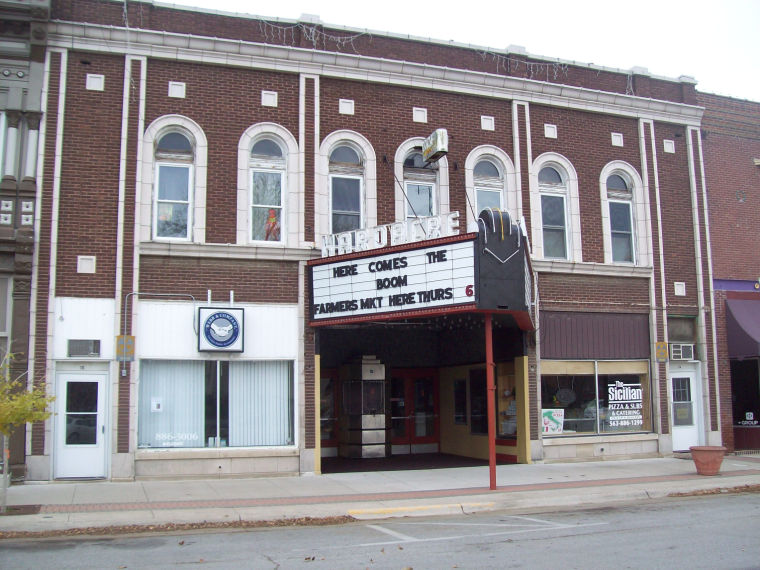 DES MOINES — Members of a preservation group working to reopen a nearly century-old movie theater in the center of a small eastern Iowa town acknowledge it will take time, but they are confident they can rally support and raise enough money to carry the project through.
The single-screen Hardacre Theater in Tipton, a city of 3,200 people about 20 miles east of Iowa City, closed its doors in August, to the dismay of residents who relied on it as a local source of entertainment.
A handful of residents formed the Hardacre Theater Preservation Association about a year and a half ago after the theater owner said he might shut down the business because of the high costs of upgrading to digital movies. A little more than a year later, he did just that.
"The theater has been a center part of downtown Tipton for a long, long time," said Greg Brown, president of the association's board. "When you start losing any business out of small towns like Tipton, that just contributes to the overall deterioration of the downtown area."
The theater opened as an opera house in 1916. It became a movie theater in 1919.
The group is raising money to buy the theater from the current owner before raising more funds to renovate it. They're working toward collecting $96,100 and have about 40 percent of that pledged, and plan to extend a deadline for purchasing the building.
The building is structurally sound, the group said, but it can't be reopened until the plumbing and electrical are upgraded, and a new roof installed.
"There's a lot of work that has to be done to it," Brown said, "but the overall bones of the building are fairly solid."
Once the group takes possession of the building, Brown said, members want to raise additional funds not only to upgrade to digital but also to transform the theater into a venue for multiple other community activities. They estimate it will cost between $1.5 million and $2 million to renovate the theater.
The theater's future is also linked to the Hardacre Film Festival, which is considered the longest running film festival in Iowa, said Will Valet, vice president of the preservation board. The festival's 16th annual gathering was held just before the theater closed its doors.
Valet, who also serves as festival director, said it is too early to tell whether the festival will be held at the theater next year, relocated to another venue, or put on hold for a year.
"It's all kind of up in the air right now," he said. "Ultimately the goal is to get the festival to remain in the theater. Having the festival in an old-fashioned movie house is really a big part of its appeal. Holding it in another type of venue would really lose a lot of the luster."
Sandra Harmel, coordinator for the Cedar County Historical Society Museum and Prairie Village, has been assisting the preservation group's effort to collect history about the theater. The goal is to use that information to apply for grants.
"It is extremely important that this theater be preserved," she said. "Frankly, if we get rid of all of our historic artifacts, buildings — whatever might be included in that category — it pretty much takes away our legacy."
The preservation group hopes to attain nonprofit status by year's end. That would boost fundraising, because donations would be tax deductible.
"It's taken a lot longer than some people had anticipated," Brown said. "But talking with other groups around the country that have done similar projects, I hear the same story from everybody, in that it just takes such a long time to get everything in place before you can really start officially launching a fundraising campaign."
Organizers said many people care about the former opera house. The preservation group recently had a town hall meeting to inform the public about its progress and to take suggestions.
"I'm very confident we can save the theater," Valet said. "People want to see this kind of project succeed because it's something that will last for generations if we do it right."