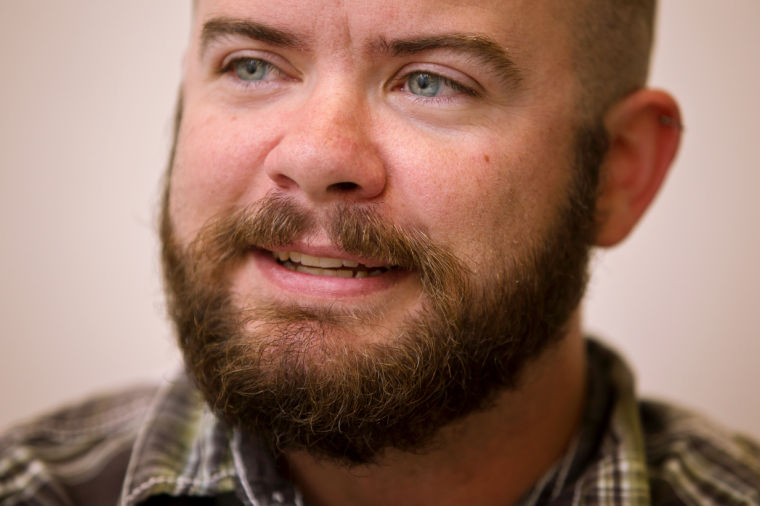 The battle over gays in the military isn't over quite yet.
Two years ago the LGBT — lesbian, gay, bisexual and transgender — lobby groups celebrated the end of the military's "don't ask, don't tell" policy that kept gay service members closeted. And earlier this month, the Pentagon granted benefits to those members' same-sex spouses.
But the fight is heating up again because the end of "don't ask, don't tell" had no impact on the transgender members of the LGBT coalition, who are barred from the military on medical grounds. Transgender advocates see no reason why they should be treated differently from their gay brothers and sisters.
"(We're) proud, productive members of the military," said Paula Neira, who as a male served as a naval surface warfare officer from 1985 to 1991. "We're the last group of folks who have to serve without being open about who we are."
An influx of energy and money is adding juice to the movement. The energy comes from Service Members, Partners, Allies with Respect and Tolerance for All (SPART*A), a group formed in July to promote the rights of transgender service members. And the money comes from Jennifer Natalya Pritzker, 63, a Chicago billionaire and retired Army officer formerly known as James who disclosed her change in gender two months ago.
Pritzker also donated $1.35million to the Palm Center, a California research and advocacy group that provided intellectual heft to the long fight to overturn the 1993 law that created "don't ask, don't tell."
"We've reached a point where there are people who are transgender in the service, functioning at a high level," said Brynn Tannehill, a former male Navy aviator from Xenia, Ohio, who is SPART*A's director of advocacy. "You're not doing any good by trying to keep these people from serving."
It's particularly difficult to estimate how many transgender people currently serve in the military because most do so in secret. Tannehill estimated between 5,000 and 10,000, based on surveys and a recent study by Harvard University's LGBTQ Policy Journal — the "Q" in the title adds "queer" to LGBT — that concluded transgender people are about twice as likely as others to have served in the military.
Tannehill theorizes that some male-to-female transgender service members join the military to try to find a masculine identity.
"They're trying to prove to themselves that they can hack it as a male," she said.
Female-to-male service members usually find the adjustment easier, Tannehill said, because of the military's macho culture.
"The military is a great place where they can express their own inner masculinity," she said. "They can be more themselves."
Outside the LGBT community, the cause of transgender soldiers has yet to kick up much dust. A spokeswoman for the Heritage Foundation, an influential conservative think tank, declined to offer a comment because none of the group's lengthy roster of experts is following the issue.
Ditto for the Nebraska Family Council, an advocacy group for Christian values on social issues that currently is campaigning against a transgender sports policy for high school students in the state. Al Riskowski, the council's executive director, said he had never thought about whether transgender people should be allowed to serve.
"There's very little difference between men and women serving in the military," Riskowski said. "My first sense is it's just so different from high school sports."
Larry Farnsworth, an aide to Rep. Lee Terry, R-Neb., said his boss hadn't thought much about the matter.
"Congressman Terry believes that's for the military to figure out," Farnsworth said.
One person who has thought a lot about the transgender matter is Elaine Donnelly, founder and director of the Center for Military Readiness. She has waged a long battle for traditional values in the military: no women in combat, and no LGBT people at all. She testified before Congress in 2010, urging it to leave "don't ask, don't tell" in place. She is alarmed but not shocked that transgender people are now working to overturn the medical prohibitions against their service.
"All of a sudden the military starts treating what the transgender groups are calling a civil rights issue," Donnelly said. "We predicted this, and no one should be surprised."
Transgender service members draw so little attention, advocates say, partly because their number is small and the condition is considered mysterious or weird by many people.
The best-known may be Chelsea Manning, who as male soldier Bradley Manning leaked hundreds of thousands of classified U.S. documents through the controversial WikiLeaks website and who, as a result, is now serving a long stretch in the disciplinary barracks at Fort Leavenworth, Kan.
"Chelsea Manning doesn't represent the real transgender people who serve in the military," Neira said. "There are folks out there serving honorably."
Transgender is an umbrella term for people whose gender identity, gender expression or behavior does not conform to that typically associated with their birth gender, according to the definition of the American Psychological Association. An estimated three people in 1,000 — more than 900,000 nationwide — are transgender, Tannehill said.
Some transgender people may cross-dress; others may undergo surgery to change genders. Some consider themselves gay while others don't.
The Pentagon declined to discuss the history of and reasons for excluding transgender service members, referring a reporter instead to the text of Defense Department Directive 6130.03.
That rule lists dozens of medical reasons for which service members could be disqualified, including age, obesity, flat-footedness and poor eyesight. The list also includes mutilated or malformed genitalia, which would bar anyone who had surgically changed genders, or who even had certain birth defects.
According to the directive, "psychosexual conditions" such as transsexualism (surgical sex change) and transvestism (cross-dressing) are grounds to disqualify someone from serving.
Transgender people sharply disagree there is any medical reason they shouldn't serve. The American Medical Association has removed nearly all forms of gender dysphoria from its list of psychological disorders — though critics such as Donnelly contend the AMA changed its rules for political, not medical, reasons.
Tannehill said the military's medical standards are grounded in research that is 40 or more years out of date.
"The understanding of gender, the theory of gender dysphoria — all of that's changed radically in 40 years," she said.
Scientific research on transgender service members has been limited, but that's about to change because of Jennifer Pritzker's grant.
Pritzker, 63, an heiress to the Hyatt Hotels fortune, is a major figure in Chicago business and philanthropy circles and has been a leading contributor to Republican political candidates. Her cousin Penny Pritzker is the U.S. secretary of commerce.
Jennifer Pritzker retired as a lieutenant colonel in 2001 after 27 years split between the Army and the Illinois National Guard. Her Palm Center gift will fund research on a host of topics tied to transgender service, including uniform regulations, medical accommodation, privacy and readiness, according to the group's website.
The center will also look into the impact on foreign militaries that allow open transgender service, including Great Britain, Canada, Israel and Australia.
In the U.S. military, however, transgender service members tend to remain closeted.
Lisa Noelani is the chosen name of a biologically male, 34-year-old who has served 10 years in the Air Force, most of it at Offutt Air Force Base near Bellevue, in what she describes as "a specialized and insular career field."
She said she has carefully guarded her transgender private life from members of her unit, concocting false back stories so as not to appear evasive — a situation familiar to gay service members from the "don't ask, don't tell" era.
"It's a difficult balance to strike, because team cohesion is part of the job," Noelani said in an email from the out-of-state post where she now works. "Living a lie (and then lying about the lie) in order not to arouse suspicion creates a lot of stress."
Noelani said about four years ago she confided in a friendly supervisor at Offutt. The supervisor turned her in, which led to an investigation.
"Eventually I was cleared because my commander decided it wasn't worth pursuing any further," she said. "I was very lucky to have a commander who valued my service enough to see past the military's discriminatory policies, and I owe my career to him."
Still, she said, "I go to work every day with the burden of knowing that if I let my guard down, if I don't cover all my tracks, if I open up to anyone about who I am, I will almost certainly risk losing my job."
Looking back on a "don't ask, don't tell" battle that stretched over two decades, transgender activists don't expect change to come quickly or easily.
"(The military) is a conservative, tradition-bound institution that moves very slowly and doesn't like being pushed by people who aren't in it," Neira said. "You've got to get them to see that changing the rules is really in their best interests."