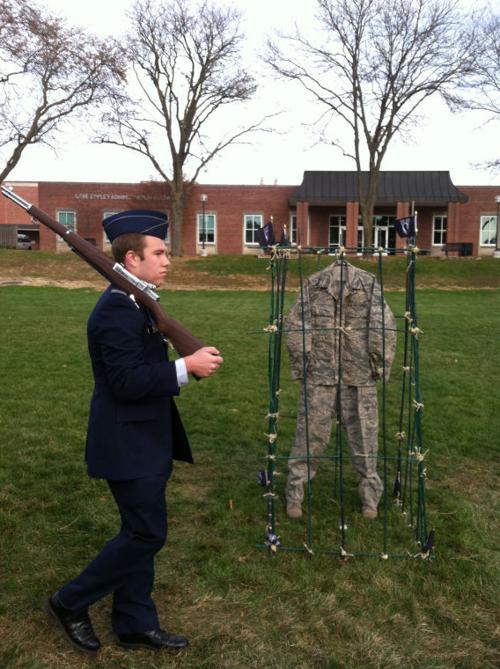 The bamboo cage sat in the center of the Pep Bowl parade grounds at the University of Nebraska at Omaha. Inside, an Air Force uniform represented a caged prisoner of war.
For 24 hours, uniformed members of the local Air Force ROTC Detachment 470 marched slowly around the cage, one at a time, their boots wearing a square path in the grass.
This was their tribute to military prisoners of war and those missing in action, part of a national effort by ROTC detachments during Veterans Day week.
"We're paying our respects to the people who have served and, unfortunately, never came back," said Cadet 3rd Class Matthew Olson, 20, of Omaha.
About 40 members of the Earl S. Hoag Squadron, Arnold Society —which includes ROTC students from Creighton University, UNO and other local colleges — put in time at Thursday's vigil, said Cadet Lt. Col. Jason Rogers, 21, of Omaha.
Most cadets marched for one hour, though some shifts were adjusted to accommodate class schedules.
Each cadet's march — and the handoffs to the next cadet — suggested a similar vigil held at the Tomb of the Unknowns in Arlington National Cemetery.
Rogers, a senior, said the annual vigil in Omaha is an important part of training future military officers.
"It's very solemn, very quiet," said Cadet 3rd Class Luke Manuel, 19, of Bellevue, who was participating in his first vigil. "Whenever I pause before the flag, I stop and (silently) say the Airman's Creed."
Part of the purpose also is educational — to remind the thousands of UNO students and faculty who pass by about the military and the sacrifices of service members.
Although the vigil was conducted mostly in silence, the cadets stopped to explain about POW/MIAs if someone asked what they were doing.
Most students Thursday morning passed the vigil without stopping. But Joe Hagerty, 19, a sophomore from Springfield, Neb., paused to take a photo of Rogers as he marched.
"I think it's super awesome," Hagerty said. "People are down here showing respect for the military."