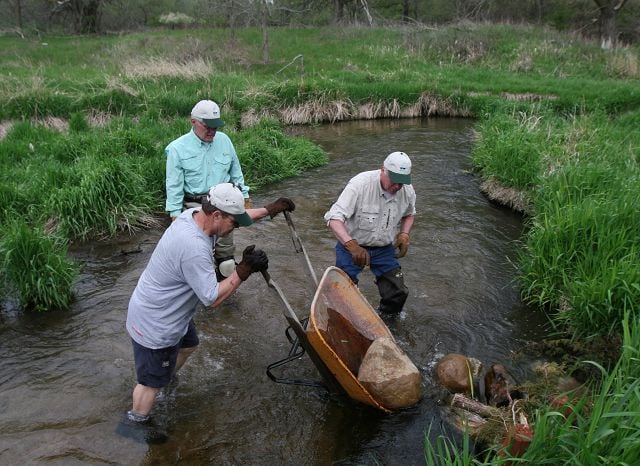 ROYAL, Neb. — One of Nebraska's premier trout streams takes a pounding from anglers.
Mostly they cast flies weighing a fraction of an ounce. Sometimes they cast stones weighing 75 pounds.
East Verdigre Creek is the only cold water stream in eastern Nebraska, reaching the ideal temperature of 57 degrees for trout to survive and thrive.
Its populations of rainbows and browns attract thousands of fishing enthusiasts in a state not widely known for its trout fishing. An average of 13 anglers a day, 365 days a year, chase the 10,000 rainbow trout annually stocked in the little stream.
Sometimes a few of those fishermen trade their fly rods for chainsaws and their creel for wheelbarrows. They roll up their sleeves, pull on their waders and give Mother Nature a hand in enhancing the creek's trout habitat and preserving the remote fishery.
"Maybe it's an arrogant effort by a crew of old men, but it works," said Bob Johnston of Omaha, projects manager for the state's only chapter of Trout Unlimited, a conservation organization.
Verdigre Creek rises from springs about 20 miles north of Neligh in Antelope County. It flows northward into Grove Lake, eventually emptying into the Niobrara River. The creek, which hosts a population of reproducing brown trout, is open to fishing on public land. Stretches of the creek on private property are closed to public fishing.
Northeast of Royal, the creek flows through Grove Trout Rearing Station, which produces about 150,000 rainbow trout annually for stocking rural and urban rivers, streams and lakes. Many end up at Two Rivers State Recreation Area west of Omaha.
For a number of years, Verdigre Creek has experienced heavy silt that reduces trout habitat and spawning sites, said Jeff Schuckman, the Nebraska Game and Parks Commission's district fisheries supervisor in Norfolk.
Most Nebraska streams carry a lot of sand. When sand settles in a trout stream, it covers the spawning gravel. As creeks grow wider and shallower, the water warms and streams lose their ability to maintain trout.
Johnston and other Trout Unlimited members from the Omaha and Lincoln areas waded into the challenge.
Volunteers created small obstructions in the creek with boulders to help the current scour deeper holes for trout. They anchored cut red cedar trees along banks to prevent erosion. The trees also redirect the current, so it flushes away sand and silt to expose the gravel streambed.
Dave Jacobs of Bellevue, president of Nebraska's Chapter 710, recently led a group of volunteers on a daylong work detail. The crew included Johnston, Dale Funk and John Wright, both of Omaha, and Bryan Van Deun of Lincoln.
They cut down invasive eastern red cedars from a neighboring landowner's pasture. They trimmed branches off cedar trunks to create anchoring posts to sink into the streambed. They lugged boulders in a wheelbarrow to the creek.
The first loads of rock plugged a hole in a cedar-tree dam volunteers had built earlier in the spring. The dam was to prevent the winding creek from cutting a new path across a little peninsula, but beavers snacked on the cedar trees and reopened the shortcut.
Johnston said if the hole hadn't been fixed, the creek would have been diverted, the current slowed and more silt would have built up. The nose of the peninsula would have eroded away. Over time, a stretch of stream that was fairly swift moving and deep would have become shallow, stagnant and trout-free.
On another stretch, the crew angled 10-foot cedar trees in four places along the bank and watched the rerouted current start washing away downstream sand within minutes.
"It feels good to do good," Van Duen said.
The 420 Nebraska members of Trout Unlimited budgeted a record $12,000 this year for stream restoration projects, Jacobs said. Much of the money is shared with Game and Parks to help start projects the agency's fishery division couldn't otherwise afford.
"We hope that what we're learning now on Verdigre Creek can be applied to more places across Nebraska to help improve cold water streams," Jacobs said.
Nebraska Trout Unlimited counts more than 100 cold water streams and stocked ponds where anglers can fish for trout across the state. Most trout streams are in the Pine Ridge, the North Platte River Valley, the Niobrara River Valley and stretches of the Loup and Dismal Rivers in the Sand Hills. Many of the sites are accessible to the public.
The Nebraska chapter adopted Verdigre Creek in the 1990s after a group of area landowners opposed a large dairy expansion, saying it would pollute the stream. The dairy project died after years of legal fighting.
Daryl Bauer, a Game and Parks fisheries manager in Lincoln, is an enthusiastic fan of volunteers pitching in to do everything from teaching kids how to fish to restoring habitat.
"I don't care if what they do works or not," he said. "I love it because they buy into being good stewards of the resource."
Steve Wilhelm, superintendent at Grove Trout Rearing Station, said the restoration projects are working.
"They've definitely improved the habitat in that stretch," he said. "Fishermen will enjoy it. They've added value to the stream."
Record-setting trout
East Verdigre Creek has produced record-setting brown trout.
Two fishermen caught Master Angler Award-sized browns above Grove Lake in 2002, according to the Nebraska Game and Parks Commission.
Michael Andersen of Norfolk Neb., caught a 4 pound, 9 ounce brown with a fly nymph in June 2002. The fish was 22 inches long. Gary Hansson of Wahoo, Neb., used a fly to catch a 19-inch, 4-pound brown in May 2002.
Although brown and rainbow trout are cultured in Nebraska hatcheries, Verdigre Creek maintains a reproducing population of browns.
Game and Parks fisheries biologists obtain fertilized eggs from neighboring state or federal fish hatcheries. The eggs are shipped to the agency's Calamus and Rock Creek hatcheries where they are hatched and reared to three to five inches. They are then redistributed between the Calamus and Rock Creek hatcheries and the Grove Trout Rearing Station near Royal.
The majority of these fingerling trout are raised to catchable size — 9 to 11 inches — and stocked throughout Nebraska for seasonal put-and-take program for anglers.