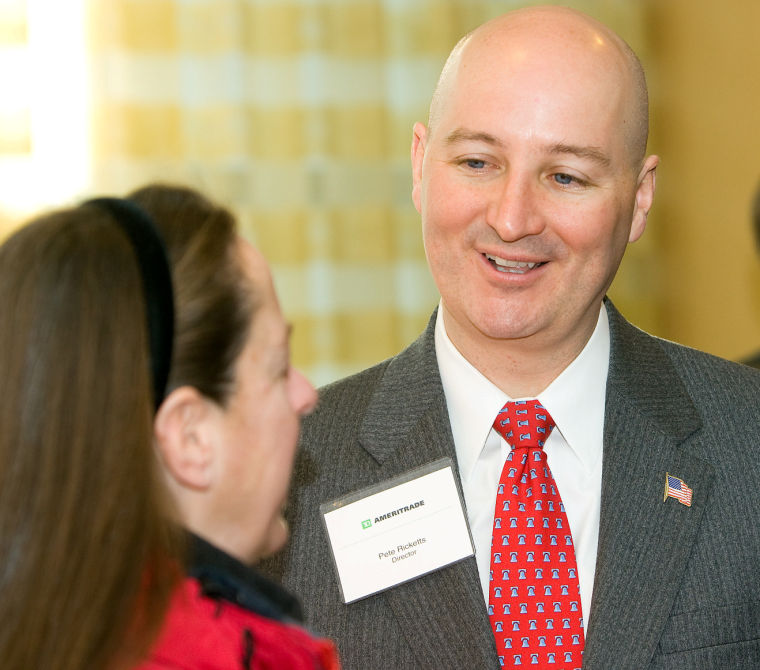 Pete Ricketts is going to do things differently this time, starting with a no-red-cap rule.
The wealthy Omaha businessman, who was shellacked by Democrat Ben Nelson in an expensive 2006 U.S. Senate race, is running for the Republican nomination for governor. He is the seventh candidate to embark on the campaign trail in a bid to succeed Gov. Dave Heineman.
In an exclusive interview with The World-Herald, Ricketts, 49, says he plans to run a completely different campaign, starting with money and consultants.
First, he vows to spend less — exactly how much less he won't say — of his own money.
He also plans to rely more on homegrown political advisers than national consultants. And he plans to spend a lot more time traveling around Nebraska than he did seven years ago.
"I was brand new to the political world and the thing about that is, you don't know what you don't know," Ricketts said. "We're going to do things differently this time. We're going to run a very different race. I'm not getting a lot of D.C. consultants to tell me what to do. I'm surrounding myself with Nebraskans."
He will keep under wraps a certain red stocking cap that he showcased in a television commercial with his mother in his last campaign. He tried to make the red cap a personal trademark, in what was supposed to be a nerdy sendup of his family's Nebraska roots. Instead, his cap brand quickly unraveled.
His opponents used it to skewer him as "goofy," while voters didn't respond well to it.
"It was self-inflicted (injury)," Ricketts said, laughing, when asked about the red cap, during a morning interview last week at a downtown cafe.
Ricketts said the red cap was his idea, which came to him during a photo shoot for a television commercial with his mother. In the ad, his mother orders Ricketts to put on his cap.
Ricketts is one of five candidates seeking the GOP nomination. He is considered in political circles a serious contender, in part because of his personal wealth and the amount of money he can pump into a race.
His father, Joe Ricketts, was the founder of Ameritrade, an online brokerage company that merged with TD Waterhouse in 2006. The family is well known in Omaha and in Chicago, where they own the Chicago Cubs.
In 2006, Pete Ricketts spent $11.6 million of his own money on his Senate bid, making it the most expensive Nebraska race ever waged. The money, however, didn't help. Ricketts lost to the incumbent Nelson by 28 percentage points.
Throughout the campaign, Ricketts was portrayed as a wealthy businessman who cared more about Wall Street than Main Street.
Ricketts said one of his big mistakes in 2006 was pouring millions into the race. At the time, he thought it was better to use his own money than to rely on special interests to fund his campaign. Instead, he said, voters thought was he "trying to buy'' the election.
Ricketts said he won't make the same mistake again. He said he will actively raise dollars and, in the process, build a base of solid supporters.
However, he doesn't rule out using some of his own cash in the race. "I don't have a number (of how much), but it's not going to be anything like last time," he said.
As for consultants, he has hired several people who are well known in Nebraska, including Jessica Moenning of Norfolk, a widely respected political consultant who ran Ricketts' campaign in 2006. She earned her reputation as campaign manager on U.S. Rep. Jeff Fortenberry's first successful bid for Congress.
Ricketts also has tabbed Matt Miltenberger as his campaign manager. Miltenberger is the former executive director of the Nebraska Republican Party who left Nebraska several years ago to work for the Las Vegas Sands casino company. He has returned to run Ricketts' operation.
Ricketts said he will provide Nebraskans with more details of his policy proposals. He said his priorities will be education, creating jobs and strengthening rural Nebraska.
On education, he said he would search for ways to help teachers become more effective in the classroom. He said the state should do more to help those students who are more interested in a trade than attending a four-year college.
"Not necessarily every kid wants a four-year liberal arts college," he said.
Ricketts said he realizes there are people in the Republican Party who believe that his political brand was tarnished in 2006 and that he will have an uphill battle convincing Nebraskans who rejected him to give him a second chance.
"I think you're looking at two different races," Ricketts said. "I was taking on an incumbent (in 2006). This is an open governor's seat, and the lay of the land is very different."