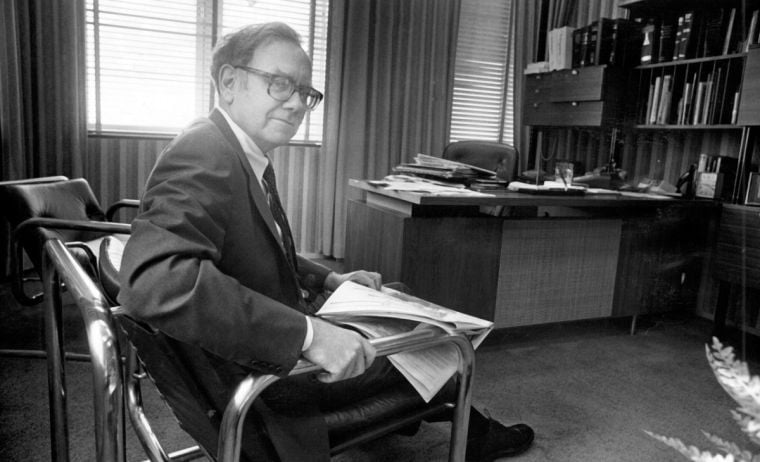 This is an excerpt from Steve Jordon's "The Oracle & Omaha," a look at how Warren Buffett and his hometown share a history and a future. The book costs $29.95 and is available at bookstores. It also can be ordered at OWHstore.com or by calling 402-444-1014.
Dec. 1: Buffett's return to Omaha from New York.
Dec. 8: Omaha discovers it's home to a budding financial genius.
Today: Why Buffett stays on the sidelines in civic matters.
Warren Buffett has remained mostly separate from the civic leadership crowd in Omaha.
"Basically, I've got so much going on in my life that I'd rather not," he said. "And so I don't get involved in very many things that are going to require meetings or organizational things or anything of the sort.
"My primary job is running Berkshire, and sometimes there's a lot of activity connected with that and sometimes there's not much. But that's my primary job."
That independent approach put Buffett outside the city's center of high society and civic leadership. ...
Buffett hasn't opted for the meetings and other events that served as high-level get-togethers for Omaha's civic leaders.
He never served on the boards of United Way, Creighton University or the University of Nebraska Foundation, three hubs of influence among local business leaders.
Buffett says he dislikes the demands of serving on civic boards. "There's always a tendency to compromise," he said. ...
His approach contrasted with the public service carried out by his father, Howard, who served on the Omaha school board followed by four terms in Congress.
U.S. Sen. Hugh Butler had pledged to help Howard Buffett succeed him, but Butler died suddenly in 1954 and Republican leaders instead chose Roman Hruska, a moderate Republican who could be counted on to vote consistently with President Dwight D. Eisenhower. Howard Buffett was viewed as too independent and conservative.
Warren went to the Cornhusker Hotel in Lincoln on the day his father was supposed to file for the Senate and heard the deal being made.
He returned home to say, "Daddy's throat was slit from ear to ear," his sister Doris recalled.
It was a bitter blow, both to Howard and to Warren, who respected his father greatly.
"I never saw my dad do anything in his life that couldn't have been on the front page of the paper," Warren said. ...
Just as Howard was considered a bit of an outsider in the GOP, Warren was viewed similarly in the local business community early in his career.
When he was starting his partnerships, some older investment firms pooh-poohed his ideas, trying to paint him as a risky, marginal alternative when in fact he was dedicated to low-risk investing.
"There was a lot of resentment of Warren as he started to rise," Berkshire Hathaway vice chairman Charlie Munger said. "He was criticizing certain practices of the financial industry even then." ...
Buffett has rarely been listed as a donor for Omaha's big community projects — museums, theaters and the zoo — and was not considered a member of the generation of heavily involved business leaders who were roughly his age.
Even during an upheaval in the city's business landscape in the 1980s, he remained on the sidelines.
In 1986, Omaha was shaken when Enron Corp. left, taking 2,000 jobs to Houston. The departure of the corporate headquarters was engineered by Ken Lay, Enron's chairman and CEO.
Lay made a show of searching for an Omaha condo to live in but packed Enron's board with Texans who eventually outvoted the Omahans who had built Enron and its predecessor, Northern Natural Gas, into a mainstay of Omaha's business community.
"It was terrible," Buffett said. "Basically (Omaha board members) got hoodwinked."
Enron's departure raised questions about the city's economic future as a corporate hometown. Two years later, food giant ConAgra Inc. had an invitation to move to Knoxville, Tenn., sweetened with lucrative financial incentives.
Mike Harper, ConAgra's chairman and CEO, was playing hardball on behalf of his shareholders, asking Nebraska to compete taxwise with other states. Harper gave Nebraska a choice: Enact incentives and gain a new corporate office campus downtown, or watch ConAgra move to Tennessee and leave a multibillion-dollar hole in the state's economy.
About the same time, there was talk about Union Pacific Railroad, the core of Omaha's business community, moving to St. Louis.
In a city run, to a large degree, by businessmen, the ConAgra and Enron cases showed that Warren Buffett was not the automatic go-to guy when it came to keeping Omaha on track.
Nobody called Buffett about the Enron debacle. He wasn't consulted about the ConAgra tax incentives, about the controversial decision to demolish a historic warehouse district along the Missouri River or about exempting corporate jets from state property taxes, as ConAgra's Harper wanted.
"He had nothing to do with the whole tax thing or the campus, none of that," Harper said. "We had to go to people like (then Gov.) Kay Orr. She stuck with us clear to the end. The guys in the Legislature got it done. They turned out to be the leaders." ...