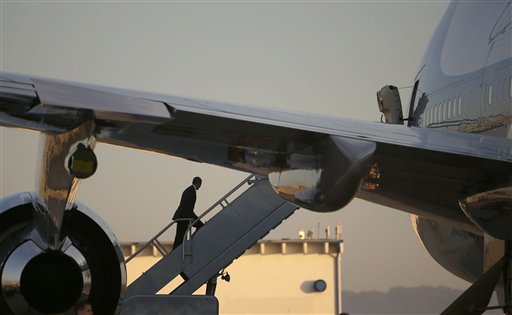 Your daily look at late-breaking news, upcoming events and the stories that will be talked about Tuesday:
1. OBAMA SWIPES AT CRITICS OF NUCLEAR DEAL
The U.S. "cannot close the door on diplomacy," he says, pushing back at those questioning the wisdom of engaging with Iran.
2. WHY HOPES AREN'T HIGH FOR SYRIAN PEACE TALKS
The opposition remains vague on whether it will even attend the Geneva conference called for Jan. 22.
3. PROSECUTORS: CONNECTICUT GUNMAN OBSESSED WITH MASS MURDERS
In a report on the Newtown school massacre, authorities sketch a chilling portrait of Adam Lanza and his twisted fascination with violence.
4. MORE CHARGES IN OHIO PREP FOOTBALL RAPE CASE
The school superintendent and three others are accused of lying or failing to report possible child abuse in connection with the assault, which drew national attention.
5. SUPREME COURT WEIGHS CONTRACEPTION CHALLENGE
Roughly 40 companies are suing over Obama's health care law, arguing they should not be forced to cover birth control because doing so would violate their religious beliefs.
6. WHAT'S BLOWING IN THE WIND IN THE MIDWEST
"Petcoke" - a powdery black byproduct of oil refining that's piling up along shipping channels - is sparking a wave of health and environmental concerns.
7. FROM RUSSIA, NO LOVE FOR EUROPE'S CHANGING POLITICAL LANDSCAPE
As former Soviet Bloc countries enjoy new freedoms in the EU, their one-time iron-fisted ruler isn't ceding authority over them willingly.
8. WHOSE CRYSTAL BALL WAS CLOUDY
The National Hurricane Center predicted seven to 11 Atlantic hurricanes this season. But there were only two.
9. A RIDDLE EVEN FOR FAMED 'TURKEY TALK' HOTLINE
One caller wanted to know how to find a turkey that had been left outside overnight - and now was hidden under a fresh layer of snow, Butterball CEO Rod Brenneman tells the AP.
10. IN THE U.S., A RUN ON FITNESS APPAREL
Sales of chic workout gear are growing faster than sales of everyday clothing - by a lot.