Winston Churchill famously once said, "Never stand up when you can sit down, and never sit down when you can lie down."
While bellying-up is necessary in most American bars, keeping yourself propped on a barstool isn't all that comfortable. (Maybe that's why imbibers occasionally fall off them.)
I'm a man of comfort, and I swear if I ever find a bar where laying down to drink is de rigueur, I'm moving in. Though I'm unlikely to find such a place, sitting in a comfortable chair is the next best thing. And that's why I went and checked out a centrally located bar where I've never had a bad time, drink or meal: Nite Owl in the heart of Blackstone.
The Blackstone District, like many other areas, is getting a makeover to make it more of a destination for le petit bourgeois to drop some cash. One can get almost everything there, including waffle cones, brick-oven pizza, microbrews and halal mutton.
Sign up for the Go newsletter
This complete guide of local music, movies, dining and entertainment will have you weekend ready.
Parking might be your biggest challenge, as this is no Papillion. On a busy weekend, one is more likely to find street parking at San Diego Comic-Con than a well-lit spot near one's final destination in Blackstone. There is a cornucopia of side street parking, but check those signs for time limits and residential permit requirements unless you like to gamble. In all likelihood, a historic block will one day be sacrificed for a really organic, five-story, gated parking structure with elevators and security, but happy hunting until then. Or just Uber it to be responsible.
Anyway, Nite Owl has many great features. Foremost is its collection of authentic '70s black velvet paintings, which feature plenty of familiar 40-year-old subjects, but my favorites include a stunningly accurate Sleestack from "Land of the Lost" alongside what I can only assume is Kenny Rogers.
Another great feature? There is just one TV, and it shows movies exclusively. Finally, a bar with no sports and no shame about it.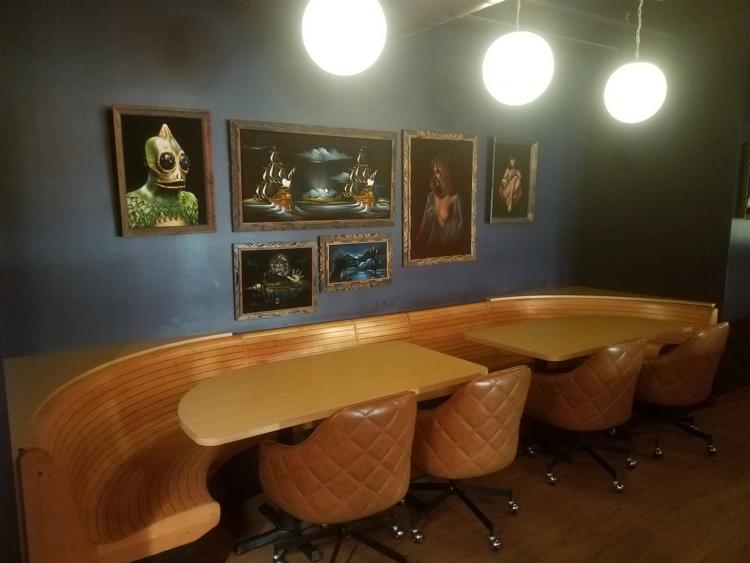 One could stare at the bar's art and watch Sonny Chiba flicks for hours, which is helpful, since it would take multiple trips to sample the drinks and food menu safely.
I've tried many Nite Owl drinks over the last couple of years, and the staff has added quality, original cocktails to the menu since the spot's opening in 2014. I always start with the so-called Sam Elliott, a Coors Banquet with a shot of bourbon (though I occasionally switch out the Coors for a Lone Star). Not bad for $6. Try Marcie Hintermeister's Atomic Speedo (light rum, green chartreuse, kiwi, lime, bitters) for $11, or Gunnar Berg's Yuri's Last Flight (tequila, cocchi Americano, aperitif, green chartreuse) for $10, or Monica Ortiz's Mr. Balloon Hands (gin, Strega, lime, raspberry, soda water) for $9.
I'm not intimately familiar with every drink, but the ones I've tasted are delicious. Try them all — at different times, of course.
Nite Owl also has a decent food menu, and the Korean BBQ wings were on point during a recent visit. Sweet and spicy.
Beer (usually local/craft with a nod to popular domestics) and cocktail taps are constantly rotating.
Check the board or the website for changes to the specials, because Nite Owl doesn't stand still. See you there.
Recent World-Herald nightlife reviews
Trying to find a new go-to bar? Check out some of the latest World-Herald nightlife reviews to find the place that's right for you.
Be the first to know
Get local news delivered to your inbox!